Sponsored Ads

There is no greater feeling than spending time with friends. That gets even sweeter when that time involves your work as well. And how can one do that? When you start a company along with your friends. This is what Husain, Taher and Shabbir decided to do when they met for a get together after a long time. They talked, brainstormed and at the end of it, came out with Hats-Off, a company that excels in providing internet marketing and SEO optimization services to clients worldwide.
We at Bangalore Insider got to talk with one of the co-founders Taher about his journey so far. Here are the excerpts of the interview.
Responses:
Give a brief info about your startup?
Hats-Off agency is a young and dynamic digital marketing company from Pune, India. Recently, our company completed 8 years in this industry which was started as a 3 member team and now it is 35 plus. We are dedicated in creating, building and energizing brands. The strength of our company lies in the cocktail blend of purpose-driven creativity, brand marketing acumen, mobile, research and digital media prowess. We deliver RESULTS. We deliver programming apps that build a powerful connection between people and products. For every client challenge, we customize teams to best deliver success. We create programs that are pitch-perfect, eliciting each brand's mission and charm. Hats-Off provides its service to small, medium and big scale organizations, regardless of industry. We help our clients grow and find success through the medium of this age- the Internet. All this is done with thorough expertise and talent in Internet Marketing and SEO Optimization.
What made you start your startup and what problem does it solve?
8 years back an unexpected and unrealistic journey which me and my brothers in crime, Shabbir Hussain and Husain Habib would have never imagined to witness with such drastic folds. A journey which adds on to our experience will always be remembered and cherished for that one decision we made 8 years back to go against the odds and start with our own firm. We started at a small shop with no setup; only things we could invest were internet, electricity bill and our own systems. No team, no fancies but had the things required – strong dedication, clear focus and the will to grow. Slowly we started pulling some clients and in this phase we learned a lot about our business by the mistakes we made and the criticism we got on our work. We have faced a lot of ups and downs but also grew as a team and in this phase the only thing that kept us moving was our team. By god's grace we kept moving and didn't give up. But with time and a lot of patience our business witnessed growth and eventually our Hats-Off family grew. In all these phases I understood one thing, that it was pure passion that made me start my own startup and motivated me to grow and the support of my friends who turned out to be my partners helped me to solve and also resolve a lot of problems that we faced in our organization.
Tell us about yourself, your previous jobs/ventures? What were you doing before this startup?
I'm a very simple, fun loving person who loves innovation and creativity. I believe in doing something new and exciting every day. I don't believe in living a monotonous life and that is the reason why I try to experiment something new every day not just in personal life but also professionally. I've implemented the same in my organization for my employees; they have the liberty to work in their own way, try something new and not follow a monotone method. In that way we all learn something every day from each other. And with regard to my career, I started working with Linksys by Cisco as a technical support for networking devices. Thereafter  I joined Bizcatalyst as a SEO/SEM Manager. After that we started Hats-Off.
Where is your startup based out of? Why do you think that is the best place for you?
Demographics on paper are one thing but actually spending time to get your desired location is another. We always wanted to start our organization at a place where our employee gets a family feeling and also our clients are comfortable to be at. So at first we started with a small shop with no setup as we lacked resources but with time as our business grew we shifted to our current location which is in Marketyard, Pune. We had a lot of discussion before finalizing this location and then came to a conclusion of shifting here. This place has a homely vibe as well as a working environment that our employees require the most.
As a startup founder, what are you paranoid about? What keeps you awake at night?
When you are part of a startup, you fight for your job every day. Whether you're the founder or an intern, every day is an opportunity for you to prove to yourself and your team members and your clients that you are the right organization for their job. And if you fail to deliver that promise, trust me, there are a lot of other options out there for your clients to consider. I personally feel there are a lot of times when a startup founder really feels paranoid. Firstly, at the beginning of the journey when you start building your organization; the moment when you start it you'll definitely feel paranoid about building the right process, getting customers, making payroll etc. The fear of failure is what takes you forward and demands you give your all for the success you desire. This will ultimately help you climb the ladder of success and beat this feeling. Also, my team and their growth, betterment of our services with passing time are things that sometimes keep me awake at night.
Who are your competitions and how are you better than them?
Generally, it has been seen that owners sit and discuss about their competitors and how to be better than them. But we at Hats-Off believe in how to be different and build a strategy around a simple and unique way that our company is different from the pack. We focus on offering personalized services, strategic thinking and building a better relationship with our clients; and not just making money but also providing quality work. We don't think about competition but we consider in standing out from the pack and creating difference than easily being copied. And we believe this is how innovation comes to startups.
How hard is it to have a work-life balance as a startup founder and how do you manage it?
Starting a company is not a 9 to 5 job. Start-up founder needs to work harder and longer than others and achieving a work-life balance in it is not a small task because we have to build our company and make it a brand. So, we need to work around the clock for all we have dreamt for our company. There are times when you have to meet certain timelines which are assigned at the last moment, where I and my team make sure that on priority basis we divide it among ourselves and meet the requirements of the client; during this period we have to work really hard and balancing work life is very hard.
So, I believe in prioritizing the work and dividing them in my team. So that we can maintain a work-life balance both for me and my team!
Have you raised funding? If yes, then we would like to know the details. If no then please tell us if you are looking to raise.
To be frank, from the starting itself we have never raised any funds from outside. We have always invested our own personal savings for this company. But talking about our future, we would definitely like to have associations for funding. It'll absolutely help our company to grow.
What are the biggest misconceptions people have about you? Why do they have that? What's the reality?
Everybody has a perception that I'm a very serious kind of person but in reality I'm totally opposite. I'm very fun loving and I love creating the same environment at work. I believe if we provide a light environment for our employees, they will feel free to approach us and bring the problems they are facing to us. We trust that this is the USP of our organization. We focus on employee centric relationship. As we believe our employees are the biggest asset to our organization.
What gets you excited about this company?
As I told you earlier, the work environment of our organization is our USP. So, I would say that this fun environment that we create at Hats-Off is driving force not just for me but also for our employees. This is the true motivation for all of us as it keeps us moving every single day and excites us to do more for our company. I'm thankful to my employees to help and support me to create all this and also in believing me. I have achieved this only with the support of my team. So, I believe the environment we create here and the team that I've got are the things that excites me about the company and motivate me to work harder for them.
Tell us how a day in your life looks like? Your schedule for a day right from the time you get up till you hit the bed at night.
My schedule!
I've a very simple schedule that I follow every day. My life runs between my family and my company. These two are my lifelines that I cannot live without. Other than this I also focus a bit on my health and go for gyming regularly. It helps me to boost my overall mood and relieving stress. So, this is all I have in my schedule. Nothing too fancy!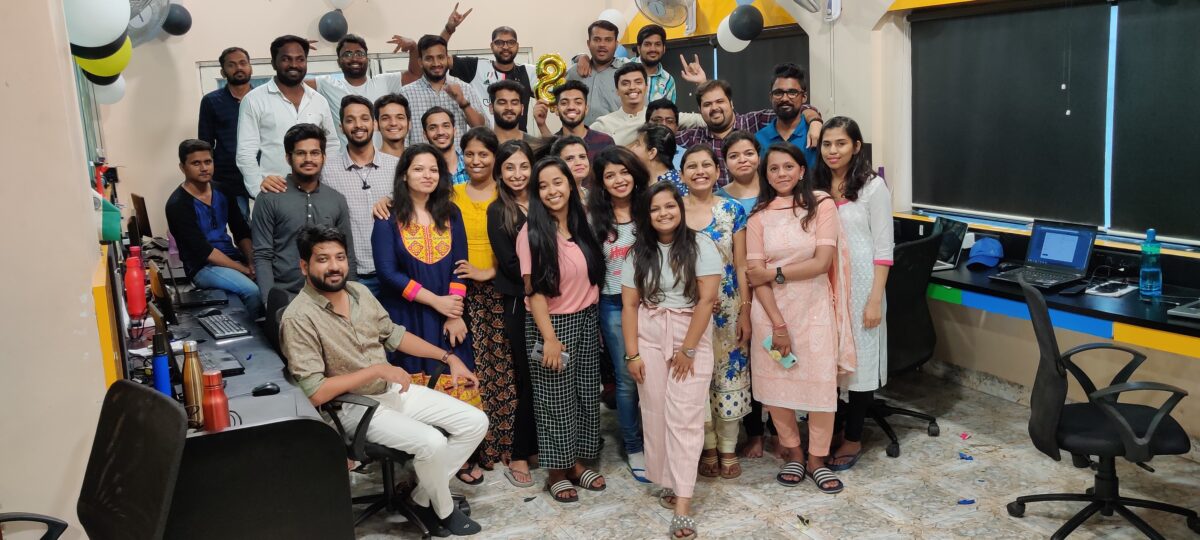 Tell us about your team and how did you meet each other?
It all started from a party where I met my childhood friends after a long time. We discussed life and in that particular moment we all realized that we wanted to start our own business and that was it! I, with my two other friends planned the whole thing the very next day and came to a conclusion of starting Hats-Off Digital which has emerged from the initials of our names i.e., Husain-Taher-Shabbir. So at first we started with a small shop with no setup as we lacked in resources but with time as our business grew we shifted to our current location and adding employees with us. We started as a team of 3 and now we have more than 35 employees and amazing clients too. There are many employees who are still with us from its inception.
Sponsored Ads