Sponsored Ads

Golden Express is a Bangalore based courier company founded by Ganesh Singh. Golden Express is a courier company which can very quickly send documents and gifts across the countries and also has unambiguous policies for international courier. Home Pick Up with timely delivery, and the transparent pricing structure are the unique features which are helping them to provide better courier experience to their customers. Golden Express team understand the value of commitment, so they have designed their policies as to give the best to their clients as compared to other players in the market.
"We have a very transparent pricing model, and anyone can check the price on our site and compare the same with other service providers," Says Ganesh Singh.
We had a talk with Ganesh, the founder of Golden Express. And I am sure; his startup story will inspire you. Let's look at the journey as a CEO and see how he and his team are working hard to help people to convert their dreams into reality.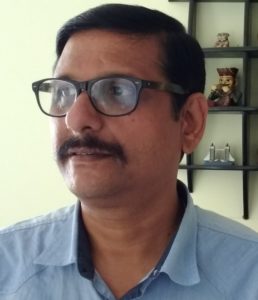 Give brief info about your startup?
Golden Express is courier services focusing primarily on a consumer to Consumer C2C, or you can say individual to Individual I2I. Our services are currently from Bangalore to International destinations. We are looking to provide our customers services with the convenience they aren't used to. We have a very transparent pricing model, and anyone can check the price on our site and compare the same with other service providers.
What made you start your startup and what problem does it solve?
Normally all couriers provide specialized rates and services to B2B/B2C customers, whereas we will focus on individuals who want to send documents and parcels to either business or friends & family. For deliveries within India, there are many options and not very complicated, however, when one wants to send it to an international destination there aren't many good options. International courier services are still largely unorganized industry with many small players and most often there is no transparency in prices or service levels. With many of us having family and friends living abroad either for study or work there is always a challenge to send a gift or any eatables or medicines for that matter to them. Students sending applications and documents to international universities are a large segment who need assured delivery to ensure they don't miss out on cut-off dates. Many times the ones sending are either elderly parents/grandparents or homemakers and they find it difficult to go to a courier's office to hand over the packet. We offer a free pick-up service by default to all our customers. You don't have to request a pick-up if you book your consignment be assured it will be picked up unless you want to personally drop it off. We also provide the convenience of booking and paying online or pay at the time of pick-up.
Tell us about yourself, your previous jobs/ventures? What were you doing before this startup?
Before starting Golden Express, I started a publishing company couple of years back which is again a unique model and not many companies offer this model in its purest form like we do. That could be another story in itself! Prior to that, I was heading the Sales Division for UK based Publishing house and prior to that worked with one of India's leading media house again in the sales division. During all my previous jobs/ventures logistics was an integral part of the business as the products had to reach their markets as quickly as possible. It kept me in touch with this industry and many of my friends have been in the logistics industry and especially the courier industry from the time it made its entry into India. In fact, when some of our friends said they were flying to different cities with the baggage we thought they were pulling a fast one on us. Some of my friends and family are still in this business and they are helping with tying up the loose ends and last mile connectivity.
Where is your startup based out of? Why do you think that is the best place for you?
Bangalore is where we have launched our services from. One of the reasons we did so was because of the population mix here which we believe will help us understand the customer's requirements better. Most MNC and consumer products companies come to Bangalore to test their products and services for the same reason. A lot many people living in Bangalore keep moving in & out of Bangalore to different countries. So, we have the right ecosystem here which will help us understand the needs of the consumer and help finetune our offerings accordingly.
As a startup founder, what are you paranoid about? What keeps you awake at night?
Well one of the things that we are paranoid about is getting our marketing focus right to reach out to our TG, are we doing it right? Is the message right? How can we make this better? How to keep expenses at an optimum level to reduce stress on finances? How soon can we make it cash positive?
Who are your competitions and how are you better than them?
Our competitors are mostly small-time players and operating in small geography, and mostly it is a one-man-show or a two or three ex-employees of courier companies coming together and offering services in and around the places they live. Here too they try and focus more B2B since they come from that background. We are very focused on the segment in this business which is, to cater to the needs of individual customers as we see a larger opportunity here and it is a segment not many want to focus due to their inherent challenges.
How hard is it to have a work-life balance as a startup founder and how do you manage it?
It is a challenge to find a work-life balance especially when you are starting a new business as there are too many things to look into, give approvals, provide inputs, meetings, arrange finances etc. All my previous jobs involved a lot of travel, so my family is used to not seeing me frequently. Luckily now I don't have to travel to work currently. I try and wind up work by 6 pm and avoid working on Sundays so that there is no monotony and fatigue. Since I also run a publishing business, it helps me to switch between two and keep the creative juices flowing.
Have you raised funding? If yes, then we would like to know the details. If no, then please tell us if you are looking to raise.
As of now, we have not raised any funding and it is mostly with contributions from friends & family. Yes, we will look for funding at some point later. We are not looking for just the money from prospective investors but what else can they bring to the table regarding experience – it could be Marketing, Technology etc. along with the funding. We don't want to rush into it unless we are ready and in need of funding to further the company's goals.
What is the most important priority for this company?
Effectively reaching out to our TG and winning their trust in our ability to service their requirements is our priority now. This is a niche service within the larger logistics industry, and every person you see on the street could be your customer. Students sending out their documents to foreign universities do face a challenge to find a trustworthy courier service too. This is where we want to come in if you ever want to send a courier package abroad Golden Express should be your "go to" company.
How do you think this might evolve over the coming months?
Though we have set some challenging goals for ourselves, we don't want to rush into it or get desperate. Our team of advisors understand the industry quite well and being a service industry, it will take time. We also understand there will be many one-time users and at the same time if a student uses our services they can be our customers for 2-4 years of their student life in a foreign country if not for life! So, we are looking to build some relationships for life and connect a few during the coming months.
What's the biggest misconception people have about you? Why do they have that? What's the reality?
I don't think we can say there is a misconception about us i.e. Golden Express but yes, about the industry there are. The major issue is about transparency about what can be sent or not, documentation required, the basis of pricing etc. Many courier companies pick up just about anything and then it doesn't go through the customs authorities as there are clear guidelines on these. We have put up these on our website so that the general public can have access to this information at the click of a button.
What gets you excited about this company?
The fact that we can help a grandparent send a gift to their grandchild for her/his birthday or a student studying abroad can have the pickles made by her/his mother or a Rakhi from his sister is quite satisfying. While I was living in Ghaziabad, many times the Rakhi sent by my sister never came to me & whenever it came either it would be pilfered or in damaged condition, we will be working to ensure that doesn't happen to anyone else.
Tell us how a day in your life looks like? Your schedule for a day right from the time you get up till you hit the bed at night
A typical day for me begins at 6 AM. I go for a walk – this is my "me time". I read the newspaper for sure and get down to work by 9 AM. Review our marketing content, approve, provide inputs wherever necessary. Respond to queries etc. by 6 I try to wind-up, but it gets stretched for sure. Before retiring for the day, I check the SM platforms for the campaigns we are running and what the responses been. Am hands-off person, typically I hand-hold them to understand our business and expectations and then they are on their own to deliver results. Am available anytime they need me though.
Tell us about your team and how did you meet each other?
We are a small group of friends and know each other for quite a long time. Other than me the rest have spent considerable time in this industry. During one of our get-togethers the discussion veered around to this model and why shouldn't we do it. This was around early 2017. We kept discussing on the model and started the company around June 2017. We finally launched our services in Jan 2018 and so far, the response has been very good considering that we haven't really launched the entire spectrum of marketing activities that we have planned.
Know a great startup story or want to share your own? Write to us at contact.bangaloreinsider@gmail.com and we will get back to you. For more updates follow Bangalore Insider on Facebook. 
Sponsored Ads