Sponsored Ads

FranTiger Business Consulting Private Limited is a Bangalore based startup founded by Ankush Mehrotra in 2017.
FranTiger consults Investors, Brands and Aspiring entrepreneurs with the growth strategies and activities. Focussed on Franchise, Business Brokerage and Turnkey solutions catering to the overall growth, be it starting up or expansion of business. Our tagline "Your Business, Our Priority" delivers the same attitude, says Ankush. 
We at Bangalore Insider had an opportunity to have an interview with Ankush. Here are the excerpts.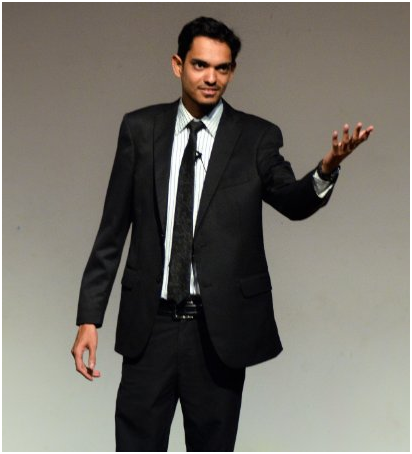 Give a brief info about your startup?
FranTiger Business Consulting Private limited has been started in 2017 from Bangalore. With a vision "To be Earth's most Entrepreneur-centric company, where aspirants can find and discover anything they might require to start or run a business online or offline."
The name FranTiger came from the latin origin (franc= free) and Tiger shows the aggressiveness of the company to meet service expectations. FranTiger is a term coined to
introduce a leader in you.
FranTiger consults Investors, Brands and Aspiring entrepreneurs with the growth strategies and activities. Focussed on Franchise, Business Brokerage and Turnkey solutions catering to the overall growth, be it starting up or expansion of business. Our tagline "Your Business, Our Priority" delivers the same attitude.
What made you start your startup and what problem does it solve?
The knack of Sales, Customer Support and Mapping the demand-supply gap in B2B industry has led me to setup FranTiger Business Consulting to cater demands of entrepreneurs while supplying best solutions.
Our plethora of services include Startup consulting, Franchise consulting, Business Brokerage, IT Services and Turnkey Solutions.
India, being a startup friendly nation these days, still lagging in providing right consulting and approach to the right audience (read Ease Of Doing Business). We, have taken our services and solutions from Tier 1 city like Bengaluru to Tier 3 city like Shahjahanpur in UP and even beyond to Washim in Maharashtra.
From the collaboration with Bajaj Electricals Limited, under Saubhagya Yojana, we have also enabled rural electrification at root level. Aligning to FranTiger's vision of being "Earth's most entrepreneur-centric company', we are partnering with several business service providers across the nation, to speed up the
operations and productivity.
Tell us about yourself, your previous jobs/ventures? What were you doing before this startup?
As an upper middle-class family ambitious kid, I, Ankush Mehrotra, Founder & CEO of FranTiger, aspired to Join Indian Air Force as a Fighter Pilot but couldn't make it to fly a jet. I kept saying "You can keep me out of flying, but you can't keep flying out of me. With the rigour and determination to fly high, I have started and hibernated several ventures. I started developing and selling websites during engineering days, got my first overseas client from Qatar. I have started 'It's your phone' which was a home pickup and post-repair cell-phone delivery service from hostel. Worked at a call centre, sold enterprise software, conducted indoor and outdoor events, run restaurants, made short films as wattsay.com and what not. I have been perceived as an Entrepreneur, Business Mentor and Speaker
Where is your startup based out of? Why do you think that is the best place for you?
We are based out of Bangalore, and also operating at Delhi-NCR, Mumbai, Hyderabad, Kolkata, Vijaywada, Belgaum and the likes with the help of Business Suvidha Kendra franchise network and Talented Business Associates.
The presence of company's footprints are carefully chosen because these places possess a progressive environment for entrepreneurs and a lot of big brands have emerged from these places in the recent times.
To bridge the gap between actual ease of doing business and solution mapping is being undertaken by FranTiger.
As a startup founder, what are you paranoid about? What keeps you awake at night?
As a founder, I am always learning and executing world's best practices to improve the company process and speeding up the resolutions. I believe in trusting the employees and thus strive to improve their skillset, knowledge and overall aspects as a better human being. My choice not to be perceived as a stubborn boss at workplace, has made me an easy to approach guy by my team and clients.
What motivates me to work longer hours and keep me awake on most of the nights is company's offerings and the people executing it. Because, my father taught me at very early stage of my life, "If my decisions affect the lives of families around me, I should be responsible". And as a leader, its my responsibility to grow the team and its members along with the growth of FranTiger. I just don't stay up all night, I invest that time in building the solutions, that can further enhance the overall productivity of the company.
Who are your competitions and how are you better than them?
There are several players in Business and Management consulting space, this includes
Deloitte and Accenture too. However, I take them as influencers not competitors because
their Targeted audience is way different than ours, but the business practices they follow are
worth learning. We observe them and learn how and how not to treat our customers and employees.
There is no scale to measure betterment, one should ask my team about their happiness and improved lives at FranTiger. If they are happy, FranTiger is definitely a better place to work for. We are different than these companies, as our offerings are best suited for startups and aspiring entrepreneurs. With the use of technology, we are working to create a healthy ecosystem for startups.
Our latest cost-effective IT offering, ViSYS- CRM for leaders is suitable for Freelancers, Startups as well as enterprises of any scale.
How hard is it to have a work life balance as a startup founder and how do you manage it?
As a startup founder, I have observed the actual life of an entrepreneur closely by living it every day. I kept on travelling and controlling the operations most of the times remotely with the assistance of the dedicated team members. Half of the month, I am away from my family because of work schedules. The places, I stay in during the work visits keep on changing from Villas, Hotels, Guest houses, Relative's houses to PGs. I only look for three things while choosing the place to stay- Internet, Happy people, and good food. This keeps my body refreshing for more productivity at work and cheerful for the family back at home.
Have you raised funding? If yes, then we would like to know the details. If no then please tell us if you are looking to raise.
We are still bootstrapped. Rotating the director's equity and revenues so far. Although getting generous offers from prestigious individuals and VC firms so far, till fiscal 2018-19, we had no plans to raise external funds and dissolve the equity. Now, we are expanding gradually, so is the company's valuations. Customer's trust and skillset expansion is gathering attention in Investor circle and we might land up getting mentored by some industry leaders strategically and monetarily soon.
What's the biggest misconception people have about you? Why do they have that? What's the reality?
The biggest misconception about us is that we are a 'Franchise Consulting Company', which is in one way good for us. However, we are way more than that. We are a management consulting company, that can be trusted upon at any stage of business for inception, expansion and overall growth. This concept has aroused due to the content, I have written or queries resolved across the internet regularly, in order to help budding entrepreneurs looking for franchise setup or expansion of their brands.
What gets you excited about this company?
The way Frantiger is roaring, it is promised to scale the heights of mountains. The team members' passion to align with the company goals, and thoughts has kept me excited because it is the people that builds organizations huge. I get excited, when a budding entrepreneur show his/her interest for joining hands with FranTiger as a 'Business Suvidha Kendra' franchise or a 'ViSYS- value Added Reseller'.
Tell us how a day in your life looks like? Your schedule for a day right from the time you get up till you hit the bed at night.
The time schedule has never been a game for me. However, I have taken it as a personal challenge to bring order in my personal and work life.
At home, as soon as I wake up, I stretch and gulp a glass of water. I have started taking morning breakfast as a habit before leaving the door. Hitting the gym or cricket ground for fitness, every alternate day has been included in the regime.
I drop my wife at her workplace, that gives us time to communicate as a couple and my way back, I listen to leadership, self-help and non-fictional audio books. I utilize the travelling time by learning from the bestsellers. Taking calls from clients, prospects and managing the huddle calls with the team starts the productive hours. Rest of the day goes in meetings, calls, networking, more calls, responding to prospect emails and taking even more calls as I prefer to be the point of contact for customer bliss. In leisure time, you can catch me playing WWE, Uncharted and popular titles on Playstation. Spending quality time with family and friends is my favourite pastime.
Tell us about your team and how did you meet each other?
As we are a bootstrapped company, our first hire was a set of Interns. We posted across the internet and got students' applications from IIT, NIT IIM and other premier engineering, management and technology institutes. We have chosen 4 candidates at that time and they performed really well. Their feedback at the end of 6 weeks charged us to intake more interns in next batch. Further, we took 8 interns from different educational backgrounds for content writing and website curation. With some ups and downs, they all got feather in their caps, in return gave tremendous support to the company, in its journey. We made sure that all our interns got stipend for their time and energy they have invested with us. 3 of them have got Pre-Placement offers from us. At one time, we had 42 daily wage and contractual workers, on field in Uttar Pradesh while working for Saubhagya Yojna. With referrals and direct joining, now we are 9 full time and 8 Business Associates along with 10 plus Business Suvidha Kendras across India.
Advisory and mentoring support by my father Mr. Atul Mehrotra has always been a strength in all the ventures, I have undertaken. Priyanka, co-founder of Frantiger has proven to be a great support at each step. Victor has been an unsung leader and strengthening the Food and Beverages consulting with every passing day. Gaurang has joined the team last year and has been rising as the roaring frantiger. Special mention to Nishtha, our clinical psychologist has given direction to our consulting approach by understanding the personality traits of the client.
The team is driven by self-motivation aligning to the goals of company with #IAmFrantiger
Know a great startup story or want to share your own? Write to us at contact.bangaloreinsider@gmail.com and we will get back to you. For more updates follow Bangalore Insider on Facebook.
Sponsored Ads