Being women is no less than being a superhero. Women have to take care of their careers as well as families. No matter how inclined they are on either side, they always have to balance between both. At some point of time in life, due to family conditions, many women opt to choose the life of a housewife. The point to note is being a housewife is not the end of a career for any woman.
There are a lot of potential opportunities present for anyone out there to start a business and run it by from home. This era of technology; it is a great asset that every service is present virtually. So any women wanting to own her business in any domain can easily step-up.  Let's take a look at some of these feasible ideas that can help out any women to set up her own business profitably to support their families.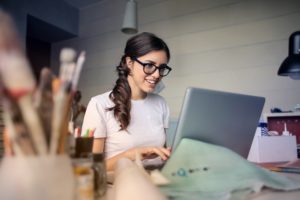 Freelancing
Freelancing is the best choice to make money on full time or part-time basis. You can easily start a freelancing business by creating a profile at any freelancing portal such upwork, toptal, freelancer, people per hour, fiverr, etc.
You can start your freelancing business as a content writer/graphic designer/etc. For a start, find a profitable niche that excites you. Then identify your target clients. Follow up by quoting reasonable prices for your service. Don't forget to build a high-quality portfolio website. For freelancing business, you should also learn how to pitch yourself.
Setting up a Restaurant or Bakery
Nothing can excite a woman as much as converting her kitchen to a business prospect. Food that is made on daily basis in the home kitchen can also serve as the initiator of a business idea. Women who  have passion for cooking can easily start a restaurant or bakery of their own with their own kitchen serving as the main kitchen for the business. Tiffin packing services can also give great leads without much investment and by working with already present assets.
Teaching Your Passion
Teaching arts/crafts/music to kids and other women can be also a popular choice for women who want to start a business from their homes. To start teaching as a business, all that the person need to do is finding a spare room in her house where the students are not disturbed and small assets like a board and seating arrangement.
The success of tuitions totally depends upon the knowledge of the owner in the desired subject or skill. Tuitions can be easily marketed by networking with people around your residential area.
Event planner
Planning is second nature to women!  So, it would be a good idea to add event planning to the list. Any woman can start a business as an event planner by simply searching for potential clients and creating strategies to suit their needs. Event planning is a kind of work which requires more of emotional intelligence, good communication skills and a logical mind that can judge feasibility. All these qualities are inheritably present in most of the women, which makes event planning a good choice for women trying to own a business.
These are only four great business ideas for housewives who want to own a business. Of course, there are a lot more choices that can be added to this list. All one needs to do is think about the things one is good at and start making a business plan for it.
Author Bio:
Mohan is a Junior Associate at Swag Swami, an online E-Commerce portal for funky T Shirts in India. He is also an avid gamer who spends his free time logged into Steam. He also practices Yoga and meditation regularly and teaches Yoga at the Cosmopolitan Center in India