Sponsored Ads

How often have you told yourself that you'll start being regular to the gym from the next week? How often have you kept your new year resolutions? Statistics say that most gym memberships are taken during the new year's time and most people are active during the first month of the year. As the months in a year reduce, so does your motivation level.
One of the primary reasons why people are not regular to a fitness class is because they don't feel as part of a group. It is the same feeling when one joins a new school or college. You don't have any friends and the first few days can be really challenging. It is the exact thing that happens when it comes to your fitness classes as well. You are more likely to continue going when you are not alone, when you are part of a group that not only works out with you but chills with you as well.
One such community is Fitchicks India which is an uplifting fun fitness community for like minded women, sharing real life stories to inspire & support each other. We had an opportunity to talk to Navneet & Kez, the two co-founders who built Fitchicks as a way to give back to the fitness community.
Here are the excerpts of the interview.
Fitness helps people to find or create a balance to their daily routines. It's not only helping them to look good, but also to feel good and energized  and feel less fatigued.
When did this idea of starting a fitness community come to you?
Navneet: Kez & I have been working out together & she has also inspired me towards fitness. I thought of taking regular fitness videos to inspire people.When I discussed it with her, she shared the idea of Fitchicks with me & I was immediately convinced. I came on board because I feel that I want to inspire women in all aspects of life through fitness.
Kez: Community building is something I was always interested in and I take part in different initiatives.  But I realised that no one is doing something fitness related and for women only. You can only find a marathon exclusively for women, that's it. I train the Adidas runners in Bangalore and I see many people coming to the class and enjoying their working out and Adidas does it for free. It's incredible.
A year back I had the idea to do something where only women can come together and train, but not only yoga or runs, women need to do more strength training. I wanted to offer functional training. In my job as a coach I mainly do personal training for women and girls. When I was training one girl who is only 19 she said to me at the end of the training "Kez, thank you so much. Apart from keeping it always fun, I realised how secure and confident I became, during and after the training."
Thereafter, I was very sure that I wanted more girls and women saying this. And I was thinking what can be a good name to the entire venture. It had to be cool, sweet, sexy and girly. So, Fitchicks was born.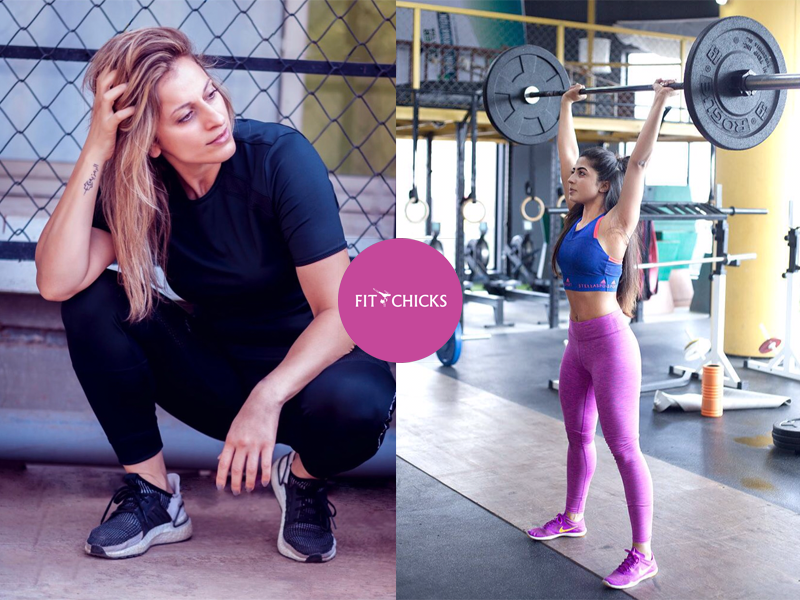 What were the initial challenges that you faced?
Navneet & Kez: After sharing the idea with Navneet, we brain stormed a lot. We were able to figure out everything that was needed and how to solve the problem of getting girls to come together when we ask them to?
The first session was interesting. Around 30 girls had confirmed but at 7am in the morning we had only 4 girls who showed up. That was quite disappointing, but once we started the training we realised that Rome wasn't built in a day. We decided to it more time.
We needed to be patient and allow the girls and women to get inspired and trust us, that we are just helping them to get a step into their fitness journey and be a part of community with great women working out together.
Why do you think fitness is important in today's life? How can it change a person?
Navneet & Kez:  In today's world being fit is almost a status symbol. What? You don't workout? And… actually it's good, looking at our lives, eating habits, how we commute, work, sit eat drink etc. Life today is more 'laid back' and much more comfortable with Swiggy and Big Baskets. You get served so well and you hardly do anything by yourself. One doesn't even iron one's clothes.
People might not realise this but they are actually becoming unhealthy. Not only with regard to their body but also their mind. Fitness helps people to find or create a balance to their daily routines. It's not only helping them to look good, but also to feel good, energised  and feel less fatigued.
When you exercise, your positive hormones increase and you just feel good. Isn't that what we all want? Feel good about ourselves? Implement fitness into your life and it will help you to feel balanced, fit, not fatigue, full of energy, and overall just good.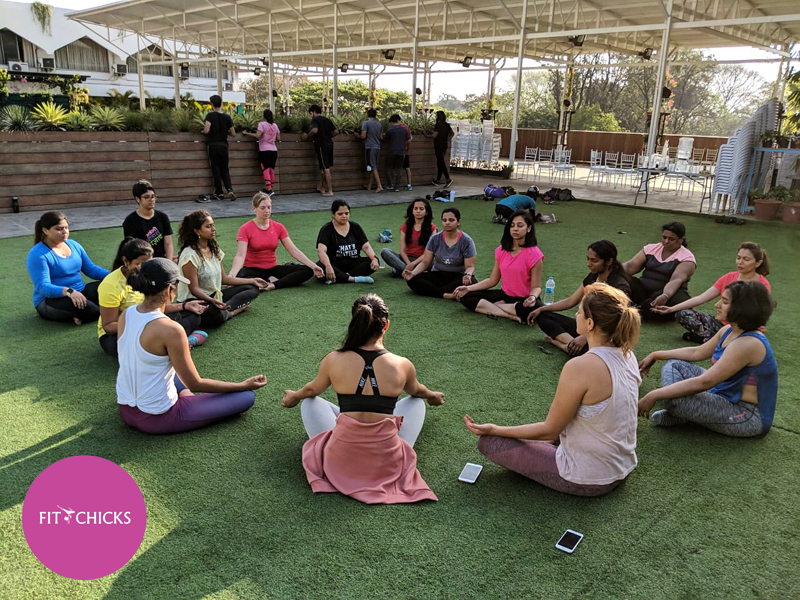 How has been the response so far? What makes people keep coming back again and again?
Navneet & Kez: It's been incredible. Since we started, we have had so many new girls and friends of active Fitchicks members coming to the training sessions. The girls love the workouts and the way we challenge them. We always keep it mixed but implement lots of fun and laughter into the workouts. We even do small meditation sessions at the end and we have also started our socials where they all come together and have a glass of wine or food. On top of all, most of the girls become friends with each other and connect on other levels in life too.
Where are the classes held and how often? What fitness regimes do you most stress on?
Navneet & Kez: We started our fitness classes at the Hub Bengaluru, which is a co-working and Co-living space on Infantry Road. Though we started with one session every month, we are now exploring the idea of doing more classes in different parts of Bangalore as well as other cities.
We mainly offer body weight, functional training and HIIT. We start with a good warm up followed by something new in terms of functional training like Animal Flow or Body Alignment and end either with some dance forms or meditation.
What keeps you excited about this community?
Navneet: I think it's a great platform to connect and meet so many amazing women doing so many different things in life. We have mothers, working women, youngsters, and when I look at them, I feel inspired by all the different personalities and feel like pushing myself to do more to reach my goals.
Kez: Meeting new girls, helping them to be a part of something good, reaching out to more and more women. Inspiring them to really feel good about themselves and find new friends.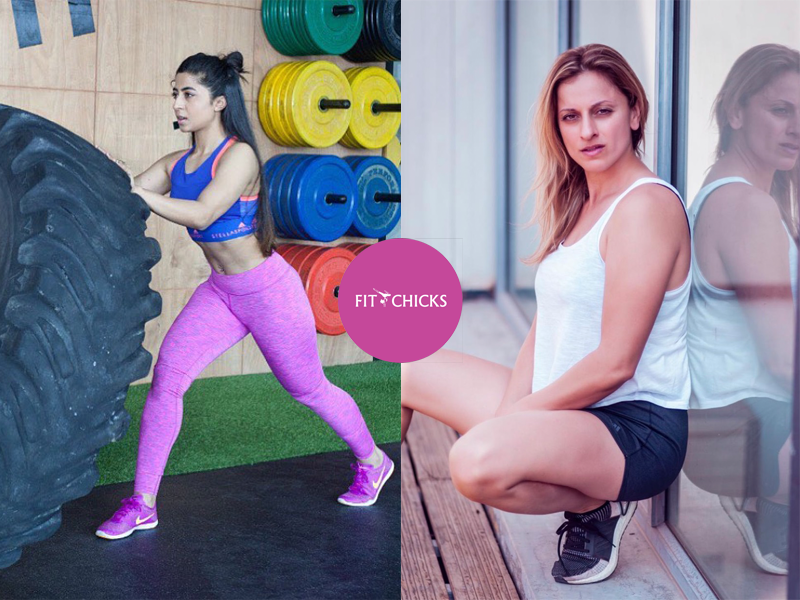 How are your fitness classes different from the rest that exists? How is FitChicks different from the rest?
Navneet & Kez: Haha, maybe you should ask our members 🙂
Who said we are different? We don't need to be different, but we guess in today's world you need to have a market differentiation to be accepted or get people to your place and get their attention.
It's weird but we guess the girls are coming to us because they feel good about it. We only have like minded women, no negative energies. A lot of people also turn up, maybe because it's a free class, but we feel that they want to help and inspire each other.
What are the future plans that you have for fitchicks? Any plans for starting such a community for men as well?
Navneet & Kez: Definitely go to other places and inspire more women and bring them together.
Not really a men's community but we are happy when men join our socials and support us. For now we keep it mainly female based but sooner or later we have some inspiring men who will do something for our girls, like a motivational pep class or so.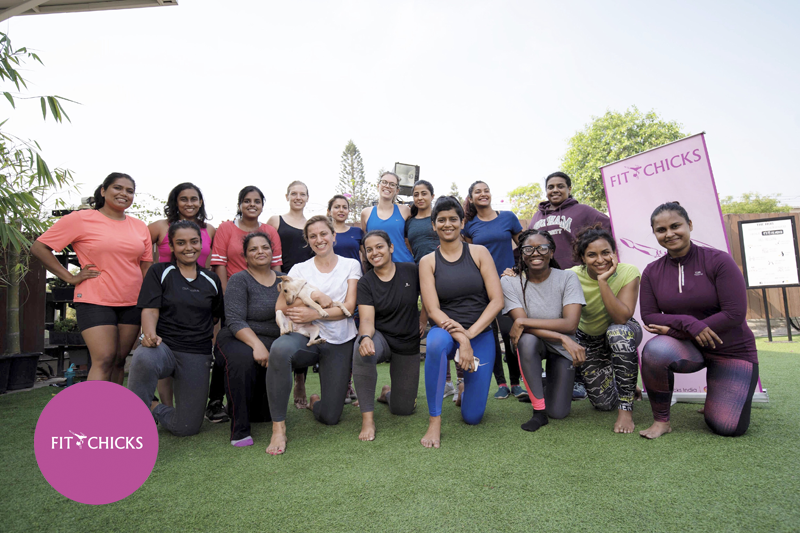 Bangalore Insider also got in touch with some of the members of Fitchicks India to know how they feel about the whole experience. Here are their views.
"It has been a wondeful experience with FitChicks.  Kez's passion is contagious and inspired me to perform better than i actually was capable of. My first session with fitchicks was after a gap of one month from any physical activity. I was prepared for extremely sore muscles next day but to my surprise, I didn't feel a thing. Rather I felt more energetic.
This community is by the chicks and for the chicks and that makes it different yet more effective than any other community that I've been part of." – Swati Ratore, Make Up Artist
"Fitchicks is a great initiative. I'm glad to have met Kez and Navneet.
I really appreciate their approach of body positive training because it doesn't focus on appearance, a weight loss goal, or getting a beach body. The encouragement is to become stronger, more flexible and agile, and to relieve stress and feel good !  I have seen the smiles on everyone's face after a workout, it's really inspiring.
I used to struggle with staying in a gym routine, but working out with these girls doesn't feel like a drag or a chore, it feels like fitness date with inspiring and fun friends. Thanks for creating this community ????" – Preeti Punjabi, Corp Lawyer
"Fitness is already a part of my daily lifestyle.
Joining the Fitchicks for me is a really enthusiastic way to practice and connect with women in a great atmosphere. It is a beautiful moment that Kez has built, where we are all united with a common awareness of getting back together and becoming more aware of who we are." – Sonia Gryszata, Yoga Instructor and Dancer
"I have attended 2 sessions of Fitchicks at the Hub recently and can definitely say that it is one of the best things that has happened to me in the last few months. I attended the first one in March, when I was out of touch with any form of exercise for quite some time. Kez had an excellent compilation of functional training workouts which made the session exciting and purposeful. She is a patient and dedicated trainer who simply motivates you to do your best.
I left the session feeling positive and upbeat and since then took up working out more regularly. Seeing the energy at my first session, I joined the next one on Animal forms which was very different and interesting. Since then, I keep looking out for more Fitchicks sessions. This is a great idea to inspire girls to get into fitness as well as network with other girls. Looking forward to attend many more. Thank you Fitchicks, Kez and Navneet. ????????" – Richa, Chartered Accountant
---
Know a great story or want to share your own? Connect with the author Gaurav Bora on any of the following – Instagram, Linkedin or gaurav@bangaloreinsider.com
Author
Sponsored Ads