Sponsored Ads

EzPG is a Bangalore based startup which helps you to find Paying Guest as per your requirement in all major metro cities. They also have a mobile application which makes the task more easy for their target customers. Kamal Jha is the founder of this startup.
"The circumstances I have lived so far has compelled me to come up with EzPG. It gives you access to a wide range of PGs at your fingertips. Just a few clicks and start booking your PG, says Kamal."
We got an opportunity to talk with Kamal, the founder of EzPG and see what he has to say. I am sure his interview with us will inspire you.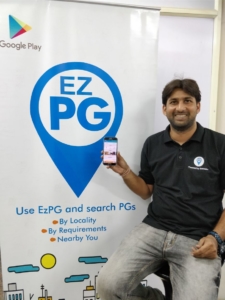 Give a brief info about your startup?
EzPG is a platform that helps you find paying guests (PGs) in metro cities according to your requirements. Our vision is to provide reasonable accommodations to people who are seeking a safe dwelling across India.
EzPG is accessible through our website or by using the mobile application on the Google Play Store.
What made you start your startup and what problem does it solve?
Finding a good PG accommodation is a major headache when you move to a new city. It requires endless effort and time to find a suitable PG. Been there, done that.
I believe "Necessity is the Mother of Invention". It drives you to find solutions to your problems. The circumstances I have lived so far has compelled me to come up with EzPG. It gives you access to a wide range of PGs at your fingertips. Just a few clicks and start booking your PG.
Tell us about yourself, your previous jobs/ventures? What were you doing before this startup?
I moved from Darbhanga(Bihar) to Bangalore to pursue my career. I completed my Engineering from Dr.T.Thimmaiah Institute of Technology. After my engineering, I used to work the regular 9 to 5 job.
Where is your startup based out of? Why do you think that is the best place for you?
Our startup is based out of "The Silicon Valley of India" – Bangalore.
Bangalore is a city welcoming people from different states in India and to help these people find the best and reasonable accommodation is our goal. There is no doubt that Bangalore is the best place for EzPG to get a head start.
As a startup founder, what are you paranoid about? What keeps you awake at night?
As a startup founder, sometimes I am paranoid about the future and fate of the company. There are times when I have stress related to time vs expectations that makes me feel uncomfortable but it lasts just for a moment. It is better to get out of such situations as early as possible and look at the brighter aspects in life.
Who are your competitions and how are you better than them?
My competition is my dream. When you compete with your dream, you achieve it as well as look beyond it.
How hard is it to have a work-life balance as a startup founder and how do you manage it?
If you have a plan, nothing is difficult in life. You just need to know how to execute your plan. The startup is an exam to carve your career.
Have you raised funding? If yes, then we would like to know the details. If no then please tell us if you are looking to raise.
We have not raised any funding yet but we are open to people who believe in our idea and share the same interest.
What's the biggest misconception people have about you? Why do they have that? What's the reality?
Misconception people have about me is I am workaholic and I hate socializing. I believe being socially active is always an advantage. As they say "All work and no play makes Jack a dull boy".
What gets you excited about this company?
Yes, I am excited because it is a new chapter and new opportunity in my life. Creating more opportunities for people also drives me and the company.
Tell us how a day in your life looks like? Your schedule for a day right from the time you get up till you hit the bed at night.
Every day looks different. My goals define my schedules. Most of the days are like waking up and having the most important meal of the day. Then it is Work Work Work. In the evening, I watch some TV, catch up with friends, sometimes go out with colleagues and discuss about career goals and life.
Tell us about your team and how did you meet each other?
Let's say the evenings I spent going out were very useful. I found people of same interests who believed in my idea and work dedicatedly towards it.
Know a great startup story or want to share your own? Write to us at contact.bangaloreinsider@gmail.com and we will get back to you. For more updates follow Bangalore Insider on Facebook.
Author
Sponsored Ads