Sponsored Ads

Sapna book house is a brand that is known to the people of Bangalore, and it has undoubtedly been the go-to place if you ever required something in terms of books and stationery. Comprising of well of 13 stores nationally out of which 8 in Bangalore itself, it's been on the high rise ever since 1967 when it was incarnated by Suresh Shah. From selling books on the pavement to having 350,000 square feet retail outlets, they have certainly come a long way.

Sapna isn't just a brand, but it comprises of various other things that the book house is capable of providing. Sapna book house Bangalore online shopping was one of the many ventures that were bought about by the company to promote their outreach through the various customers nationally. Thus, to promote the growth of writing and reading throughout the country, there are other ventures in the company which are given below.
Sapna online.com
Sapna online is the brainchild of the company after acquiring other online book stores to create the platform which helped them grow considerably. They have well over 10 million books in their inventory and over 10,000 audiobooks and gadgets to browse through.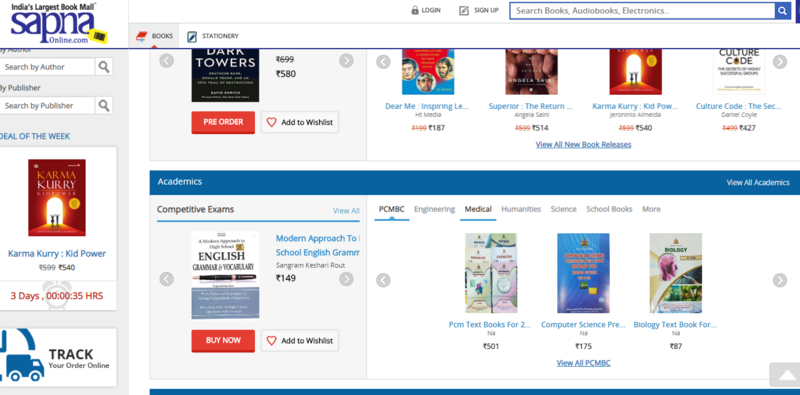 Growing at a steady pace of 12-14% every month, they have certainly ensured that they can capture a broader audience in the country and aim to grow globally as well.
Store67
Sapna book house on several occasions has promoted various new ventures to arise and have made them a profitable business indeed. Store 67 is another venture that offers surplus stationery options and has 300+ SKU's to offer.

Hence, helping the gross profit margin to increase with another 15-20%. They have their stock of products and aims to reduce selling other products and promote their line of stationaries to be sold.
Sapna Ink
If you are looking for a one-stop-shop for all your book publishing ventures, then Sapna Ink is the place to check out. The venture helps aspiring authors to publish their books all in house right from writing, publishing and selling all through Sapna book house Bangalore branches.


Hence providing a wholesome experience to authors and have a new take on how it could provide a boost to them, It ensure that their writing products would sell under a notable brand.
Sapna rise
Despite being in its development stages, it's a platform set to be launched by Sapna that would help in providing customers to be in touch with their favourite authors and to know more about the authors that they dearly love. Still, more insight is yet to follow in the coming days.
Thus, the above-given branches of the company diversify how the company takes on the demographic for the book industry in the country. They aim to branch out strategically and ensure that they have the best in class facilities and features to offer the customers and have a pleasurable experience while shopping at Sapna book house.
---
Want to receive the greatest and the latest happening around Bangalore? Subscribe to our newsletter to be updated regularly. If you wish to contact us, then write to us at contact.bangaloreinsider@gmail.com, and we will get back to you, for more updates follow Bangalore Insider on Facebook.
Author
Sponsored Ads