Sponsored Ads

When it comes to searching for proper military-grade equipment's, such as shoes, jackets and much more, there aren't enough places where you can buy such products. Well, not anymore, as Captain Chethan YK has started his very own venture known as "Oliveplanet" in Bangalore.
Serving as captain in the Indian army form the year 2002 to 2007, he realized that there were limited places where you could buy excellent army grade goods. Also, civilians alike demanded excellent military-grade goods, but there was no such platform form where you could purchase any products.
The idea further grew into the picture when you started collecting information from different army professionals that he met during his tenure in the Indian army. Thus, he curated a list comprising of all the excellent quality army goods from India and abroad.
An architect as a profession, Capt. Chethan finished his resettlement in IIM Ahmedabad after he retired from the army. It was then when he was bought into the world of entrepreneurship and business. Such that he bought up the idea of collecting high-grade military goods and starting a business of selling the same. Thus, arose Oliveplanet.
Early days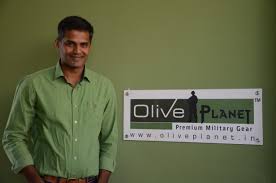 It was back in the year 2009 when Olive planet Bangalore started with a great beginning with having a handful of products for sale. But fast-forwarding it to the present date, the company stocks a great itinerary of goods and restocking of goods happens daily. The gear that you find here is outsourced from all across the world and India. Thus, giving a comprehensive option in terms of choosing and flexibility.
Olive planet military goods are quite durable and sturdy. Thus, giving its reputations and brand awareness. In the initial days, the market was indeed scarce and niche. The first-ever order that olive planet fulfilled was for an individual that was looking for camping equipment. The company sold a few survival and camping equipment.
Since then, the trend has changed a lot with more people wanting outdoor gear and traveling necessities. It's a growing market that is sporting wider and broader growth opportunities.
Growth factor
Olive planet website is the primary place where all the transaction takes place. People across the country can order from the online site and have it delivered to your respective location. Or they could visit Kattigenahalli in Bangalore to experience the retail outlet of olive planet in Bangalore.
Olive planet is in talks with the Indian army to make some items available to its customers in terms of wholesale. Starting with fewer items and goods, the company sure did come a long way in terms of expansion and scalability. As of now, they own warehouses and storage places to stock their premium military gear for various uses.
While the nominal customer types range from 80% civilians, and the rest are army retired individuals and professionals, the customers are diverse and offer excellent offerings to all individuals. The olive planet online shopping experience does indeed bridge the gap between customers and their need for high-grade military goods.
The trend that is noticed while buying goods from olive planet is that people often buy small souvenirs. Once they gain confidence, they tend to move up to the expensive gears and equipment. Mostly college-going students are the ones that buy more from the store.

Well, the future of olive planet is quite impressive. All the future traits that ensure that the company is one the right track to success is as follows.
Focus on tier 1 cities tin providing effective goods and high-quality equipment.
Offer a great retail experience in terms of selling through trial and then selling.
Providing defense classes for self-protection.
Well, these are the ongoing prospects of the accompany. But there is something started as olive planet café where it's a continental café where you get a comprehensive take inside the life of a soldier. The entire café is styled in an army themed nature with tents and other army goods.
There are regular workshops and other activities that are conducted in the café to give an insight into the training and regime of army professional.
---
Want to receive the greatest and the latest happening around Bangalore? Subscribe to our newsletter to be updated regularly. If you wish to contact us, then write to us at contact.bangaloreinsider@gmail.com, and we will get back to you, for more updates follow Bangalore Insider on Facebook.
Author
Sponsored Ads