Sponsored Ads

El Diablo Sauces is a Delhi based startup founded by 
Tanya Nambiar
and her husband in 2016.
The idea was to create uniquely flavoured sauces that contain no added sugar, no chemicals and no chemical preservatives.
We got an opportunity to talk with Tanya, and see what she has to say. I am sure her interview with us will inspire you.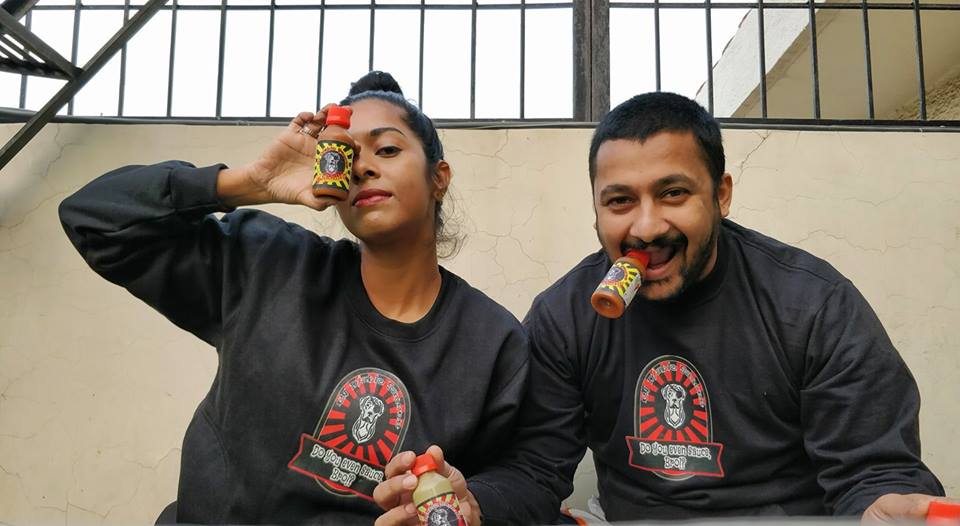 Give a brief info about your startup?
We started El Diablo Sauces in Jan 2016. The idea was to create uniquely flavoured sauces that contain no added sugar, no chemicals and no chemical preservatives. And that's exactly what El Diablo Sauces is all about. We have 8 flavours ranging from mild to super hot. These can be used as dips or for marination. 
What made you start your startup and what problem does it solve?
We could never find good sauces in the market and hence decided to make our own. Most of the sauces available contain too many chemicals or too much vinegar or are too watery. We wanted nice , rich and thick sauces and that's how El Diablo Sauces was created. We wanted to give people more sauce options than the basic ketchup, mayo and mustard. Our sauces are unique and fresh and our USP is that they contain no chemicals or added sugar or chemical preservatives. So apart from being tasty, they are good for you !
Tell us about yourself, your previous jobs/ventures? What were you doing before this startup?
My husband and I started El Diablo Sauces together.  I am a singer, a voice over artist, an anchor. But before all of this I was in the sales industry. I quit my job many years ago to take up things that really interest me.  My husband is from the hospitality background. So we combined our strengths and formed this startup. His cooking skills and my marketing and sales skills.
Where is your startup based out of? Why do you think that is the best place for you?
We are based in Gurgaon. We live in Gurgaon hence it was just convenient. We put whatever savings we had to start this venture hence it just made sense to start where we are based out of. We are currently available pan india via online platforms.
As a startup founder, what are you paranoid about? What keeps you awake at night?
There are plenty of things that keep me awake at night- how to constantly keep growing the company, new marketing plans, new products, funds, expanding the team. There will always be a 100 things to worry about. But the plan is to not let those things be an obstruction. I convert those obstacles into motivational factors. It helps us work harder.  I am constantly thinking of new ways , new plans to keep growing- individually and business wise. And that definitely keeps me up for most nights
Who are your competitions and how are you better than them?
We are in a highly competitive industry. The FMCG industry has many big players and there is always the fear of being crushed by your competition. But we believe in the uniqueness of our product. For the first 6 months we solely operated on word of mouth. People loved the unique flavours. We are offering something new to the condiments industry. We use ingredients that the Indian audience loves and created new flavours. 
How hard is it to have a work life balance as a startup founder and how do you manage it?
We are constantly working. When you run your own business there are no 9-5 timings, there are no off days. You have to do everything on your own. As a startup founder one must be prepared for all the highs and lows. You have to be your own cheerleader when you are running your own business, you have to be your own walking talking billboard.  And apart from my business I have three more professions that I am juggling. So I have a lot to balance. The only way I balance it all is – I never let success get to my head and I never let failure get to my heart.  Also, when you do things you love, taking out time them for comes naturally because you actually enjoy what you are doing. I love all my work and I hate being idle.
Have you raised funding? If yes, then we would like to know the details. If no then please tell us if you are looking to raise.
We are looking for funding. We have some big business plans and for that expansion we realized the need for funding and thus we are actively searching for funding currently.
What's the biggest misconception people have about you? Why do they have that? What's the reality?
I really don't pay heed to what people think about me or say about me. There is genuinely no time for that. I have too much on my plate. The reality is I'm just a middle class woman trying to survive life, trying to make a name for myself, trying to be happy and never giving up. 
What gets you excited about this company?
It was always my dream to have my own business. As someone who didn't have a lot growing up, this is a dream come true for me. We have worked really hard to start this business and we are going all the way with this. I want to see my product on every shelf at every grocery store and just constantly working towards that, gets me excited.  We are currently available via 8 online stores pan india and are retailing out of a few stores in Delhi/ncr. We are working towards making El Diablo Sauces a household name and that plan, that goal gets me excited every damn time.
Tell us how a day in your life looks like? Your schedule for a day right from the time you get up till you hit the bed at night.
I wake up around 8-8:30 am and head to the gym. Most days that's how I start my day. Then I come back play with my dogs, freshen up and get ready to start working. Juggling 4 professions keeps me busy all day. So I start by working on my music, then if there are some voice over projects I finish those. Then start working on El diablo Sauces. There is always so much to do. There are 24 hours in a day and I try make the most of them. I genuinely look forward to busy days.
Tell us about your team and how did you meet each other?
I met my husband at my gig. He was there writing a food review and I was performing with my band. We hit it off from the very start. We dated for a few years before we got married and then jumped into our business partnership. He is very supportive about everything I do. We both are poles apart yet have a lot in common. It's quite strange. We make a great team and support each other no matter what and that is the basic foundation for any business.
Know a great startup story or want to share your own? Write to us at contact.bangaloreinsider@gmail.com and we will get back to you. For more updates follow Bangalore Insider on Facebook.
Sponsored Ads