Sponsored Ads

Healthcare, encompassing preventive, primary, secondary and tertiary healthcare have, over the ages been driven by both government and the private sector alike.
The previous decade has been a testing time for the Indian healthcare market. We have seen the rapid strides made by the private sector in the preventive healthcare domain (Think every company selling health supplements, subscriptions to fitness studios and healthy food, yoga and meditation centres, spas and 'natural' products etc. )
Amidst a scenario where a majority of India does not have access to healthcare, the government's Ayushman Bharat scheme fixed treatment prices, while shouldering huge insurance premiums. Private hospitals, already reeling from a cap placed on the prices of various essential drugs and medical devices, now had to focus on not just making sure they made money but also battle a shortage of talent, while accounting for the above factors.
Not just this. Add in the digitisation and technology wave (telemedicine, e-pharmacies, apps) that swept Indian healthcare and you have the perfect recipe of a market constantly in flux. But the writing is on the wall: no sector is going to be immune from technology and the first step is to get the hospitals, independent doctors and patients towards your side.
Today, at Bangalore Insider, we spoke to the founder of DRiefcase, a health-tech start-up that has built solutions for patients and families to store their medical records safely, while helping hospitals to manage their operations. Below are the edited excerpts from our interaction.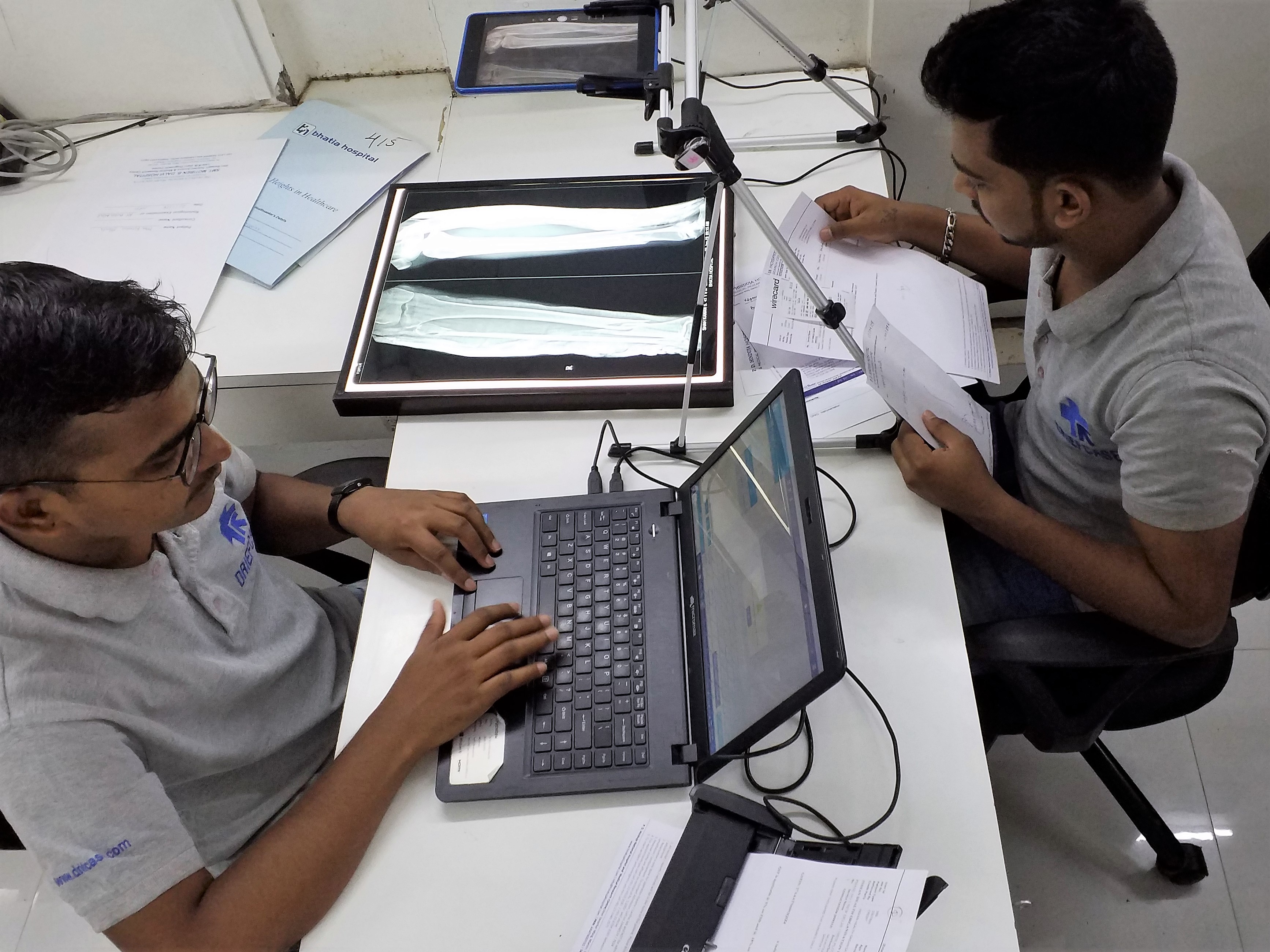 Give a brief info about your startup?
DRiefcase is a comprehensive health-tech solution for patients and medical practitioners with two interconnected, complementary apps on a common platform
Let's start with DRiefcase, our Patient EHR platform. It provides secure, easy-to-use access to personal health records enabling users to maintain their family medical records online and access them anytime in a matter of seconds. It's a patient-centric platform with unmatched focus on personal health records that ensures ease of upload and fast retrieval of records.
Then we have DRiefcase Connect, our practice management solution for doctors. It is a clinic management platform for doctors, polyclinics and small hospitals to improve productivity and manage their practice, again, with unmatched focus on personal health records.
What made you start your startup and what problem does it solve?
We started off with DRiefcase in 2016 with our patient side app & scanning service – DRiefcase.
The problem statement was simple – patients take care of health, not health records. So, we decided to help them with that.
Generally, the family stores all its medical records at home in a cupboard or a cabinet. The day there in need typically one cannot locate them or is away from home. That is where DRiefcase comes off most use. We help you manage your family's medical records. Our team comes home to scan them all and they get indexed and organized in our mobile app. So you can locate any record in just 10-15 seconds!
Earlier this year, we launched DRiefcase Connect which is a logical extension of DRiefcase – a full service practice management suite for doctors with record management at its core. Needless to say, it has all the other modules such as appointment management, patient check-in, billing, etc
Tell us about yourself, your previous jobs/ventures? What were you doing before this startup? and how did you meet each other?
Sohit and I were both investment bankers at Bank of America Merrill Lynch for 12 and 10 years respectively before we quit to start DRiefcase.  In fact, Sohit and I were also at IIM Bangalore for our MBA but a year apart. As such, Sohit is a Computer Science Engineer from Mumbai University and I am a Chartered Accountant.
Where is your startup based out of? Why do you think that is the best place for you?
We are based out of Mumbai. Harsh and I are both Mumbaikars and have been in Mumbai almost all our lives. So Mumbai, while not a hotbed for start-ups like Bangalore or Gurgaon, offers us a home-ground advantage.
As a startup founder, what are you paranoid about? What keeps you awake at night?
Our biggest challenge is INERTIA. Few dispute the need to digitize medical records. However, the real problem is inertia. While the average person is now comfortable taking selfies and photos to record personal events, that behaviour is not really prevalent in case of medical records. People spend 10 mins on a selfie, nothing on a digital health record. Our endeavour is to build systems that target this inertia and enable patients to keep their account updated with minimal intervention.
The strategies that we are deploying to target this inertia:
On the patient side, we start the patient journey with our Scan At Home / Pick Up & Drop services, where we digitize the user's past medical records (unlike a case where he has to build a database over time for use in future). Keeping the records updated is as easy as taking a photo. Moreover, we give each DRiefcase use a unique personal mailbox, wherein anything emailed to that get uploaded to their account automatically. This has yielded us a behavioral change towards uploading medical records: Once users have their medical histories organized, we have seen many of them upload records on an on-going basis
Our practice management platform, DRiefcase Connect is built on the exact same principle as DRiefcase – convenience. With a focus on minimal workflow disruption, we have several convenient ways to upload the patients' medical records using the phone camera, email, voice and hand-writing recognition. The doctor can adopt the technology or / and have the assistant do it.
With two interconnected platforms, we are relying on the network effect to further aid in bringing about this behavioural change. As patients and practitioners share records with each other, documentation becomes easy and eventually a routine.
Who are your competitions and how are you better than them?
On the DRiefcase patient app side, there is no significant competition – some users do use email and cloud storage to archive their medical records. But the ease of retrieving documents (On DRiefcase you can find any document in 10 seconds!) and seamless sharing across trusted family members makes DRiefcase stand out as the best option quite easily. As mentioned earlier, on the user side the real challenge for us is to sell the concept, once that is done DRiefcase is their natural choice.
On the practice management side (DRiefcase Connect) – we do see a good number of players who do provide some part of the services we provide – Practo, Lybrate, DocOn, Doxper, Healthplix, Clinicia, etc. Where DRiefcase Connect is different is in its philosophy of providing Doctors with a highly customizable solution which focuses on improving their productivity without impacting their current working style at all.
How hard is it to have a work-life balance as a startup founder and how do you manage it?
It is difficult. Even if you are physically out of the office, you could be spending weekends thinking about what next. Especially in the early days when the team sizes are really small. In fact, sometimes we wonder if our work hours improved after investment banking at all! But the secret lies in effecting hiring. Time spent on team-building and investing in the team can reap rich dividends in terms of time-management and overall efficiency
Have you raised funding? If yes, then we would like to know the details. If no then please tell us if you are looking to raise.
No. We are boot-strapped as yet. As of now, we will look to raise funding sometime in 2020.
What's the biggest misconception people have about you? Why do they have that? What's the reality?
The biggest misconception people have about DRiefcase or any other startup is that if it doesn't succeed overnight (or in a few more nights), it is destined for failure. It seems that the expectation of what is an acceptable growth rate is that comparable to Whatsapp or Facebook. The fact is, that not every business is a "tech start-up" and the role that technology plays in the growth of different businesses is different. For us, we don't think technology is the key. It is important, but not the key. The key to success for us is the last-mile connectivity that we bring to the table with all our customers, be it patients or doctors. Healthcare, anywhere in the world, is a trust-driven relationship business. And we believe, that any healthcare business, technology-driven or otherwise, needs to be based on building that trust.
What gets you excited about this company?
For us the behavioural change we have started seeing in our users is definitely our biggest motivator. We see users regularly uploading their medical records and maintaining their accounts. We believe that we understand what drives this change and plan to implement that on a larger scale as we continue gaining traction further.
We are also extremely proud of the relationship driven approach to healthcare that we are taking versus a pure transactional approach that seems to be prevalent in the sector. Patients and Doctors are really liking this approach which makes us more confident on our road ahead.
Tell us how a day in your life looks like? Your schedule for a day right from the time you get up till you hit the bed at night.
As a matter of fact, that's been the best part about starting up. It's a new battlefield and a new enemy each day. Every day is about a new problem or a new challenge. Fortunately, we don't have a typical day in our lives.
Tell us about your team?
We started with a team of 6, including both of us. Our team has been consistently growing since then and we are now a 16-member strong team. We have also been very fortunate to have a set of highly accomplished mentors who have guided us well along our journey.
Know a great startup story or want to share your own? Write to me at bhumikka.yaadav@bangaloreinsider.com and I will get back to you. For more updates follow Bangalore Insider on Facebook and Instagram.
Author
Sponsored Ads