Sponsored Ads

Dogether is a Mumbai based startup founded by Hammad Jilani. The 
Dogether is a platform where you can connect and discover activities that are happening in your city. 
"Personally, I feel I, am very competitive. I like winning. I like success. But I hate losing more. I feel the day you feel comfortable with losing or failure, you don't have any motivation to change your destiny", says Hammad.
We got an opportunity to talk with Hammad, the founder of Dogether and Let's look at his journey as an entrepreneur and see how he is working hard to achieve his dreams. I am sure his story will inspire you.
Give a brief info about your startup?
Dogether is a platform to connect like-minded people with curated activities happening in their city or locality. These activities, which are hosted by trusted locals, ranging from a variety of outdoor activities (trekking, camping, cycling, heritage walks etc) to indoor activities (painting, pottery, cooking etc).
What made you start your startup and what problem does it solve?
In India alone, every minute 30 people move from smaller towns to bigger cities. Due to urbanisation and better job/business opportunities we have millions of people in developing nations who don't have avenues to a) Find like-minded people in a new city b) De-stress themselves by doing their favourite activity c) Make meaningful friendships over common interests.
I (Hammad Jilani, founder & CEO) realised this, right from my college internship days at Ogilvy & Mather when I moved to a new city for my internship. It was a nightmare because after work I really did not know what to do. Hence the idea of Dogether (Do + Together) struck me.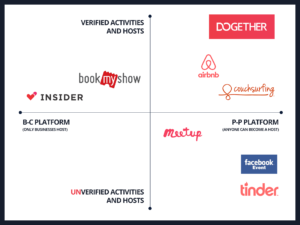 Tell us about yourself, your previous jobs/ventures? What were you doing before this startup?
I have done my schooling with science as a major from DPS Mathura Road, New Delhi. Subsequently, I did my engineering from Indraprastha University in Delhi with Electronics as my major. In the second of college (2012), I started my first startup with the seniors at my college. I was 18 then and had a lot of passion for creating a new product with little to no knowledge about startups. We made a mobile action-arcade game called "Journey of Jack" and got initial traction, however, the startup tanked after a year.
I started my second venture in 2014, a design services company to provide design solutions to other startups. During the same period, I went for my internship at Ogilvy Mather where the idea of Dogether struck me. I pitched Dogether at Startup Weekend at IIT Delhi in August 2014 and got selected in the top 3 startups built over the weekend. Soon afterwards, I started Dogether.
Where is your startup based out of? Why do you think that is the best place for you?
We are based out of Mumbai and being truly the most cosmopolitan city in India, it helps us connect with our actual end-users really well.
As a startup founder, what are you paranoid about? What keeps you awake at night?
Personally, I feel I, am very competitive. I like winning. I like success. But I hate losing more. I feel the day you feel comfortable with losing or failure, you don't have any motivation to change your destiny. I am not paranoid of failure as much as waking up someday feeling okay with failure.
Who are your competitions and how are you better than them?
Attached an image to explain this better.
How hard is it to have a work-life balance as a startup founder and how do you manage it?
I find it hard. I have sacrificed relationships for work in my life. This is one skill I still need to work on a lot. I hope, 6 years down the line, a 30-year me is far better at maintaining work-life balance.
Have you raised funding? If yes, then we would like to know the details. If no then please tell us if you are looking to raise.
Yes, we have raised funds in two different rounds: an angel round in April 2016 ($125K) & a seed round in Nov 2017 ($100K). We are currently fundraising $600K with a $125K committed already by SOSV and angel investors in New Delhi.
What's the biggest misconception people have about you? Why do they have that? What's the reality?
I've been told that I am authoritative at times. I sometimes feel I need to learn the art of people management more than anything else so that such misconceptions don't arise in the first place.
What gets you excited about this company?
I believe in the problem we are solving and building products have been my passion since forever. On top of it, I have a wonderful team working day and night on the idea. But most importantly, we have challenges and I can assure you that there's no greater pleasure in this world than solving a difficult problem.
Tell us how a day in your life looks like? Your schedule for a day right from the time you get up till you hit the bed at night.
To be honest, there's nothing extraordinary about my day except for the fact that I work more than an average 24-year old.
Tell us about your team and how did you meet each other?
I personally know a few of my teammates from my previous ventures and met a few at meetups or through common friends. And then we have hired some through our regular hiring process. But my Founding members have been with me for close to 4 years now.
Know a great startup story or want to share your own? Write to us at contact.bangaloreinsider@gmail.com and we will get back to you. For more updates follow Bangalore Insider on Facebook.
Author
Sponsored Ads