Sponsored Ads

Docens Training and HR Consulting Pvt. Ltd. is a Bangalore startup which was started in 2015 by Vilina Sequeira. She decided to start Docens, which provides a unique set of consultancy services. The most exciting part of this consultancy is the services which they offer are tailor-made as per client's requirements.
"I thank God before the end of every day, and I am very grateful that God has given me the strength to handle everything with faith, love, and peace", says Vilina.
We got an opportunity to talk with Vilina, the founder of Docens Training and HR Consulting Pvt. Ltd. and I am sure; her story will inspire you. Let's look at her journey as an entrepreneur and see how she and her team are working hard to achieve their dreams.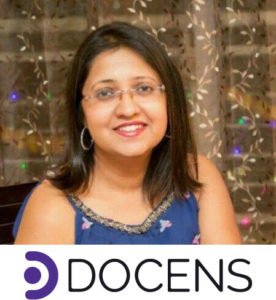 Give a brief info about your startup?
Docens Training and HR Consulting Pvt. Ltd. started in October 2015 as a regular HR Services consulting firm.  Over the last 1 year, Docens has expanded its business operations and now provides end to end consulting predominantly to the hospitality industry. Over the last quarter, we have expanded the client base and provided consulting services to engineering companies, top Universities in the world, food retail chains, environmental science organizations etc.
Docens Consulting provides a unique bouquet of services. The services offered are tailor made and every client is inimitable.
Our primary services are HR Consulting, PR Management, Marketing & Branding and Event Management. Each of these categories is broken down further and handled with the utmost care and precision depending on the client need. Our specialty lies in taking up turnkey projects, where we establish a brand from designing its concept and logo, to strategizing HR best practices and providing the clients, their employees and customers an unforgettable experience through the events we organize for them.
What made you start your startup and what problem does it solve?
I handled many senior roles in the organizations I have worked with. I have over 8 years of leadership experiences in different capacities.  After energy packed meeting and a long day of work, I would spend some time recollecting the day with my mentor. I was amongst the few lucky ones who always had a mentor in almost every organization I worked with.
I always got this common feedback from all of them, i.e., "Vilina … when are you going to become an entrepreneur and when are you going to start your own organization? When are you going to use your talent to the fullest and make a change and contribute to the larger picture." I would laugh it away and tell my mentor that I'm not cut off for the life of an entrepreneur and that I don't possess the discipline for it.
Well, it took me 14 years to realize the fire in me and then the powerhouse of Docens Consulting came into existence. So when I started Docens, I called up each of my mentors to tell them I have taken the bold step, and the only response I received from each one was "Finally !!!!! Better late than never. Please hire us in your organization and let's build wonders. We can make a fabulous team. Great going Girl, looking forward to partnering with you!!!!"
These words have come to me from some of the top guys in the industry, with their blessings and support, Docens Consulting today has the capacity to deliver services across platforms and complex domains.
Tell us about yourself, your previous jobs/ventures? What were you doing before this startup?
I am an enterprising lady, who has the strength to follow her heart. Life in the corporate world has thrown so many challenges at me, especially as I was handling HR. Every day was different and every day I learnt something new and above all every day I became more humane and sensitive towards others around me. I realized the higher you go in life, the more grounded you need to be, and that's the only way to making an impact.
I worked with some of the top brands in my career- Datamatics Staffing Services, Pyramid IT Consulting, Mafoi Randstad India, The Chancery Pavilion, Sourcebits Technologies to name a few. All my roles were based on relationships, right from handling a client, or handling a candidate in search of a job, handling an employee or handling a colleague.
I was involved in acquiring clients, retaining clients, training and mentoring team members. My most adventurous role was when I was handling sales. It made me travel across the length and breadth of India, where I was practically living out of a suitcase, so engaging with people across geographies and blending cultures is the easiest thing for me to do.
Where is your startup based out of? Why do you think that is the best place for you?
I operate from an office in Koramangala, Bangalore. Earlier Docens focused on the hospitality market and having an office in Koramangala is the most practical as it gave me quick access to all the prime locations in the city. The commute from home was reasonable and above all, my clients find it as a very central location to meet.
As a startup founder, what are you paranoid about? What keeps you awake at night?
Surprisingly I am not paranoid about anything, and ever since I started Docens and following my heart, I get a good night's sleep.
I thank God before the end of every day, and I am very grateful that God has given me the strength to handle everything with faith, love, and peace.
Who are your competitions and how are you better than them?
The services offered by Docens Consulting are continuously evolving. Though we have 4 primary lines of businesses, each line of business has a tremendous scope of the engagement. At the moment I am unaware if there is any organization in the city offering a bouquet of services like conceptualization, digital marketing, statutory compliance management, marketing and sales strategies and consulting, photography, events, scouting and mapping of investors etc, the list goes on.
Our services are unique and the expertise that Docens Consulting has is a niche in the market.
How hard is it to have a work-life balance as a startup founder and how do you manage it?
As an entrepreneur, I have a wonderful work-life balance. I plan the week in advance and plan my schedule accordingly.
Becoming an entrepreneur, made me realize how important it is to spend time with family, friends and loved ones. Ever since I have started this journey, I have nurtured relationships and rekindled relations from earlier days and also started working with NGO's close to my heart. Work happens every single day, however, balancing it seems easy.
Have you raised funding? If yes, then we would like to know the details. If no then please tell us if you are looking to raise.
Well, nothing at the moment. But if someone is looking for funds, I can consult with them!!!
What's the biggest misconception person have about you? Why do they have that? What's the reality?
I guess the most common misconception that I face is, a lot of people think that since I have started my own business, I have become a millionaire!!! The truth is I'm not a millionaire when it comes to my bank balance, but I'm definitely a millionaire when it comes to the matters of relations, family, friends and the community.
What gets you excited about this company?
The most exciting element of the company is the way the company is evolving in terms of its business services. It's very motivating and exciting to see that tenured people from the industry want to associate with Docens and use this brand as a consulting platform, enabling us to offer distinctive services to the client.
Tell us about your team and how did you meet each other?
Docens Consulting has a unique operational model. We have no employees. Over the 14 years of my career, I have met many kinds of people with varied talents and strengths. Docens Consulting has capitalized on its network and has opened its doors to Business Associates who want to be associated with the organization and work towards a common goal, i.e – Providing exceptional solutions to all our clients, using our experience and talent and giving the customer the best experience in all aspects of the business.
The business associates who partner with Docens are all entrepreneurs. Each associate has their own organization and are self-driven and believe in perfection. Each of us have a different skill and when we team-up, we offer the finest solutions and ensure the client engages with us at every level of growth and expansion.
Know a great startup story or want to share your own? Write to us at contact.bangaloreinsider@gmail.com and we will get back to you. For more updates follow Bangalore Insider on Facebook.
Sponsored Ads