Sponsored Ads

CoorgShoppe is a Bangalore based startup founded by Lirish in 2012. By profession, Lirish is a dentist he started CoorgShoppe as his passion.
"My ideology of providing quality products within a reasonable time has helped me sustain through all these years. Persistence is the key to success of all start-ups", says Lirish.
We got an opportunity to talk with Lirish, the founder of CoorgShoppe. Let's look at his journey of being an entrepreneur. And I am sure it will inspire you as well.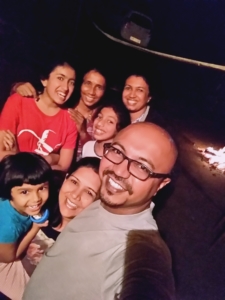 Give a brief info about your startup?
CoorgShoppe is an online store that was setup in August 2012, and focuses on promoting products which are specific to Coorg (Kodagu). Apart from gourmet foods and homemade products, CoorgShoppe also promotes products such as books, candles, accessories which are made in Coorg or by the people of Coorg. Coorgshoppe intends to fill the gap between the buyer and the seller and to be a single platform for all sellers/manufacturers (especially, the home-based ones) in Coorg to showcase their products to the world. My online store basically works on a drop-ship concept. I have connected with different vendors/home-makers/product manufacturers for all the products listed on my website, and ship the products as and when an order is placed.
What made you start your startup and what problem does it solve?
Whenever I used to travel to Coorg, several of my friends and neighbours would always ask me to bring some of the products that are native to Coorg. This gave me the idea of establishing an online store for people who have visited Coorg and bought some products, and want to buy it again; and also for those who have heard a lot about Coorg products, but do not have the time to visit Coorg. So, CoorgShoppe helps people who love Coorg products such as coffee, honey or others to get it whenever and wherever they want it, without having to travel to Coorg or ask for a favour from someone travelling to Coorg.
Tell us about yourself, your previous jobs/ventures? What were you doing before this startup?
I am basically a dentist and also work as a medical reviewer/editor. I still practice and also take up editing/review works whenever I find time.
Where is your startup based out of? Why do you think that is the best place for you?
CoorgShoppe was initially based out of Bangalore. Although it is the best place to be as you have access to several logisitic providers who provide a quick service, it is quite difficult to arrange all the products from Coorg. Hence, we shifted to Coorg in 2016 and have been operating out of Coorg since then. Since start-up works on a drop-ship concept and the products are all obtained from Coorg, it is the best place to be operating from.
As a startup founder, what are you paranoid about? What keeps you awake at night?
I am paranoid about two things – product quality and timely delivery. I believe that a quality product speaks for itself and helps you retain the customer base. The best advertiser is a happy customer and the best start-up killer is an unhappy customer. We all believe in word-of-mouth feedback and hence providing the best quality product is always required. Timely delivery is the other aspect which keeps me on toes. With all big-time players like Amazon, Flipkart etc providing quick delivery and real-time status updates, it is quite challenging for small time start-up owners to provide the same quality of service, especially when one is dependent wholly upon the logistic partner to deliver the product. No matter how good a product is, it is of no good if it is not delivered on time!
Who are your competitions and how are you better than them?
Although there are several similar websites which have come up after I started CoorgShoppe, I don't consider any of those as my competitors as each one of them is unique in its own sense (including mine). My idealogy of providing quality products within a reasonable time has helped me sustain through all these years.
How hard is it to have a work life balance as a startup founder and how do you manage it?
It is quite difficult for one to juggle the work life balance, especially as a novice in the field. My family has been quite supportive in this and all family members have been extending their help whenever I have asked. I have now handed over the operations to my wife and this has helped me greatly. I now focus on increasing the product variety and advertising while she handles the logistics. Persistence is the key to success of all start-ups.
Have you raised funding? If yes, then we would like to know the details. If no then please tell us if you are looking to raise.
I have not raised any funding for this start-up as it was basically a passion of mine. I have not looked at it as a full-time business opportunity and hence have not approached any funding agencies. However, if the right investor who believes in my passion and ideas is ready to invest, I am looking to give it a try.
What's the biggest misconception people have about you? Why do they have that? What's the reality?
The biggest misconception people have about me is that I just pick up a product from a vendor and sell it a double price and keep all the profit. I feel that this misconception is because they fail to understand the eCommerce model. They only see me picking up the product and handing it over to the courier provider, and hence think that it is a simple process. However, in reality, there is a lot more to it. Basically, in the drop-ship model there are two key players – the vendor/manufacturer and the logistic person/company. Your success completely relies on these two. One cannot be 100% sure of the quality when you are dependent on the other person for a product. Although he/she may assure you that it is the best quality, you never know until you have tested every batch (which may practically be impossible). So you need to have a very reliable vendor/manufacturer. At the other end is the logistic provider. All problems related to delivery (which happens very often) including late delivery, missed delivery and the most important, damaged product, are to be handled by you. You are at the recieving end every time.
What gets you excited about this company?
CoorgShoppe has been a passion more than a business. It is a unique concept and I am always excited that I was the first one to introduce this concept. Additionally, there are a lot more products which need to be brought online and it is thrilling when someone calls up and mentions that they have a product and felt that CoorgShoppe would be the right platform for them to sell their product.
Tell us how a day in your life looks like? Your schedule for a day right from the time you get up till you hit the bed at night.
Typically, I used to start my day having a look at the orders and assigning them to the respective vendor and also alerting the logistic partner about the day's orders. I would then start with my dental practice and editing job. Afternoons would be reserved for packing a few products which I would want to handle personally or get some new stock. Crosschecking with the logistic partner for the orders that have been successfully dispatched would be carried out in the evenings. Before going to bed I would ensure that there are no pending orders; if there are any, then it would be duly noted for follow-up during the next day. Customer queries (about prices, time of delivery, availability of a product, product composition and sometimes even recipes) and problem sorting (about late delivery, missed orders, time of delivery, etc) would happen all through the day. However, with my wife handling all this now, I focus on troubleshooting and marketing.
Tell us about your team and how did you meet each other?
Since my concept is based on a drop-ship model, I do not have an in-house team. Nevertheless, my wife is a core team member now as she has started handling CoorgShoppe. We coordinate with different vendors and a logistics partner for smooth sailing of this venture.
Know a great startup story or want to share your own? Write to us at contact.bangaloreinsider@gmail.com and we will get back to you. For more updates follow Bangalore Insider on Facebook.
Sponsored Ads