Sponsored Ads

Comedy Munch is a Delhi based startup founded by Anuj.
Comedy Munch is a bootstrapped start-up and a part of Nasscom's 10,000 start-ups programme that serves a global platform for amateur and professional funny bones and strives to spread happiness across the world, says Anuj.
We at Bangalore Insider had the opportunity to catch up with Anuj, the founder of Comedy Munch and to know more about the startup, read his inspiring story.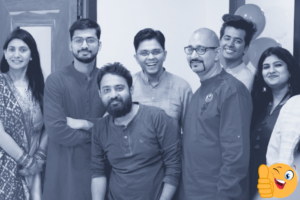 Give brief info about your start-up?
Delhi-based Comedy Munch offers amateur and professional comedians a platform to showcase their craft, and the country its dose of humour. Comedy Munch curates' content and showcases it on the platform. It also organises and helps comedians participate in open mic events, and talent hunt programmes and shows in colleges, cafes and auditoriums. It now also offers a platform; Stage Time, for all kinds of performing arts.
What made you start your start-up and what problem does it solve?
The incident happened 3 years back when one fine evening when I attended a stand-up comedy show in Delhi in 2015. Seeing the audience going gaga over the gags, puns punches etc, I decided to make my foray into the deep yet limited ocean of comedy. Hence gave birth to the only digital platform for comedy where the budding and established comedians can showcase their unique art. Comedy Munch is a bootstrapped start-up and a part of Nasscom's 10,000 start-ups
programme that serves a global platform for amateur and professional funny bones and strives to spread happiness across the world.
Tell us about yourself, your previous jobs/ventures? What were you doing before this start-up?
I am a telecom/media professional with 15 years of experience and have gained immense experience working with One97 Communication, Mahindra Comviva, Apalya Technologies, Digivive Services handling Business development, P & L and leadership profiles. The last experience was working with first in India OTT video platforms which were telco integrated and direct to consumer brands like NexGTV where could experience large streaming traffic and could feel the data-hungry market potential after we streamed IPL matches.
Where is your start-up based out of? Why do you think that is the best place for you?
We are based in Noida, near Film City, strategically located near media hub of Delhi/NCR. There are very few media start-ups in this region and there is a huge talent base, which no one is capturing and we are all geared up to identify, create promote and monetize the work of the talent.
As a start-up founder, what are you paranoid about? What keeps you awake at night?
As the technology has been changing at the speed of light and Industrial revolution is in a process, we face a risk to keep up with the time and pace in terms of content preferences and technology demands. However, to keep aligned to our customer needs, we are focusing to expand our reach to multiple geographies beyond Indian market and also expanding to other genres to keep our loyal subscriber base entertained and give them a reason to keep coming back to consume the content. We do not see major risk as an organization, in fact, see huge opportunity to create a platform for the amateur artists to help them create content, distributeand monetize the content created by them to various large platforms in India and abroad.
Who are your competitions and how are you better than them?
We are 'omni' marketplace model where we are building an online destination to curate thebest talent and also provide stage time to the community through an offline open mic and ticketed shows, place talent incorporates etc. Hence in Offline space, we compete with likes of Canvas Laugh Club, Punchliners etc and In Online space, we compete with Your quote, Njoto etc.
How hard is it to have a work-life balance as a start-up founder and how do you manage it?
The work-life balance is easy if your day is well planned. I am an early riser and start my day with jogging, meditation, which allows me to manage the roller coaster ride and I get energised by music. Being in start-up mode, finding a balance between team motivation, strategy, operations, scalability, funding etc is a challenging task and I am enjoying every bit of it.
Have you raised funding? If yes, then we would like to know the details. If no then please tell us if you are looking to raise.
We are currently focused to create unique content IPs, content distribution, in process of launching entertainment club to improve the value for our customers and partners. We have achieved breakeven and have been able to control our costs and is the fastest growing platform in entertainment space working closely with brands and corporates spreading happiness. We shall seek funding to expand our footprint to more markets, expand the team and launch new products. We are very excited to see the huge opportunity in this space and ready to disrupt the market.
What's the biggest misconception people have about you? Why do they have that? What's the reality?
I am as transparent and humble as I look and my actions represent my personality. I am a positive person and always try to support and motivate people around me
What gets you excited about this company?
The excitement is to spread happiness and contribute positively to people lives- that what is the basis of the existence of the idea. We are able to provide a platform to the budding and established artists to improve their visibility and monetization
Tell us how a day in your life looks like? Your schedule for a day right from the time you get up till you hit the bed at night.
As highlighted earlier, I am an early riser, hence I start my day at 5 am every morning. I go for a jog and do yoga for 1 hour every day. By 7 am, I try to get hold of important news across 2-3 newspapers and have light-hearted breakfast to energise my day. I go to the office on alternate days to plan between strategy and operations. Generally, the days go by with replying emails to customers, corporate client acquisition, engagement with the artists and planning on the roadmap and importantly acquisition. I reach my home by 10 pm and spend time with my son playing with him or helping him with his homework and discussing day
experiences with family. I go to bed by 11 pm thanking God for the wonderful day and praying him for the better tomorrow.
Tell us about your team and how did you meet each other?
I started my start-up in 2015 and got the ideation while watching a stand-up comedy show in Gurgaon. This is where I reached Amit Tandon to discuss the potential of the online platform and monetizing on telco networks through micro-subscriptions. Over many discussions, Amit started liking the idea taking shape and he offered to participate in the journey. The leadership team got together while engaging them as a freelancer, saw the passion and energy and invited them to join in creating the largest platform in comedy and other performing arts.
Author
Sponsored Ads