Sponsored Ads

ChicMela is a Mumbai based startup founded by Joyce.
At ChicMela, we believe life should be a celebration; a celebration of womanhood. Women are central to our jewellery line and we proudly support everything she is and everything she aspires to be,says Joyce. 
We at Bangalore Insider had an opportunity to have an interview with Joyce. Here are the excerpts.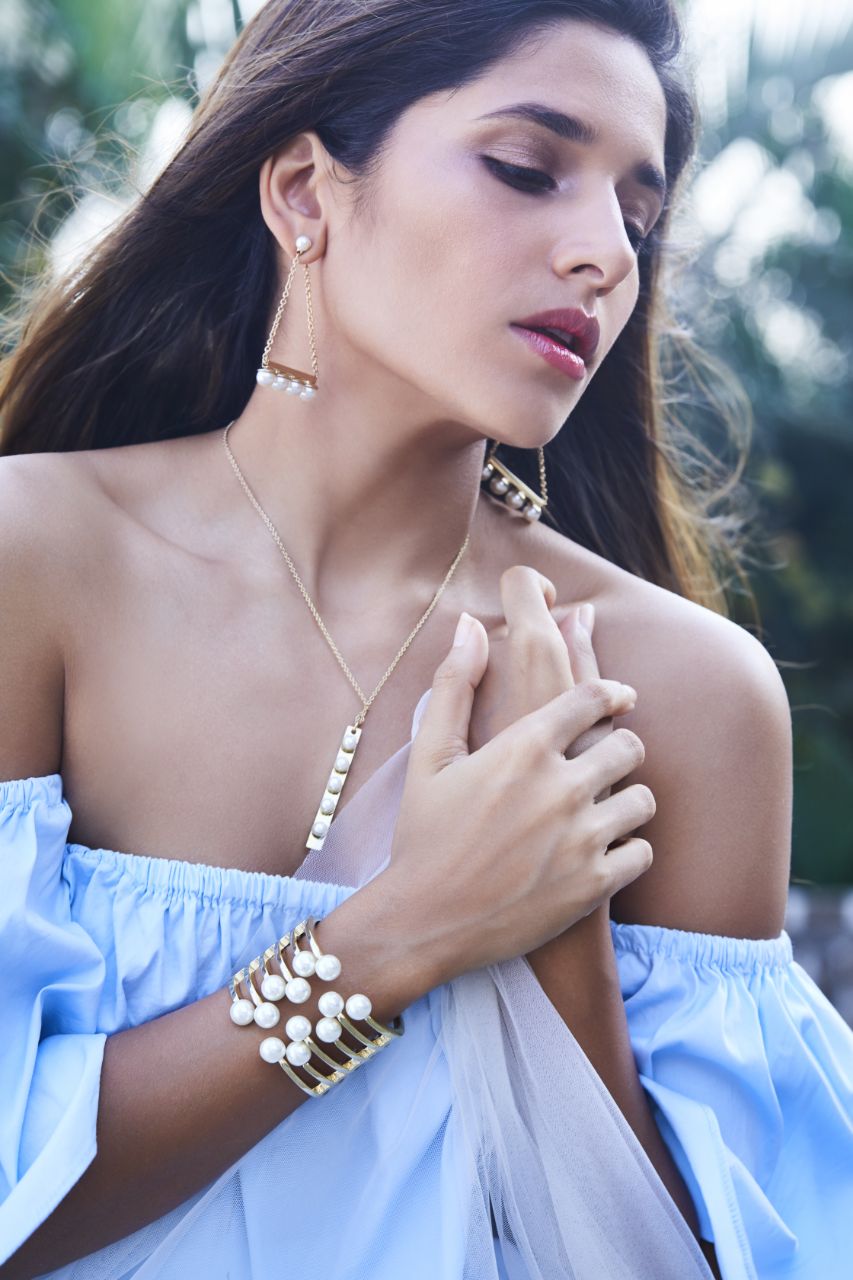 Give a brief info about your startup?
ChicMela offers premium quality fashion jewellery that are carefully curated to be on-trend, are eccentric in design and provides a wide selection of over 100+ products to choose from. They are crafted to look equally good on Modern as well as Indo-Western outfits. It's core differentiating factor lies in its product development, manufacturing and sourcing capabilities that makes on-demand fashion jewellery accessible to the market fast.
At ChicMela, we believe life should be a celebration; a celebration of womanhood. Women are central to our jewellery line and we proudly support everything she is and everything she aspires to be. We take great pride and pleasure in her journey and our jewellery is crafted to be part of her big and small moments.
We strive hard to produce high quality products that delight our audience. Our products include detachable jewellery that can be styled in multiple ways, cubic zirconia 18k plated jewellery, weightless statement jewellery for weddings and special events, work-to-play jewellery and fun pieces for every woman to feel and look her best.
ChicMela is increasingly becoming the favourite pick in the online space and its jewellery is seen and worn by fashion influencers including Mitali Sagar and Summiyya Patni from the House of MiSu, Masoom Minawala, Shalini Chopra (stylish by nature), Larissa Dsa and other media personalities including Freishia B, Zinia Fernandes among others.
What made you start your startup and what problem does it solve?
There are high-end fine jewellery stores, where young women barely ever shop, expect if it's for a wedding or special occasion. On the other end, there are junk jeweller retailers on every fashion street, where women are lost for quality and variety. But what about fashion forward women who want jewellery that they could team up with any outfit without thinking too much and look just as great?
Joyce, further adds, there was a gap in the market, while going deeper into this unstructured market space, she realised that women were willing to wear the same bag over and over again but were not willing to wear the same pair of necklace on repeat. When it came to jewellery, they wanted variety and they wanted quality without breaking the bank. They simply did not have a one-stop destination that could offer them both.
At ChicMela, we give access to women to think of fashion jewellery as a powerful styling armour that can transform any outfit from basic to amazing in minutes. We are always thinking of our customer's needs before creating our pieces. Our customers appreciate our products not just for bridging the gap between good quality and price but also for our efforts to go beyond that to curate weightless, wearable pieces that they can effortlessly style from day to night.
Tell us about yourself, your previous jobs/ventures? What were you doing before this startup?
"I was born and raised in Mumbai and had the opportunity to pursue higher education in the United Kingdom for my Undergraduate and Master's degree" Armed with a solid education background in marketing, strategy and business- this Warwick Business School graduate went on to gain experience in consulting and digital management. She realised early on, she was eager to learn quickly and thus moved up the career ladder faster than others. It was quite natural for her to shift gears into entrepreneurship.
Where is your startup based out of? Why do you think that is the best place for you?
ChicMela is headquartered in Mumbai and retails across India, South America and will shortly start exploring Europe. "As a start-up, it was important for me to pick a place where I could start work from the day go and surrounded myself with hardworking, determined set of people. As a fashion start-up, it's very difficult to not fall in love with the vibrancy of the city that inspires fashion in every way. With major e-commerce players, shipping partners and collaborators based out of Mumbai, it's a great place for networking and doing business."
As a start-up founder, what are you paranoid about? What keeps you awake at night?
Joyce says, "When you choose to be a start-up founder, you have to be ready to take risks and have a determined mind-set. I don't think I am paranoid about anything- this is the journey I choose and I am very graceful for it every single day. Yes, there are days when I can't sleep, but that's because I can't wait to see how consumers are reacting to our products and what's delighting them. Like all start-ups, we have our share of hard days, but it's important to not lose focus or allow fear to take over your vision"
Who are your competitions and how are you better than them?
At the higher end of the curve are brands in the fine jewellery segment who retail online and at the lower end of the curve are brick and mortar stores. We also see direct competition from private labels and independent retailers who use mediums like Facebook or Instagram to sell.
We believe, our customers would try these mediums once or twice but they keep coming back to us for the value we provide them. We have strategies in place that encourage even hesitant first-time buyers to make their first purchase- they may at first; start off with a piece of jewellery priced at the lower price point- but after they have seen it, touched it and styled it on themselves- they keep coming back for more.
Joyce takes data analysis seriously. "We are able to predict trends and future buys based on past purchase behaviours, geographies and demographics" We rely heavily on analytics while curating new styles- for instance our jewellery line that was curated using geometrical shapes as our influence was put into re-manufacturing after understanding what styles the consumers actually wants"
How hard is it to have a work life balance as a startup founder and how do you manage it?
Personally, having a work-life balance is important to me. However, when you are creating something from scratch there are days when your work has the potential to take over your life. I have always believed, that one is most productive when they follow a set time-line and work in an organised fashion. Delegating tasks systematically also helps reduce the pressure on the overall team and yourself. I make it a point to switch off in the evening and indulge in some me-time. I am an avid reader and traveller and draw major inspiration from around the world to curate designs.
Have you raised funding? If yes, then we would like to know the details. If no then please tell us if you are looking to raise.
We are completely bootstrapped. We would be looking for growth accelerators who could work with our vision in the future.
What's the biggest misconception people have about you? Why do they have that? What's the reality?
Probably, that I am always thinking of fashion and e-commerce 24/7. People may think so as I passionately follow new trends and like to be updated on the latest in my field of business. But that's not true, I like to be fully present while working and when I'm not, I am fully present pursuing other things in life.
What gets you excited about this company?
Providing value to our customers and seeing our customers experience delight every time they receive their ChicMela, one hundred percent gets me excited about building this company.
At ChicMela we put our consumers at the forefront, and want to make sure she is getting what she wants. To make her experience even more special, we package our jewellery in keep-sake coloured boxes with personalised messages on each. It makes for excellent gift giving and we've seen a rise in request for personalised messages on gift card during Valentine's and Mother's Day.
Unlike other online brands, we our capable of shipping out products within 24 hours. This has certainly increased the trust people have in our brand. One customer feedback says, "Absolutely stunning collection. I ordered 2 parcels and the quality of the product is excellent, very classy and worth the price. Very quick delivery. I loved the packaging of ChicMela's colourful boxes and the lovely message in the box. Would love to shop more!"
Joyce adds the joy of seeing our customers celebrate with our jewellery motivates us every single day.
Tell us how a day in your life looks like? Your schedule for a day right from the time you get up till you hit the bed at night.
Between 6.30-9.30- Is dedicated to starting the day with gratitude and a glass of warm water. Followed by hitting the gym, breakfast, playing with my dog, spending time with family and heading to work.
Between 10.30-12.30- Focused on planning and posting our social media posts, checking on orders for the day and making sure they are dispatched in time, meetings with the team and discussing the agenda for the day. Most importantly, if there is an issue that needs immediate attention, it will precede everything else. Between 12.30-1.30- Lunch and internalising tasks ahead
Between 1.30-5.30- Work on digital analysis, inventory and stock updates, best sellers and sold out reports. Based on this, a diligent strategy is panned out for what the consumer wants, how can the demand be met and how can it be reached from a marketing point of view. Additionally, there are several meetings with our partners across technology, marketplace, shipping and production.
Between 6.30-7.30- Planning for orders that need to be shipped the next day, organising things to do for the following day and weeks to come; and a final round up on what's catching steam on our social channels
Between 8.00-10.30- Dedicated to switching off and connecting with family and friends. I read or listen to a podcast just before hitting the sack and mentally prepare to conquer the next day.
Tell us about your team and how did you meet each other?
We work in a close-knit team which has organically grown owing to the skill set of each individual member. We are constantly looking for talented individuals. If you think you have what it takes to be part of a growing start-up and learn every day, send in your resume to chicmela@chicmela.com
Know a great startup story or want to share your own? Write to us at contact.bangaloreinsider@gmail.com and we will get back to you. For more updates follow Bangalore Insider on Facebook.
Sponsored Ads