Sponsored Ads

CDC kids is a Bangalore based startup founded by  Neetu P Gupta, Mukesh Agarwal and Chirag Agarwal. CDC kids is a fastest growing chain of preschools and daycare centres in Bangalore.
As a Montessori Preschool, we ensure that the children acquire appropriate social behaviour, interpersonal skill and practical knowledge required in life to stand out as caring individuals.
We got an opportunity to talk with Chirag, the co-founder of CDC kids and see what he has to say? I am sure his interview with us will inspire you.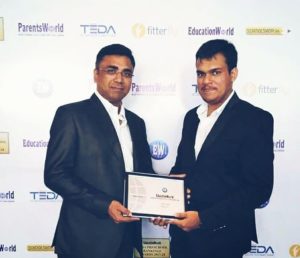 Give a brief info about your startup?
CDC kids (Child Development Centre) is a chain of high-end Montessori schools catering to preschoolers and providing daycare and after-school care services. CDC kids, Bangalore's fastest growing chain of preschools and daycare centres caters to an age group of 6 months -12 years. Parents choose our school because of the high quality of teaching, education, infrastructure and resources that we provide – enabling our children to cope and succeed in the 21st century. We at CDC kids, help in the overall personality development of children at a very tender age. As a Montessori Preschool, we ensure that the children acquire appropriate social behaviour, interpersonal skill and practical knowledge required in life to stand out as caring individuals.
What made you start your startup and what problem does it solve?
Education is the prime force that leads to the development of any nation. Our mission is to Nurture and facilitate LITTLE BUDS to bloom into beautiful, sweet-smelling FLOWERS. Our vision to build better citizens of tomorrow made us start CDC kids. According to Child Psychology, the ages between 0 – 12 are the most important in building better individuals of tomorrow, as the kids in this age bracket are like iron which is just out of the furnace, which can be moulded as desired. This was the prime reason for us to focus on Early Childhood Education primarily to provide best in class education and motherly care and affection to nurture the little sapling. Another big factor involved in kick starting CDC kids was the mission of bringing back women to work. CDC kids was founded with beliefs that – parents shouldn't have to experience guilt about choosing between work and staying at home and children should have access to the best quality care and education even if both parents are working. Care and education must be delivered together for the best and most holistic development of the child, especially between the ages of 0-12. They cannot be mutually exclusive services.
Tell us about yourself, your previous jobs/ventures? What were you doing before this startup?
We, Neetu, Mukesh and Chirag are the Founders of CDC kids. I, Chirag Agarwal have been a student of prestigious institutions like the Christ University and the University of Southern Queensland, Australia. From childhood, I always wanted to stand out of the crowd. This mentality made me an actor and be a part of the Oscar-winning Hollywood movie 'Life Of Pi'. Apart from that, I am also a professionally trained Magician, and have been performing pan India in crowds larger than expectations from the age of 8. I am of the belief that every child is gifted; it is just that each one unwraps his/her packages at different stages of life. Mukesh is a graduate in commerce from the Bangalore University started his career in the field of logistics at the young age of 18. Today, his ambition and vision has made him a well-known entrepreneur and a tycoon in the logistics sector. He is of the view that hard work is the key to success and hence without worrying about the result, one should always give it a shot. He is associated with CDC kids and acts as a guiding light. Neetu, a lady of boundless energy with innovative ideas and dynamism, she is a professionally trained Montessorian from AMI with all certifications and has been an active part of various management and personality development programmes. She walks with a positive attitude and profound knowledge in the field of education and management. She is one of the main reasons that today CDC kids has earned a solid reputation has carved a niche in the Montessori and Daycare educational segment. She is of the opinion that a busy man always finds time and should not shirk work attributing to lack of time.
Where is your startup based out of? Why do you think that is the best place for you?
We are based out of Bangalore. It's a city immensely populated with young couples thanks to the fast growing IT Sector. Hence, we feel that a city like this was the best market to explore in the Early Childhood education sector. Moreover, parents here are open to new ideas and methodologies in education system, giving us full freedom to develop the best individuals of the future.
As a startup founder, what are you paranoid about? What keeps you awake at night?
As an organisation in stiff market competition, we are always on our toes to achieve our targets and milestones. We need to do a lot of R&D to survive and outshine in the market, this makes us awake at night too. The constant thought of growth, expansions, and development in the education sector is somewhere also the force which makes us work day in and day out.
Who are your competitions and how are you better than them?
The Early Childhood Education sector has grown to a level totally unexpected over the past few years. In our childhood, there was no concept of preschool and daycare centres at all. And today, there is a preschool or an early childcare centre in each and every lane. This definitely states that there is stiff competition in this sector, but at the end of the day, all that matters is the quality of services that are provided to the kids and the parents. We at CDC kids, believe that the secret to success lies in the quality of care and love that is given to kids along with best in class education. Our USP "We Simply Love Kids" says it all. This is what makes us stand apart from the crowd and outshine our competitors.
How hard is it to have a work-life balance as a startup founder and how do you manage it?
It is indeed a very hard task to maintain work-life. But I feel that we as the founders are trying our best to do so. Often, it so happens that we need to compromise on aspects of our personal life when work is in our way, however, if we have the support of our family and near and dear ones, I feel things can be managed well. We support each other all the time and by God's grace, this is working out very well.
Have you raised funding? If yes, then we would like to know the details. If no then please tell us if you are looking to raise.
We haven't raised any external funding yet. Our organisation is self-funded. We are of the opinion that an organisation which can fund itself by its day to day incomes is the most successful organisation.
What's the biggest misconception people have about you? Why do they have that? What's the reality?
The biggest misconception in the mind of the people is that kids of such young age groups (1-6) do not require any formal mode of education, all that they require is some bit of socialising, playing and time pass.! This completely contradicts the reality. It is often observed that kids in this age group have maximum scope of development. They can be moulded as desired. This is the age where the child's foundation is built. Hence, we have designed a curriculum with the help of our team of academicians and experts in such a way that it seems like child's play, but then there is so much of indirect learning that's taking place. If you ask any child at our centre, 'what did you do today at school?' all that he/she would reply is 'We just played and enjoyed' but the child is completely unaware of the indirect learning that's happening each day, every moment at school. This leaves the child with no pressure of studies and no hatred towards education or schooling.
What gets you excited about this company?
The smile that we see each morning when kids arrive at our centre with enthusiasm and a question in their mind 'What's there in store for me today?' gets us charged up even more to provide the best to our little ones.
Tell us how a day in your life looks like? Your schedule for a day right from the time you get up till you hit the bed at night.
Talking about my schedule, it all starts off early morning with a glass of juice and breakfast at home, I leave home at sharp 8:10 am. Bangalore's traffic eats up a lot of my time as I travel all the way from Bangalore North to Whitefield where our corporate office is located. On my way to office, I schedule all my meetings for the day with the help of my team. On reaching office, I once again check on my schedule for the day and that's it, I am constantly occupied with tasks back to back right from seminars, corporate meetings, training sessions, presentations, concalls and so on. Every week, we try to have a joint meeting with the entire team and top level management to ensure that our targets are met and new milestones are set. Once, my schedule for the day is completed, I drive back home. At home as well its comparatively less family time and more of planning for the next day. However, I make sure that I have my dinner with the complete family, which gives us a few moments of joy together.
Tell us about your team and how did you meet each other?
CDC kids has a team of more than 110 members currently including the hierarchies at all levels of management. We have structured the entire organisation in way that eases our task and produces more quality results. Talking about our founders, we met each other with a common interest and motto in mind "GOWTH and DEVELOPMENT" and ventured out to establish Bangalore's fastest growing chain of preschool and daycare centres, with 6 fully operational centres and 3 centres in the making currently.
Know a great startup story or want to share your own? Write to us at contact.bangaloreinsider@gmail.com and we will get back to you. For more updates follow Bangalore Insider on Facebook.
Author
Sponsored Ads