Sponsored Ads

Causekey Social is a Bangalore based startup founded by Devesh Singh Vishen.
Our Vision is to replace the word "donation" with "spend"
We got an opportunity to talk with Devesh, the founder of Causekey Social and see what he has to say. I am sure his interview with us will inspire you.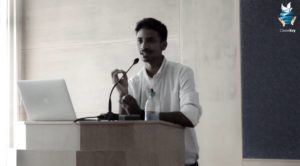 Give a brief info about your startup?
A social startup, Causekey  Social curates and organises social impacts. Already well established, we aim to effect social change by executing innovative sustainable plans. We are a  platform who can directly connect those in need with those who can help. The success we have seen can be attributed to the fact that we value transparency above anything else, making sure that our sponsors as well as our followers are constantly updated about our activities via social media.
India is generating large sums of money as donation for social development, but ones who need it see very little of it due to corruption.
In a climate where social development projects are eyed with suspicion,
regaining trust is of paramount importance.
Our solution was developing a sustainable model to directly connect an individual or sector in need with the ones who had the resources to help and thus the idea behind CauseKey Social was born. This is one platform that addresses all different sectors of society from one place.
A  web platform where our users can also celebrate events like birthdays and anniversaries with the underprivileged or address and contribute towards any issue of their choice whether it is a clean-up drive or natural disaster. Corporates can also register to execute their CSR in an impactful manner.  We encourage people to directly involve themselves with the events and for those who cannot, we offer live coverage of every event from start to finish and thus we take every execution in a form of a video. This creates an emotional connect between donor and donee. In addition to helping us gain credibility, this serves as an assurance to potential donors that their contributions would be well spent.
With a promise of transparency, we combine a dynamic service with a future ready technology.
Our Vision is to replace the word "donation" with "spend"
What made you start your startup and what problem does it solve?
I was always  a social enthusiast. Of all the entrepreneurs that come out of this city, the journey of a social entrepreneur is always the trickiest. Everyone around me was chasing a dream job at a company but I knew that this would not lead to long lasting happiness for me. Unlike the masses, I didn't want to wake up every morning looking for meaning and purpose while following a routine necessary for survival, but wake up in the morning knowing that with every action and decision of mine. I was giving back to society.
Once my mind was set I started working towards social development more ardently. It's here I noticed that most people were more inclined to involve themselves in a social event on a special day like a birthday or anniversary in an attempt to add meaning to their own lives, enriching it in the process.
Like most of us working in the field of social development I came to the realization that India is already generating large sums of money as donation for social development but corruption meant that the ones who needed the money would see very little or none of it, Also there is not a single organization who gives you access to address every sector of society to bring change, most of the organization are inclined towards one specific sector thus we thought of creating one platform addressing every sector where development is needed.
Lots of research and several brain storming sessions later I came to the conclusion that to truly make a difference, regaining trust was of paramount importance since the hesitation to contribute towards a social causes stems from wanting to see that money being utilized efficiently but the lack of an organization that could guarantee just this. And we came up with CauseKey Social.
Tell us about yourself, your previous jobs/ventures? What were you doing before this startup?
To start the journey I took a bold decision of droping off from my Engineering Course which I was  pursuing at BMS College of Enginneering in Bangalore.I was in 3rd year of  Computer Science engineering when I dropped off and started my first venture CauseKey Social in 2016, Later in 2017 founded my second venture CauseKey Films(film making production house)
Where is your startup based out of? Why do you think that is the best place for you?
CauseKey Social is mainly based out of Bangalore. In the month of may we are expanding to Mumbai, Pune and Kolkata together. Bangalore has always had a supporting atmosphere for startups with abundant no of mentors to guide and a community to trade with. I feel lucky to start of from Bangalore.
 As a startup founder, what are you paranoid about? What keeps you awake at night?
I think being a dropout and starting up a business brings huge risks and responsibilities simultaneously but at the same time gives you a mind set of not looking back, and thus I believe that I don't have an option of failing or loosing so every time I prepare myself from the challenges coming ahead and you know preparing is not easy when you are  running two companies simultaneously and thus it results in converting your night into  day, keeping you awake to make strategies for tomorrow.
Who are your competitions and how are you better than them?
Currently CauseKey Social doesn't has any direct competitions but there are definitely few players into social space giving slight similar services but we believe that we are taking over something that none of them are able to display properly, yes I am talking about  transparency and the user experience. We follow our tagline that says that "with us you don't just  DONATE, you PARTICIPATE in the change-making  process".
How hard is it to have a work-life balance as a startup founder and how do you manage it?
I don't see it as a concern because I believe when we start something out of passion, then your work is your life and vice versa so both compliment each other bringing the ultimate  inner satisfaction.
Have you raised funding? If yes, then we would like to know the details. If no then please tell us if you are looking to raise.
No, we are a Bootstrapped start-up and currently we are not open for funding.
What's the biggest misconception people have about you? Why do they have that? What's the reality?
I have not encountered any such situation yet, I think I had been constantly making efforts to make myself very clear right from the very beginning of my venture and straight at every presence.
What gets you excited about this company?
CauseKey Social is something that is never going to die. Knowing the fact you are working with something that has a potential to reach every corner of the world and is going to bring a solution  to every problem that our fellow humans are facing in the social sector.
Tell us how a day in your life looks like? Your schedule for a day right from the time you get up till you hit the bed at night.
Being an Entrepreneur I live a very dynamic live unsure about the next minute plans,
Waking up at 5 am from a sleep of six hours in the best case on a planned day and then heading to the blue diary where I create my To do list, Reaching office by 6:30 am and then looking over pending works of the previous day, attending my team at 9, we all have breakfast together.
After which the meeting schedule begins, some at our office some at big players' office which sometimes continues till the moon at its best, I am not fond of food, and eating is boring for me so at times lunch gets scheduled to evenings which gets reminded by dad on phone. Evenings come with mercy and most of the time I spent my evenings with friends or discussing strategies with the team which is fun. I keep meeting new people making new connections as I take networking very seriously. I keep myself busy attending conferences, seminars giving workshops and talk.
I give this privilege to myself of leaving office at the last sometimes it ends up with midnight coffee at office, coming back home on time  compliments with Tv series (currently vikings) dinner with vikings gives a peaceful sleep.
Tell us about your team and how did you meet each other?
So the best Part of the Conversation comes at the end, being blessed with the best team in the world. A Team of 17 young and innovative minds leads the show, all coming from different places, few from abroad with a background majorly in engineering, media and journalism fields. The journey started with two of us, me and shubh from the same college, he did not drop out though, later following the law of attraction, we hired few more passionate minds who wished to make the world a better place to live in.
Know a great startup story or want to share your own? Write to us at contact.bangaloreinsider@gmail.com and we will get back to you. For more updates follow Bangalore Insider on Facebook.
Sponsored Ads