Sponsored Ads

CampusHunt.in is a Bangalore based startup founded 2 years back. CampusHunt.in is founded by Raheesh.A, Mr.Riyas Kalliyath, Asfaque Aramkuni and Mr.Aneesh A.
"It's a marketplace where students and colleges meet together", says Raheesh. 
We got an opportunity to talk with Raheesh, one of the co-founders of CampusHunt.in. And I am sure; his story as a startup founder will inspire you. Let's look at his journey as an entrepreneur.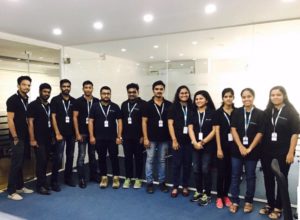 Give a brief info about your startup?
CampusHunt.in is a Higher Education Portal wherein students can search and apply for Colleges and Universities without any paper works and hassles. It's a marketplace where students and colleges meet together.
Through CampusHunt.in students, parents and educators can get free, quick and easy access to the best educational institutes and colleges in India. With the right alignment of people, process and technology we help improve institutional effectiveness as well as enable students to make powerful, future-oriented education and career choices.
Students can get to know about 100s of Entrance Examinations, Scholarships and Career blogs too. Since we are getting Millions of Students visitors, Many major Universities and colleges from Bangalore Chennai Mangalore Goa Cochin etc. are using our Branding and leads a campaign for students enrolments.
What made you start your startup and what problem does it solve?
India has 1.5 Million K-12 Schools and 260 Million students and As per the reports, India would have the largest pool of Graduates by 2020. Still, our Unemployment rates are way too high as compared to other Nations. 75% of the Indian Graduates are Unemployable as per major companies.
These figures have a strong connection with student's Higher studies selection process. Students who have Aerospace engineering skills sets are choosing arts graduation as the non-availability of that particular branch at their location or lack of knowledge about the availability of seats in other cities.   Students interested in Management studies are choosing medical courses as per parent's interest due to the lack of knowledge about the Career scope in management field.
CampusHunt.in is resolving this issue by providing an easy to use interface for students to search for Courses, Colleges, Exams, Scholarships etc. and can also apply for it without any cost Pan India. Our 365 days Customer support would ensure that students would get proper guidance for their application process as per their passion and interests.
Thereby CampusHunt.in is making an Employable Passionate pool of Candidates who choose the course as per their interests and proper knowledge. And we are joining the national development mission.
As per the report from a management consulting firm TTechnopak, India's Education market size is valued at $100 billion in 2016 and is expected to reach $180 by 2020.
Tell us about yourself, your previous jobs/ventures? What were you doing before this startup?
Raheesh.A, Co-founded CampusHunt.in with Mr.Riyas Kalliyath, Asfaque Aramkuni and Mr.Aneesh A.  Raheesh are an ACCA(UK) with BBA and MBA in Finance.  Have strong work experience with IT, Pharma, Healthcare, Banking and Business advisory services industry which includes one of the leading Bank in USA, WellsFargo.
Riyas Kalliyath is holding Management Degree, MBA and PGDM from Oxford University London, UCLA USA, Manipal University, Calicut University Apart from his Professional memberships with ACCA, CA, CMA etc. He worked as an auditor at Deloitte and have more than 20 Years of experience in business advisory services.
Asfaque is holding a BTech in Mechanical engineering and MBA, Have tremendous experience in Operations Management with Petroleum firm.
Aneesh is Holing a Btech in Electronics and has more than 10 years of experience in Project Management.
Where is your startup based out of? Why do you think that is the best place for you?
CampusHunt.in is based out of UB City, Bangalore. We are basically from Kerala and Co-founded CampusHunt.in in the year 2015 as the great Ecosystem we have here at Bangalore, Cost effective and Efficient availability of different Linguistic-Social Manpower, Great Infrastructure, Technology advancements etc.
As a startup founder, what are you paranoid about? What keeps you awake at night?
As a start-up founder, I am paranoid about making sure my team should grow along with my firm. Instead of rapid expansion, I am trying for sustainable growth and the whole team members should be happy with their career satisfaction.
I Used to awake at night to think about product development. The Concept of building an Online Education marketplace and now it's become India's Top 10 Higher Education portal has come up to my mind at night time. I used to think a lot and do many researches at nights and hence used to have a pen and paper handy next to the bed always to note down the ideas. So that I can refer them next day morning and can start working for it.
Who are your competitions and how are you better than them?
We are competing with National players Shiksha.com(By Naukr.com – Info edge solutions Ltd), HTcampus.com (By Hindustan Times-News), CollegeDunia.com etc.
There are conventional Education consultancies that provide very few (5 to 10) colleges options to choose for the students wherever they (consultancies) get maximum commission income, and
There are Higher education portals which provide 1000s of college information to students to choose and make them confused (as there is no human interaction).
Therefore, we found a need for an advanced higher education portal with verified quality colleges and with a human intervention in the admission process, so that Parents and students can search, filter and apply for the best colleges online and they also get the assistance till they reach their dream campus both online and offline.
When other higher education portals are giving sales leads (Students contact details) to the colleges, we provide converted sales leads as our team take care of counselling and bringing prospective students to the listed colleges.
How hard is it to have a work life balance as a startup founder and how do you manage it?
As a Start-up Co-founder, it's difficult to manage work-life balance as Day and Night we would be into it completely. Still, I used to make myself make free time to spend with Family and friends on weekends.
Have you raised funding? If yes, then we would like to know the details. If no then please tell us if you are looking to raise.
There were few VC Investors approached us before and still we were not ready to getting into final stage as we are self-funded and looking to make CampusHunt.in a national brand with 20% stake of the industry. Soon we would be looking to raise funding for scaling up.
What's the biggest misconception people have about you? Why do they have that? What's the reality?
People, especially Parents community are still thinking that for Colleges Admission process they have to consult a conventional Education consultancy and no other way they can get into a college/university by paying huge consulting charges.
Likewise, Colleges are still depending on education consultants who would charge 20 to 40% of the overall fee structure of the course fee as Commission charges, for students enrolments even by incurring a huge cost.
Some students think that ours is an education consultancy when our team interacts with them, And it's very hard to make them understand the difference between an education portal's free services and education consultancy's paid services.
But the Reality is that Education Consultancies used to give very less optional colleges for students and will end up with joining at low rated colleges with more fees and Donations. Wherein through Education Portals like CampusHunt.in, Students can compare 1000s of colleges and apply for the best and get an end to end support without any cost as we are getting paid by Colleges for Yearly branding and Leads campaigns.
What gets you excited about this company?
Within 2.5 years of operation, We are already a known brand for College Searching among south Indian cities. We are getting Millions of visitors regularly.
CampusHunt.in has been in the Top 97th fast-growing Start-up in India and 1120th in the world as per StartupRanking.com, Our blog is getting 15,000+ daily visitors of students and its been one Awarded as one of the TOP 100 EDUCATION BLOG in the world by Feedspot.
We are growing every day, With new clients coming into the platform, 1000s of applications from students, 22,000+ Followers at Facebook, Twitter and other social medias, Ranked in the first page of google for many trending keywords such as "Best BBA Aviation colleges in Bangalore", "best bsc nautical science colleges in Chennai", "Best Hotel Management Colleges in Goa" etc.
And Finally, we have, Launched our next venture which is a Hybrid Recruitment portal FirstPayslip.com havia ng presence in Chennai, Hyderabad and Bangalore serving many leading MNC firms now.
Tell us how a day in your life looks like? Your schedule for a day right from the time you get up till you hit the bed at night.
My Day starts with a Coffee along with Latest news especially National, Political,  International, Business, Technology related etc. Then Replying to urgent emails from Phone. Then Straight to corporate Office at UB City at 9 AM and having the Discussion and status updates from Field Sales team of Kerala Karnataka Tamilnadu etc. Once making all meetings with vendors and clients by noon, they would leave to Backend operations team at Kasturi Nagar and would check the updates from Developers, Content writers, Designers, Tele Sales team, FirstPayslip.com's Recruiting team, etc. for continuous development and sustainable growth.
Then Interacting with new clients for business opportunities, Finalising the deals, Follow ups with existing clients etc. Then Logout at 9.30PM and back to a room.
Will do the remaining works at home and Competitors research and Learning new for making new technological and managerial good practices in the similar products throughout the globe. And to bed at 1 AM with Pen and Paper handy.
Tell us about your team and how did you meet each other?
We have a great young team with an average age of 26. The Director board meetings used to happen every Friday to analyse the status of the operations.
We have our In-House Developers, Designers, SEO Digital Marketing team, Content Writers, Customer support, Tele Sales, Business Development, Direct Marketing team etc. And the whole team used to interact with each other every day for continues development of a product.
Know a great startup story or want to share your own? Write to us at contact.bangaloreinsider@gmail.com and we will get back to you. For more updates follow Bangalore Insider on Facebook.
Author
Sponsored Ads