Sponsored Ads

"Cake is an answer no matter what the question is"
CakeZone a Bangalore based startup trying to make your special day memorable for you by delivering the best possible cake. Praveen is the founder of CakeZone. You will be surprised to know that they keep on adding new designs and new flavour every week. Also amazing it is that they start delivering from 7 am till midnight with more than 250+ variety of cakes.
See how they are making the different variety of cakes? How are they beating the competition and trying to be different?  We got an opportunity to talk with Praveen, the founder of Cakezone. And I am sure, you will be inspired by his views…
Give a brief info about your startup?
Special occasions come once in a year. We all want that day to be memorable for us and for our loved ones. When we researched this space we learnt that birthdays, anniversaries, Christmas, New Year, Valentine's day etc. has a bigger market. One thing that is most common on above occasions is a cake. Thus, we started cake delivery as our first product. CakeZone is an online cake delivery platform, which delivers fresh cakes from 7 AM until Midnight. With a catalogue of more than 250+ cakes adding 2 new designs and products every week, customers no longer have to compromise on their special day. We make special occasions memorable. We operate as a cloud kitchen with the in-house delivery fleet. We started flower delivery too as flowers express the importance of occasion well and it goes hand-in-hand with a cake or a set of cupcakes/brownies/macaroons and other desserts. We also started Chocolates and Truffles Delivery to delight our customers on Diwali, Easter, Valentine's Day etc which ended up becoming an add-on product for birthdays, anniversaries etc. We are working extensively on our catalogue to add more gift items to reach our goal – A one-stop solution for a special days shopping.
What made you start your startup and what problem does it solve?
We all personally faced this problem. Any occasion or celebration has to start with a cake. We have to visit a nearby bakery store and gets to see just 4-5 cakes in the display, most of them lying there unsold for days. Well known bakery brands in the market currently, have cakes with shelf life in months! Choice – We don't have any real estate constraints that physical stores have. We can display close to an infinite number of cakes! Customers can now find cakes specially designed for occasions – Birthdays, Anniversaries, Valentine's day, Father's day, Diwali, Easter, Christmas etc. No compromise. Quality – No matter when our customer places an order, we start baking only a few hours before the promised delivery. We have an R&D team innovating new products and recipes. So cool that we made a Rasmalai cake!
Tell us about yourself, your previous jobs/ventures? What were you doing before this startup?
Praveen – An IIT Kgp graduate. Headed technology at Finance Buddha and Dotlabs. Pavan – An IIT Madras graduate. Worked in the roles of consulting, product and marketing with companies – EXL, Momoe, Goodbox.
Where is your startup based out of? Why do you think that is the best place for you?
We started operations in Bangalore in April-2016. Now we are operating in Hyderabad and Pune as well. Bangalore is a beautiful city and a great market for startups like us. It was easy to validate our model here and we were able to get every resource we required. Chefs, Delivery boys, Tech, Support teams etc.
As a startup founder, what are you paranoid about? What keeps you awake at night?
Competition and Service quality.
Competition is intense in our segment. There are a very big bakery and dessert brands operating since decades. As we are bootstrapped, we cannot accommodate a great budget for branding and marketing. That is actually a good thing, we are always on feet, makes us even more cautious in our spends.
Service quality is very important. Zipping through unpredictable traffic and weather conditions to deliver a cake in time without any damage – is a challenge! Adding to this even a delay of 30 min in delivery or sometimes even if we are early in delivery can be a great inconvenience to the customer. Our cake is going to be at the centre of the table between 10-15 people, an occasion which comes fewer times a year. Many times this could be a surprise party and of course, everything should be perfect.
Who are your competitions and how are you better than them?
Online delivery websites – ferns and petals, winni, warmoven etc. and Physical bakery shops – Just Bake, Amma's pastries, sweet chariot etc. We have a great advantage in terms of product quality and catalogue size when compared to any physical outlets. Our products are fresh and we also deliver to their doorstep – adding a great convenience factor. With more than 250+ cake designs, customers really enjoy shopping for a cake on our website. Other online delivery websites don't take responsibility for product quality. They are just marketplaces processing the orders to physical outlets and your cake is still coming from that cold shelf. So yeah, we are far better than them.
How hard is it to have a work-life balance as a startup founder and how do you manage it?
It is hard. We believe we should lead by example. It is really important to have a good team and a good team needs great leaders. We read a lot, research a lot and always want to learn to stay ahead. This is fun and we are young, we need not worry about work life balance at this age. We should just give our best and take the business to scale. There will definitely come a point where we should take time off personally. But for now, CakeZone is life.
Have you raised funding?If yes, then we would like to know the details. If no then please tell us if you are looking to raise.
Well, HDFC has funded us! Kidding, we took personal loans for our first 3 kitchens. We are profitable and now we have 6 kitchens in 3 cities. It is good to have investor backing. Network and good cash balance helps in scaling fast and branding. But we realized it is good to spend our time in strategizing and streamlining operations than investing months convincing VCs.
What is the most important priority for this company?
To be the one-stop shopping solution for special occasions which comes with customer satisfaction and scale. If our customers don't see us different from existing players, then we are doomed. Scaling is essential and a primary rule for any startup/business. We will be much defensible and a stronger brand when we are at scale.
"If the Core Values are the soul of the organization, the core Purpose gives it heart."
How do you think this might evolve over the coming months?
We will be present in 4 more major cities by the end of next 12-18 months. We will also have solutions for other special day giftings apart from cakes and flowers like soft toys, Tshirts, Mugs etc.
What's the biggest misconception people have about you? Why do they have that? What's the reality?
As we are a cloud kitchen, we don't have any physical outlets for seating or showcasing products. It is little strange for some people like this is a new model. We think in coming years, the majority of customers would prefer delivery over dining and we will see more cloud kitchens in the market.
What gets you excited about this company?
We have the opportunity to make special days memorable. We feel very excited whenever we get a review on Zomato or Google about our service. A grand special cake is going to steal the show in your 1st birthday or 1st-anniversary celebrations and we are ones crafted it. Sounds super cool 🙂
Tell us how a day in your life looks like? Your schedule for a day right from the time you get up till you hit the bed at night.
Praveen –
1. Strategy – There is no defined time for this. Defining the strategy and executing it is the key primary role as a CEO. Takes decisions quickly as required, assign it to respective teams, checks results and works on improving strategy. "Strategy Execution is the responsibility that makes or breaks executives"
2. Technology – It comes natural to him after working extensively from college till heading technology of 2 startups in different domains (Finance & Health). Makes sure there is a balance between technology developed for customer acquisition and customer retention with seamless processes across. Works on automation and integrations which can reduce the manual effort across teams. Doing 400+ orders a day seamlessly and scaling up at a 100% pace with dynamic strategies needs good, customizable tech solutions at various levels of organization.
3. Digital Marketing – As a startup focused tech guy, he developed this skill as he loves to do things from scratch with a great understanding. He makes sure the SEO rankings & sem bids are top notch to get the maximum traffic to the website. He also makes sure local SEO is perfect by getting the business listed across platforms (Google Business, Zomato, Facebook Locations etc) with continuous updations of relevant posts and data. This list goes on when it comes to marketing like AdWords remarketing, Facebook shop etc. Working extensively on improving the email & push notifications for the customers. 4. Accounting/Finances – Works on streamlining the process with technology and people (internal accounting team and chartered accountants) to track inventory, sales, purchases, expenses, loans/advances, petty cash etc and submit them in the required format for filing returns. Taking decisions for implementing strategies aligning to finances. Continuously improving the system to become more seamless and paperless.
Pavan –
1. Operations – Heading kitchen and delivery operations. Setting up processes to ensure smooth functioning of different verticals in the company. Ensuring cleanliness in the kitchen and quality of products. Negotiating with vendors and distributors to bring down costs.
2. Business Development – Looking out for new products which share the operational expense thus increasing revenue and profit percentage. Launching new products on food delivery apps like swiggy, zomato apart from our website. Looking out for partnerships with corporates and other food businesses for cross-selling. BTL activities like Newspapers, Tissues printing etc. Launching new kitchens.
3. People Management – Hiring across kitchen, operations, support and delivery verticals. It is important to have a lean team and also well trained people in every function of the company. We plan and hire few weeks before the launch of a new kitchen and train them with all our processes. Setting up hierarchy and performance review system for a team of more than 40 chefs, 50 delivery executives to bring down attrition. 4. Customer satisfaction – Working to increase Net Promoter Score across platforms like Google, Zomato, Facebook. Monitoring reviews, customer call recordings etc. and discuss with respective teams for any escalations and corrections.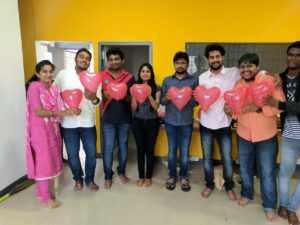 Tell us about your team and how did you meet each other?
Our team is very diverse and contains people from all parts of India. However, we classify them into 3 teams.
1. Central – Founders, Tech, R&D, Customer Support & Accounting
2. Operations – Kitchen Managers & Delivery Boys
3. Kitchen – Chefs & Helpers
Major percent of our team is comprised of kitchen and operations team. Both of us hail from Andhra Pradesh. Well, now Telangana (Praveen) and Andhra Pradesh (Pavan). Our friendship didn't bifurcate like our states 🙂
We are friends since schooldays (9th to 12th). Praveen came up with this idea of cake delivery and Pavan joined later to head operations.
Know a great startup story or want to share your own? Write to us at contact.bangaloreinsider@gmail.com and we will get back to you. For more updates follow Bangalore Insider on Facebook
Sponsored Ads