Sponsored Ads

"Being a True Gentleman… Never Goes Out of Fashion"
This quote is true with the Boysbite who provide fashion wear for men. Boysbite is a Chandigarh based startup.  Satveer Singh and Neetu are two co-founders of this startup who cater the needs for men's fashion.
"We have partnered with more than 20+ Indian fashion designers brands, in order to provide you exclusive styles and premium quality outfits," says Satveer. 
Meet Satveer, one of the co-founders of the boysbite. We got an opportunity to talk with him, and I am sure; his thoughts and startup story will inspire you. How he started his company by leaving his full-time job and How they are working hard to provide the fashion need for men.
Give a brief info about your startup?
We are India's first curated shopping service for Men. We work on "Shop the look concept".
Shopping for Indian men was never so easy. Just in few clicks – Indian designer brands will be at your doorsteps in just 1 week
What made you start your startup and what problem does it solve?
In this busy world, everyone wants success and all are improving themselves to the next level of challenges but in this race, there is a gap for fashion. People do not have much time for shopping.
We are new and emerging Fashion e-commerce store in India.
We have partnered with more than 20+ Indian fashion designers brands, in order to provide you exclusive styles and premium quality outfits. This all started in 2016, when I, Satveer Singh found how the professional men are busy in working hard to achieve their goals, in meeting new clients but very negligible time for shopping the important factor "Outfits".
Most men hate shopping because of wait time in parking lots of the mall or to wait at changing rooms and some get lost in matching the right trousers with best tops. This is where we come in the picture by providing high end rolling fashion for you in few clicks.
We have pre-selected examples with us, done on fashion expert's advice.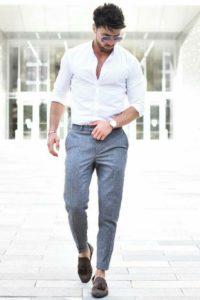 Tell us about yourself, your previous jobs/ventures? What were you doing before this startup?
My name is Satveer Singh, born and raised in Karnataka. I did complete my Textile Engineering from Bapuji Institute of Engineering and Technology, Davangere.
As soon as I completed my Bachelor's, I got a job as a Garment Merchandiser in Bangalore. I worked there for 2 months and saw very little opportunity to grow and the salary was too low to take care of myself in Bangalore.
I started searching for a job in IT industry because of good salary and after few days of struggle, I got a Job in "Microsoft" with the really handsome amount. I did complete my 2 years in Microsoft and got a chance in Wipro Technologies as a " Senior technical Officer".
But somewhere in deep, there was a Textile engineer and was craving for fashion. In 2011, my father passed away and in 2012, I migrated to Germany to do my Masters in fashion retailing.
In 2015, December I got my achievement in masters and started working for Fashion Retailer as a Purchasing Manager. I gave my 2 years to learn the basics of Fashion retailing Industry and returned back to India in 2017, January.
On October 30, 2017, I launched my E-commerce store and 
in 3 months
, I got 12 orders and 1000+ followers on Social media
Where is your startup based out of? Why do you think that is the best place for you?
We, Boysbite is registered in Amritsar. Our outfits are being made in Bangalore as I do have good connections down south.
As a startup founder, what are you paranoid about? What keeps you awake at night?
I am not at all paranoid. I am calm and peaceful human being who has a learned what patience is and what keeps me awake at night is "Competitors advertising strategies". I am awake at nights to research about the competitors and optimizing my marketing campaigns.
Who are your competitions and how are you better than them?
Whoever sells men's fashion outfits online are my direct competitors – To name few Myntra, Jabong, Ajio, Aboof Etc…
I am better than them is many aspects.
1. I do not have any negative reviews from my customers
2. easier to handle inventories as we have very less in comparison.
3. Quality of fabrics and packing conditions are under special supervision.
4. Last, We are unique while we make your mind free from shopping Hasel every time.
How hard is it to have a work-life balance as a startup founder and how do you manage it?
It's a very hard, to balance a life because for few months you cannot expect any income and if your products are awesome and great, still you would be needing a backup plan to support yourself and your family for few years.
I manage it doing some part-time jobs like developing websites, Product photographic management, as Ghost blogger etc..
Have you raised funding? If yes, then we would like to know the details. If no then please tell us if you are looking to raise.
Right now I didn't raise any funds but I did try a lot. With family and friends, From Government schemes, from State government banks but no luck.
For future, I am looking for an Investor to increase my fashion collections and to expand the reach of my business to Europe.
What's the biggest misconception people have about you? Why do they have that? What's the reality?
People think I am mad because I left Germany and came to India for my Startup because they think In India there is nothing compared to the western world but that is completely wrong. You should experience and learn new things every day irrespective of where you live.
India is worlds no 1 market for E-commerce Business.
What gets you excited about this company?
Its my own company, I working for it even if I am in Sleep.
Tell us how a day in your life looks like? Your schedule for a day right from the time you get up till you hit the bed at night.
Its hard to tell, but most of the time is spent on drafting and sending emails, writing blogs, regular follow-ups with designers and producers, Social media marketing – Creating ads and optimizing it, Photoshoots twice in a month and many unexpected things come along.
Tell us about your team and how did you meet each other?
In our team, we are three.
1. I, Satveer Singh – Owner and CEO of the company
2. Neetu – Cofounder and Marketing Head
3. Neeraj – Helper and Packing Assistant.
Know a great startup story or want to share your own? Write to us at contact.bangaloreinsider@gmail.com and we will get back to you. For more updates follow Bangalore Insider on Facebook. 
Sponsored Ads