Sponsored Ads

Black Chalk is a Bangalore based startup founded by Chandni Menon. It is an apparel design store.
The name "Black chalk" came to my mind as a medium to sketch; a metaphor with regard to a pencil to a sketch- a base for any design or Idea. You have an idea, you pen it down. Likewise, I have an idea, I sketch it down. Hence the term "Black Chalk", says Chandni.
We got an opportunity to talk with Chandni. Read her story to know more about their journey as an entrepreneur.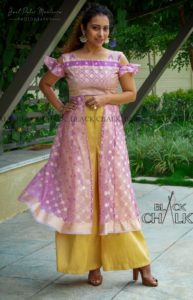 Give a brief info about your startup?
BLACK CHALK is a small scale apparel design startup that was started in July 2014. The brand specializes in conversions- recycle and upcyle of old sarees. We make contemporary outfits that are in trend only from the old sarees, dupattas and even old lehengas that our customers send to us. Though we specialize in conversions, we also custom tailor garments; majority being womenswear and kidswear.
The name "Black chalk" came to my mind as a medium to sketch; a metaphor with regard to a pencil to a sketch- a base for any design or Idea. You have an idea, you pen it down. Likewise, I have an idea, I sketch it down. Hence the term "Black Chalk".
What made you start your startup and what problem does it solve?
Another personal meaning to the name is derived from mine and my husband's name- Lakshman.  If not for his motivation, I would have continued to work under someone or for another brand. He believed in me and always motivated me to make good use of the ideas I have. My mother too has always been a constant motivation. I am what I am because of them.
When you work under someone or for a brand, your creative capabilities are limited. I always thought I wasn't giving the best I can and usually ended up questioning  the limitations imposed for a project or a design or even my styling ideas. I used to get home dissatisfied after work. My husband began to push me to always start something of my own. When there is an occasion in my family or any other event, I would always make a conversion for myself; pick up old  grandmother's and mother's  sarees from their respective wardrobes and experiment on different silhouettes and design for myself. Then my husband suggested I start doing this for other people too.
I also figured that there is enough and more new clothes out there in the market everyday for people. But what about the old fabrics and clothes that are sleeping in our own wardrobe?! The best way to make use of them is to convert and upcycle.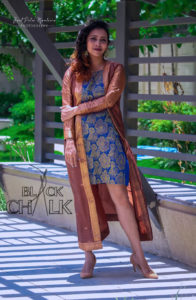 Tell us about yourself, your previous jobs/ventures? What were you doing before this startup?
Designing was always in me, ever since I was small. When I was in my 7th grade is when I did my first saree conversion. Sounds funny, but its true! There was a small event at home and my sister and I were to perform a traditional dance. We were denied the money to spend on buying clothes just for a small event and I ran to my grandmother's wardrobe and picked up an old 'pattu saree' that she had kept aside to give away to charity. I ran to a closeby tailor and drew the design for two 'pattu pavadais'. We made two sets of pattu pavadis from the 8 yards of fabric (saree) that my grandmom had kept aside for charity. It all started then!
I was always inclined to arts and crafts and my biology teacher always praised me for my perfectly rendered diagrams. I would score full marks on a diagram of a cockroach and my teacher sarcastically commented saying that if I spent so much time answering the question than for a diagram, I would score better. But I was  that student who "drew between the lines" and not 'read between the lines'.
I did a fashion studies course for my higher secondary at Kola Saraswathi Hr.sec. school, Chennai. The course had accounts, Informatics, multimedia and English. I was good at Fashion studies that I topped the state with a 98% in the subject among 80 students in Tamil Nadu.
I then graduated  from Pearl Academy of Fashion, Chennai in 2012. My first design job was at a domestic brand called SHILPI that is run by Mrs. Nalini Sriram (ace costumer designer and stylist) and Ms. Simrat Chadha. From here is where I learnt the most of everything that I'm doing now. Had the best experience at Shilpi. Its after that, that I moved to Bangalore as a designer for Under Fourteen Only, a kidswear brand, though I didn't stay there for long.  After I quit UFO is when BLACK CHALK happened. My brand was the best career decision of my life so far. I was freelancing and joined Arvind Ltd. As their catalog and editorial stylist as I needed a stable income until I get a good clientele for Black Chalk.
I quit Arvind in May 2016, when I got pregnant.
Where is your startup based out of? Why do you think that is the best place for you?
Black Chalk is based out of Whitefield, Bangalore. We accept, execute and ship orders all over India. Most of my clients are people out of Bangalore; I have never met them. I have a template that I send to them for measurements, etc and all our conversations are through mails and whatsapp. They were all kind enough to trust me that when I came back two years after my maternity break; they came back for orders. Some customers have become great friends too and that's one of the best things I have earned through Black Chalk.
We are settled in Bangalore and hence the best place for us. We have a good clientele from Bangalore too and a lot of them seem to appreciate our ideas.
As a startup founder, what are you paranoid about? What keeps you awake at night?
As a startup, the investment one puts in is huge. Be it financial, physical or mental. But the only thing that drives me is to do better for the brand is to make something new for  I create new challenges for myself. There is nothing to be paranoid about but one thing that upsets me is that In the 4yrs that I have been freelancing, now many of the domestic brands are stealing away my conversion ideas and I feel helpless. A few people I know whose brand is just a year old would begin doing what I am doing, the conversion design and everything and when I see their online page, it upsets me. Nothing else that can get me upset but the stealing of my design ideas.
Who are your competitions and how are you better than them?
SO far, I have not considered competition ; because I have always been competing with myself. I always want to do better than yesterday and I want to deliver the best for my customers. My everyday's turnover is the happy and surprised face my clients return to me when I have their conversions and outfits delivered. Their happy expressions make my day.
 How hard is it to have a work life balance as a startup founder and how do you manage it?
A startup is a challenge on myself. I have a 1.5yr old daughter and she started going to day care just two months ago. That is when I decided to resume 'Black chalk. I have no help at home. Its me, my husband, my daughter and a dog and my day starts at 6 am. The biggest sacrifice is sleep; but my life seems more organized and meaningful now. Everyday is a challenge at home and at work. I feel accomplished every day with a supportive family to come home to and a great job to look forward to the next day.
Have you raised funding? If yes, then we would like to know the details. If no then please tell us if you are looking to raise.
Black chalk studio is opening in October 2nd week in Nallurahalli, whitefield and I am thrilled. Im on my toes everyday as the whole idea is mine and I want it to turn out exactly like what I have been dreaming about for a long time. The studio is my dream come true and im putting my everything into it.
What's the biggest misconception people have about you? Why do they have that? What's the reality?
The miscommunication people have about conversions is that they don't cost much. The idea of a conversion is that you make use of old sarees or clothes to create new ones; and that means, the fabrics would need lining and for the fresh design to work we will need to execute patch work and other handwork. People think that since they are providing the saree, they wouldn't have to spend as much as they would spend on a new outfit. But that's not true. A conversion would cost as much as you would spend on a new outfit. Though Black Chalk takes a client's budget into account before we come up with a design itself. So we know our limitations to outsourcing fabrics and the quality or a secondary fabric, detailing, etc.
What gets you excited about this company?
The exciting part about this company is that I get to meet and interact with different people across India and they completely trust me with my ideas. The trust is what I consider a gift to me and my brand. And now the biggest excitement is the setting up of my studio and workspace. It's been a dream and now its finally turning into reality.
Tell us how a day in your life looks like? Your schedule for a day right from the time you get up till you hit the bed at night.
My day begins at 6am, I take a run and that keeps me active the whole day. I make breakfast, lunch and dinner, pack lunch for my baby and I close the kitchen by 8am. My daughter wakes up by 8, so I give her a bath, get her ready for day care, serve breakfast for the three of them- the husband, baby and my dog. My husband drops off my daughter at her day care and heads to work. They leave the house by 9. I get ready and head out to Play Arena, Marthahalli; where I am taking training for Rifle shooting. It's a new passion and it helps me with a better focus through the day. After that is when I head to work. I pick up my daughter by 3.30pm from her day care and bring her to my workplace. My husband comes by 6 pm and takes charge of her after that. I am usually home by 7ish. Then serve dinner for them and I put my baby to sleep by 10.30 pm. once she is asleep, my husband and I take some time off and catch an episode of Netflix. We crash by 12 am.
Tell us about your team and how did you meet each other?
My team consists of me and my master/tailor. I have been working with him ever since I started BLACK CHALk. And we have a great understanding and respect for each other's work. Once the studio starts, I will be recruiting and BLACK CHALK will grow from there.
We are thrilled to see what's in store for us in the coming months…
Know a great startup story or want to share your own? Write to us at contact.bangaloreinsider@gmail.com and we will get back to you. For more updates follow Bangalore Insider on Facebook.
Author
Sponsored Ads