Sponsored Ads

Bash.ai is a Delhi based startup founder in 2017.  It is an automation tool which uses AI and bid data to power a virtual assistant to drive HR for businesses. It was founded by Barkha Sharma. We got an opportunity to talk with Barkha, the founders of Bash.ai. And I am sure; her story as a startup founder will inspire you. Let's look at her journey in her own words.
"I think one of the things that 
keep
 me excited about Bash is knowing that through our automation tool we can bring about a massive change in the ecosystem. When I look at the team and see their immense drive to build something meaningful which has a deep impact on the HR function, it drives me even further", says

Barkha

.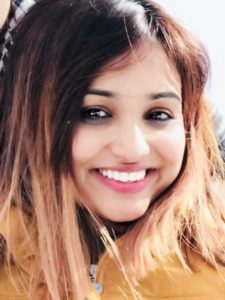 Give a brief info about your startup?
Bash.ai, which launched in March 2017 in New Delhi-NCR uses artificial intelligence (AI) and machine learning (ML) to improve HR processes and, in turn, employee experiences. Essentially, it is an automation tool which uses AI and bid data to power a virtual assistant to drive HR for businesses. What it does is this; it mimics cognitive functions related to the HR function using a rule-based AI-powered bot resulting in increased productivity in the workplace. With Bash's user-friendly front-end chat interface, it gives organizations a highly accurate and real-time way to automate conversations with employees within an organization's intranet. It can also be accessed using instant messenger platforms such as Facebook Messenger, Slack,
Skype. While we keep adding to our repertoire of modules, currently Bash.ai has five modules:
Welcome Aboard: aimed at employees who have accepted the offer but are yet to join.

Post-Hire Orientation: A virtual buddy to bring the new joiner in-tune with the company and its policies.

HR Helpdesk: the core engine answering all the queries an employee might have for the HR.

Ticketing – Automation of issues raised from conversation to the HR team. Set TAT and predefined rules for assigning issues which the team can later track.



Employee Engagement: to get the pulse of the employees. More of an emotional and aspirational barometer.
What made you start your startup and what problem does it solve?
Up until 2017, the biggest technological breakthrough to have hit HR and recruiting in order to make jobs faster and easier was ATS (Applicant Tracking System). In a world with driverless cars, the function of HR felt a tad bit outdated and a victim of relatively higher friction with technology as compared to any other function. Having worked in the field of HR for over 7 years and have been on both sides of the table, I wanted to change that.  

During my career, I've experienced all facets of the HR function; from an employee's feeling of uncertainty to the distress of the Human Resource team, working with enterprises with processes in place to consulting startups and building their processes from scratch, and having endless conversations with people who felt that HR is the backbone of the company to those who felt that the appendix is more useful than its function. It was the coming together of a few experiences in my professional journey a few instances that resulted in the founding of Bash.ai. 

Tell us about yourself, your previous jobs/ventures? What were you doing before this startup?

Before starting Bash.ai in March 2017 I had worked across several companies in the human resources function/ domain for 7 years. I worked in human resource development, talent acquisition, organization development, process & performance improvement, team learning & development. It was my passion for HR and love for technology that pushed me to create Bash.ai. I hold a graduate degree holder in Computers Application and master's degree in Business Administration. 

I enjoy buying fantasy and sci-fi novels as well as biographies of entrepreneurs and visionaries for my personal library and thoroughly enjoy reading books when I am free from work. My greatest idol is my grandfather. Some of my biggest motivators are the people I have worked with in my previous workplaces. I think a lot of what I am today is because of what I've learnt from them.

Where is your startup based out of? Why do you think that is the best place for you?

Bash.ai is based out of New Delhi/ NCR. Right from attracting the right skilled tech experts to having the opportunity to network with industry leaders, being right at the heart of one of India's biggest startup and technology centres puts us right in the middle of all the action. The early stage funding growth in New Delhi-NCR is at par with some of the leading startup hubs across the world. 

As a startup founder, what are you paranoid about? What keeps you awake at night? How hard is it to have a work-life balance as a startup founder and how do you manage it?

I guess one never really stops thinking about their work once they start up; your business, product and team are constantly on your mind. I do, however, try to maintain a balance between work and my personal life; it's important to take time off and spend time with family and friends.

 Who are your competitors and how are you better than them?

Competition is never irrelevant to us. It is competition, after all, that keep us on our toes (in addition, to customer feedback). Specifically, in the AI space, there are a lot of startups in India and abroad who have developed some cutting-edge deep learning technologies for the function of HR. I believe that if you have a product that focuses on reshaping HR as a function you'll stick around and continue to make an impact. Our focus on productivity in the HR function has helped us in building a roadmap for the future where we can define a clear ROI for the company choosing our solution. 

Have you raised funding? If yes, then we would like to know the details. If no then please tell us if you are looking to raise.

We raised our first round of funding in October 2017. The process of fund raising has given us immense clarity on our product and sales roadmap. We are now focused on building the product further by adding more modules and adding our customer base across the globe.  

What's the biggest misconception people have about you? Why do they have that? What's the reality?

There are two misconceptions; firstly, amongst the HR fraternity. I spoke at an event organized at a B school with the agenda being HR 2025. One key highlight for me was the uncertainty coupled with fear amongst students to the extent that there were questions asked about the future of HR and if it would be extinct. It's high time we up-skill. Just as you rate employees, why can't you rate algorithms built for specific tasks? After all #AI is your virtual labour. So, don't fear the future. Chin up, work hard and embrace the change. The second misconception is that AI will take our jobs. The truth is AI will not take jobs; instead, it will just make you better at your work. For now at least. These fears are mainly due to the buzz in certain sections of the media which predominately focuses on these stories. Also, simple human psychology unwilling to change old practices.

What gets you excited about this company?

I think one of the things that keep me excited about Bash is knowing that through our automation tool we can bring about a massive change in the ecosystem. When I look at the team and see their immense drive to build something meaningful which has a deep impact on the HR function, it drives me even further. Having done all the hard work, we are poised to take a leap. It's like preparing for years for your performance on the big stage. 

Tell us how a day in your life looks like? Your schedule for a day right from the time you get up till you hit the bed at night.

It took me a really long time to get to the schedule that I have in place right now. I have relapsed multiple times but now mostly I do stick to this. I prefer to have 2 hours to myself in the morning where I organize the day for my team and me. Given all the basecamps, Asanas, JIRAs and trellis of the world, I love to work with sticky notes any day. When I'm brainstorming and ideating, a series of sticky notes get on the wall. The day ends when the wall is clear. My day is filled with a lot of phone calls, emails, Slack interactions and a countless number of cups of tea. Once back home I workout for an hour. Then its either catching up with friends, family or Netflix. Not necessarily in the same order.

Tell us about your team and how did you meet each other?

Tanay Dixit and I have been friends for a while now. When we'd meet over endless cups of tea and coffee, we'd pick each others brains about machine learning, artificial intelligence and automation in our everyday lives. It was through the course of these multiple discussions about workplace HR processes that the idea of Bash.ai developed. 

Know a great startup story or want to share your own? Write to us at contact.bangaloreinsider@gmail.com and we will get back to you. For more updates follow Bangalore Insider on Facebook.
Sponsored Ads