Sponsored Ads

Lush green paddy fields with coconut trees on either side of the road are hard to come by in a city. Especially in Bangalore where streets are compact with buildings on either side of the way. Experiencing greenery at all sides is a once in a lifetime opportunity, and Avalabetta is one such place that can provide the same feeling over and over again. It's a heaven on earth affair that would undoubtedly give you the sense of paradise and calmness all over again.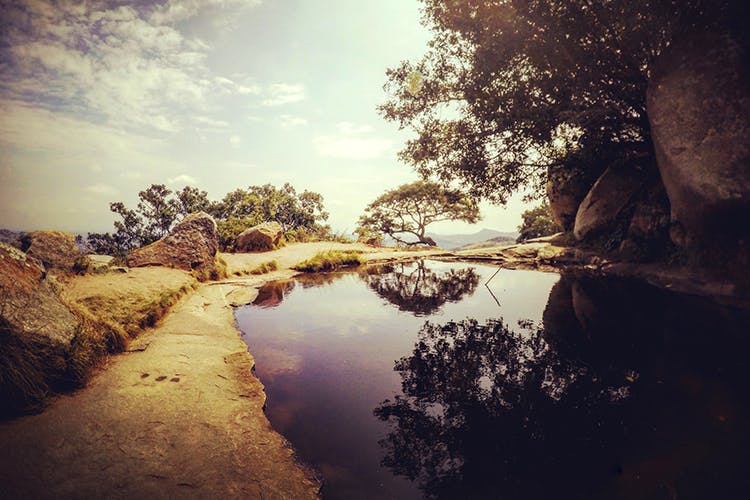 Avalabetta to Bangalore isn't far, but it's a long-haul drive that could be planned for a day trip with the entire family. Just 20 minutes off NH7 near Peresandra, Avalabetta is the new Nandi Hills (also known as the getaway place for every Bangalorean that wants a short, long drive to get away from the city). Thus, if you are looking for a place to visit, then Avalabetta is one place that you can miss out on.
Though it still might be in its development phase of tourism, Avalabetta is slowly starting to become the tourist hotspot for its scenic views, pleasant weather conditions and much more. Let's take a look at the things that you can expect in the place. Read on!!
What can you expect at Avalabetta hills?
Right from the start, the entrance to the hill is quite exquisite and exciting. As usual, the natural NH7 breeze will sure give you the chills of excitement, and when you enter the rural area where you might experience a few bad roads.
On either side of the road, you can see coconut trees, paddy cultivation and several farmlands that are lush green in colour. Once you reach the foothills, start to climb the hills. Park your vehicle at the guest house, and you can witness several things, such as.
Avalabetta peak
All thanks to the forest department, you can expect the hills to be in a neat and clean condition. If you wish to get on top of the hill, you might have to trek a bit, but with the voluptuous atmosphere and flamboyant greenery that surrounds you in the journey, you can make it to the top quite easily. If you get tired, then you can sit on any of the boulders and watch the panoramic scenery that would indeed give you peaceful vibes. But then the prominent time where you would want to visit Avalabetta would be during sunrise or sunset. The beauty of this place will indeed leave you shocked and amazed.
Lakshmi Narasimha Temple
Avalabetta temple comprises of one that is situated on the top of the hills. The pristine surroundings compliment well with the spiritual insides of the temple. Often, you can observe villagers offer cow milk to the deity present in the temple. It is considered that if you provide cow milk with a pious heart, then all your wishes and dreams will come true. But the standing out point about this temple is the priest that takes care of the temple. Having a conversation with will indeed make you feel mesmerised as the stories about the temple that he recites is something that you shouldn't miss.
Famous frog head viewpoint
The entire reason as to why Avalabetta become popular in the first place was because of the viewpoint. It's a particular spot that offers a view like non-other. As the picture indicates, it's quite self-explanatory why it's famous. Avalabetta weather is another factor that makes it prominent for Bangaloreans to explore this place. Calm, peaceful and silent. You can experience all emotions and feeling rush through your body when you stand at this point, but it's a once in a lifetime experience that could give you some great photos indeed.
Thus, the place offers some beautiful sceneries and greenery all around. Other place includes Dandiganahalli Dam, Srinivasa Sagara, Gudibande resort and many more such place. Avalabetta resort isn't quite there, but a guest house is present where you can find accommodation for reasonable rates. It's a perfect getaway place that could refresh your mind and give you the peace that you require from a stressful week.
---
Want to receive the greatest and the latest happening around Bangalore? Subscribe to our newsletter to be updated regularly. If you wish to contact us, then write to us at contact.bangaloreinsider@gmail.com, and we will get back to you, for more updates follow Bangalore Insider on Facebook.
Sponsored Ads