Sponsored Ads

AstroWanderer is a Delhi based startup founded by Abhinav Prakash Dubey.
AstroWanderer started with an idea to bring astronomy back in our life. Yes, when we say 

'

back

'

 

we intend to point that astronomy have been an integral part of human civilisation, as all our festivals, agriculture, navigation etc were derived initially through astronomical observations, says Abhinav. 
We at Bangalore Insider had the opportunity to catch up with Abhinav, the founder of  AstroWanderer and to know more about the startup, read his inspiring story.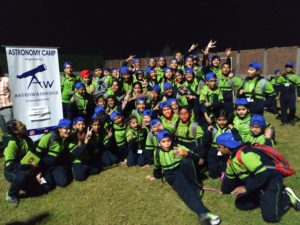 Give a brief info about your startup?
AstroWanderer works on 2 major 
domains Travel and Education. 
Travel
As we find that most tourist locations have comparatively better dark skies due to lower level of air and light pollution. This gives the hoteliers and tour operators a new resource to increase their revenue, ASTRONOMY.
AstroWanderer will act as an Astronomy service provider to these institutions. Initially to generate awareness for Astronomy as a travel product, we are also organising Astronomy Themed tours.
Education
With all those years of experience in teaching Astronomy to school kids we have realised that Astronomy broadens the approach of a Child's mind, moreover it inspires the students to do better and aspire high. With our curated educational programs we are partnering with valuable schools across India to deliver them the knowledge through hand on learning.
What made you start your startup and what problem does it solve?
AstroWanderer started with an idea to bring astronomy back in our life. Yes, when we say 
'
back

'

 
we intend to point that astronomy have been an integral part of human civilisation, as all our festivals, agriculture, navigation etc were derived initially through astronomical observations. But with the passage of time as the society developed and we lost our clear starry skies to artificial lights, the significance of astronomical observation faded away. 
With this, most of human civilisation was compelled to ignore the vast majority of the universe and focus on a tiny part of the universe equivalent to a zillionth fraction of a dust particle. AstroWanderer is determined to bring the rest of the universe back to the lives of people.
The industry is witnessing a drastic change and so is our environment. With each travel and astronomy enthusiast that joins the community, a stream of photons go with them to create more and more light to mask the real beauty of the night sky by creating a very rarely heard form of pollution, light pollution. To address and overcome this, we have united a team of professionals who are educated and experienced in the field of astronomy and has an extensive experience in educating scholars about astronomy and environment sensitivity. We not only make people travel to a destination and witness astronomical events but also educate them and stimulate in them a sense of responsibility towards our environment and specially preserving the night sky. To balance out on responsibilities, locals are also educated about the importance of night sky as a tourism resource. This not only makes them more sensitive towards the environment but also motivates them to induce the same among their fellow travellers and friends.
Tell us about yourself, your previous jobs/ventures? What were you doing before this startup?
I have been living my entire past life being curious about night sky, whether it was sneaking out to my terrace in my childhood to observe the 
night sky, or giving up on well settled placements in MNC's to become an Astronomy Instructor, Astronomy has a major role to play in what I am today. Just after my graduation I joined an MNC software company which I had to give up just after 6 months to pursue my Masters, after my Masters I joined a small organisation to work as an Astronomy and Space Science Educator, I worked there for 5 good years. In those 5 years I have taught Astronomy to thousands of kids across India, designed several products and ended up to lead a team of Educators.
Where is your startup based out of? Why do you think that is the best place for you?
Our startup is based in Delhi. Easy availability and familiar knowledge of resources and an existing market of Delhi Schools would be the most 
important
 reason, but our services are not limited to Delhi and actually most of our services have been delivered outside Delhi.
As a startup founder, what are you paranoid about? What keeps you awake at night?
This might sound cliche but I am paranoid about new ideas. Generally after working late night 
hours when I hit my bed every night some entirely new business idea or a new idea of ways to do a present project, in a smarter way, pops up and that certainly keep me awake for a longer time.
Who are your competitions and how are you better than them?
Though in this line of business we do not have any major competitors, but there are some small organisations working in specific regions of India to provide Astronomy or rather hands on science related services.
We are better than them because our vision is not a region specific, wherever you are in the entire world we have a product in our kitty for you. We also have a very organised approach towards this business which is going to make us largest Astronomy service provider in entire world.
How hard is it to have a work life balance as a startup founder and how do you manage it?
One best thing about starting up in your field of interest is the work life balance turns out to be pretty easy. You are already doing most of the things you love while working.
Have you raised funding? If yes, then we would like to know the details. If no then please tell us if you are looking to raise.
As the fund required as of now, could be managed at our end, we have not approached any investors as of now, but soon we would be like to raise funds to increase the resource base.
What's the biggest misconception people have about you? Why do they have that? What's the reality?
We have not faced any misconceptions yet, our business approach is pretty 
straightforward, so we done even expect any such misconceptions on our way.
What gets you excited about this company?
Everything about it, see its not a conventional business, for me its about making a revenue source out of what I have loved doing till date. So everything I do in this business makes me excited about it.
Tell us how a day in your life looks like? Your schedule for a day right from the time you get up till you hit the bed at night.
Apart from being an astromaniac, I love to be fit, and I do practice some crazy sports like trail running, high altitude trekking and mountain biking.
So every morning after I wake up I pay a compulsory visit to the gym or on Sundays/holidays it might even start with a bike ride or rock climbing session.
This follows with a rigorous morning brainstorming session at work with my team. In the evening after work, I love to catch up with some friends or relatives, for a chit chat session. This is followed by my dinner. After dinner I have the most important time of my daily schedule, which is evaluating the work that I have done today and planning for the next day tasks to be done at work.
Tell us about your team and how did you meet each other?
Our core team has 3 members including me, Shagun and Mohseen, we all have been a good friend for a long time now. When I came up with this idea of AstroWanderer they supported my idea as they knew about my love for the field and found the business plan, profitable.
Know a great startup story or want to share your own? Write to us at contact.bangaloreinsider@gmail.com and we will get back to you. For more updates follow Bangalore Insider on Facebook.
Author
Sponsored Ads