Sponsored Ads

"Where there is will there is way"
This motivational quote goes perfect for Santosh Maranabasari the founder of ASR Projects. ASR Projects is a Real Estate Bangalore based company. Santosh always wanted to start his own business.
" I think it's the best place since I am a localite and best for local business." Santosh Says.
We got an opportunity to talk with Santosh, the co-founders of the ASR Projects. And I am sure; his startup story will inspire you. Look at the journey of Santosh till here, how difficult was for him to keep his dream alive to start his own business. See how he try to involve his wife in his startup and how he helps his wife in return.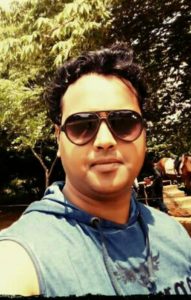 Give a brief info about your startup?
ASR Projects we are into Real Estate Business in Bangalore Development of Residential sites in Bangalore
What made you start your startup and what problem does it solve?
I always wanted to start by my own so that I can plan n execute projects by my own, it will help me not to depend on others or my superiors and waste my time and work for others
Tell us about yourself, your previous jobs/ventures? What were you doing before this startup?
 
I was working as business head in a real estate company where I learnt everything I earned all the knowledge only thing I dint had was an office n a project. Hence started thinking about own startup
Where is your startup based out of? Why do you think that is the best place for you?
ASR Projects is based in Bangalore and I think it's the best place since I am a localite and best for local business.
As a startup founder, what are you paranoid about? What keeps you awake at night?
As a Startup founder, I am  paranoid about nothing but to think positive and believe in myself. What keeps me wake at night is to think n plan about my next day schedules.
Who are your competitions and how are you better than them?
Competitions are many I am better than them coz I don't compete with others but compete with myself.
How hard is it to have a work-life balance as a startup founder and how do you manage it?
Work-life balance can be managed by working from home some days and spending time with family also I include my wife in my business for help n sometimes I help her to cook at home.
Have you raised funding? If yes, then we would like to know the details. If no then please tell us if you are looking to raise.
I haven't raised any sort of funding yet but yes would be looking forward for it in future.
What's the biggest misconception people have about you? Why do they have that? What's the reality?
People think I may not be successful in startup as it requires lots of time to grow and has risks of failure but I love to take challenges and be successful entrepreneur
What gets you excited about this company?
I am excited because I am able to earn respect and provide jobs to others
Tell us how a day in your life looks like? Your schedule for a day right from the time you get up till you hit the bed at night.
I start my day with jogging and yoga.
Then get freshen up go to my office and plan my work. Usually, have meetings with my team and get the work done in time. I take care of project work and handle customers to close the deals.
Tell us about your team and how did you meet each other?
I have an excellent team most of them joined me from my previous organization and some have new with reference overall looking forward to work with my team towards our Vision and Mission to achieve our goals and make my startup grow big.
Know a great startup story or want to share your own? Write to us at contact.bangaloreinsider@gmail.com and we will get back to you. For more updates follow Bangalore Insider on Facebook
Sponsored Ads