Sponsored Ads

Meet Arti the founder of "Artis jam and sauces". She started in 2016 with the vision to provide harmless food item as almost all the products which are available in the market contain additives and preservatives.
"We are free of guilt as we provide the best possible products our customers and they are guilt-free as they feed their family the best-processed food available", says Arti. 
We got an opportunity to talk with Arti. And I am sure; her story will inspire you. Let's look at her journey how she started with her passion and took it to the second level.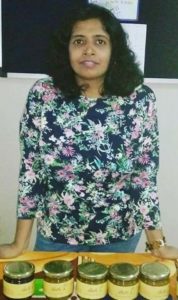 Give a brief info about your startup?
We are a food startup, started in 2016 by me. The Idea is to provide good and healthy processed food to the people. We would like call that as Guilt-free processed foods.
Most of the processed foods in the market is full of additives and preservatives and it is harmful for kids and adults, may be over a period of time. But these processed foods are part of our day today life and we are forced to use it due to the convenience factor.
Our products contains all natural ingredients and not additives,colors  or synthetic preservatives added. We send our products directly to the customers immediately after curation to make sure that our customer enjoys maximum shelf life for the products.
We are free of guilt as we provide the best possible products our customers and they are guilt-free as they feed their family the best processed food available.
To know more about us and to get updates on our products and our new recipes please like our facebook page https://www.facebook.com/artisjamandsauces/
What made you start your startup and what problem does it solve?
Some 3 yrs back I was diagnosed with some health issues related to stomach and the first thing the first thing doctor told it to stop processed foods. I decided to leave my job and take care of my own health for a while. Moreover, the job satisfaction levels gone down as the job did n't excite me anymore. After few weeks of leaving my job, I started exploring new recipes, experimenting with it in my kitchen as a hobby and started writing blogs about my experiences. One day I saw a video of strawberry jam and I had some strawberries lying in my fridge, I tried making that jam after watching the video and it was an instant hit with my husband and his friend. This excited me and I started exploring more on homemade jams, and within 6 months my jams and sauces were a  big hit among friends and family.
One fine day, I don't remember the day as it was not any special day, we (me and my husband), were reading an article about the hazards of preservatives used in day-to-day food.
"Yaar, yeh toh roz hum bachchon ko bhi khilate hai. Aur yeh problems pata chalta hai saloon baad" he exclaimed. "Why dont you create something for kids which is free of these hazards, there will be plenty of people out there who actually want something like this". That was the moment of truth.
The biggest hurdle initially was that how this idea can be spread and how we can reach to our customers. We don't have any contacts in the food industry and nobody from even in our distant relation has either.
We created a Facebook page, and we got our first sale in the very first week, since then there is no looking back.
Indian market is full of preservative based processed food products, if you just look at the label of any jam/sauce bottle and do a simple google search on what those preservatives can do to your body, you will never want to eat that again, kids love jams, and any well aware parent will  not want to feed chemically processed foods to their little ones. Despite this fact, in today's fast life, every parent cannot prepare all these foods in their kitchen, yet the kids like it so much so that they are forced use it. Our products are the solution for this problem. Our products are homemade, preservative free, tailored fit. We are shipping the products the end customers, as soon as it is ready, to ensure that our customers receive the freshest possible products. This is a big relief to our customers and gives peace of mind. Parents know they are feeding their little ones homemade, jams and sauces which are made with real ingredients without any guilt.
Tell us about yourself, your previous jobs/ventures? What were you doing before this startup?
Well, I was born and brought up in Mumbai, schooling was done in Mumbai and Uttar Pradesh. Started my career in HR in 2006 and mostly I have experience working in small organization, so you can say I am multiskilled and can do multitasking very easily (that really helped me in my startup), I was basically in IT hiring, and had zero experience in cooking, I started cooking just to impress my hubby and his family, I have never even thought at that time that I will venture into food-based industry.
Where is your startup based out of? Why do you think that is the best place for you?
We are based in East Bangalore, I started this venture from my home kitchen, and soon we have plans to move to a full-fledged commercial kitchen. Bangalore is known as home to many IT professionals from over India, and most of the couples are working having/not having small kids, and mostly don't have time to make breakfast due to hectic schedule, our homemade products are most helps to all those professionals, who gets to eat fresh homemade jams and sauces and kick-start their day without any fear or guilt of consuming processed jams and sauces.
As a startup founder, what are you paranoid about? What keeps you awake at night?
Timely Deliveries and customer satisfaction. Most of our products are filled in glass bottles, and need refrigeration after a certain point of time, we have resolved 90-95% of breakage and product gone bad issues, but even its single day delay makes me paranoid, as customer satisfaction is paramount for us and at the same time it also it breaks my heart to see any wastage of food product.
Then there are many customers coming back to us with messages and reviews like:
After having your jam my kid was asking me "Mumma, can you take me to the aunty who make this jam"
A kid who is having gluten allergy, who eats our jam and sauces happily and without any fuss, and mom is happy and relieved that her kids is eating food which is safe and healthy for her.
And daily messages from mom's stating your jam/sauce is a hit my toddler and he/she is eating dosa with your Mayo, that is the best inspiration one can get.
Every morning brings new challenges, new hurdles and new success, we try to cross the hurdles with the learning and success gives us motivation to do better that what we are doing already.
 Who are your competitions and how are you better than them?
Real fruit jams and sauces are unexplored markets I believe, I know few startups who make their own homemade jams, but their  USP is completely different than our USP, my audience are little kids, and making any food product without adding anything which is processed is a huge task when it comes to kids section, we have to customize (We try our level best to make it as kids liking and we have achieved/achieving success) in that, I know its a long journey and we are taking 1 step at a time.
How hard is it to have a work-life balance as a startup founder and how do you manage it?
I will not say it's not tough or I don't break down at times, sometimes there is no time for any social life and I almost forgot about work life balance in last 2 years, but now I try to take breaks, go on short vacations (I still have to manage the work while in vacation), but now I have understood one thing, if I have to go a long way, and take my venture to new height, I will definitely have to give my mind and body break and rest. There is no particular day off for me, I try to take break in between the work itself.
Have you raised funding? If yes, then we would like to know the details. If no then please tell us if you are looking to raise.
We didn't raised any funding till now. The initial capital I have raised was from my family.
We would love to welcome an investor who loves and understand the industry and passionate about the Idea, ethics and moral we carry.
What's the biggest misconception people have about you? Why do they have that? What's the reality?
I give very less or no importance to what people think about me, and I don't even have time to think about what people think about me, as my startup keeps me super busy 24*7, and my mind is completely occupied with my work and what new idea I can implement to make my company better and how to make it more people friendly and take it to next level.
What gets you excited about this company?
It's my baby, my brainchild and one of the reasons to wake up every morning now when I see good reviews, happy faces after using our jams and other products, I know for sure I am heading in the right direction.
Moreover, we are constantly researching to give even more health and goodness twist to our existing products. Like, our ketchup, Sauces, Peanut Butter and apple gooseberry jams have gone sugar-free.
We are researching on jams/Sauces that suits diabetic persons and we are experimenting on new products. We are also researching on how cane juice can be directly used to give the sweetness etc.
Tell us how a day in your life looks like? Your schedule for a day right from the time you get up till you hit the bed at night.
I wake up at 6 in the morning, have a glass of soaked chia water and straight head to my laptop for that day deliveries and what all order has to be fulfilled that day, then breakfast,
By then my workers come in and I have to instruct them about what all products have to be made and then dealing with courier companies, fruit vendors and in between customers calls, answer their queries and take their orders. I also have to dedicate sometime in the day for the experiments on our new products (It takes weeks and sometimes months before it is up for sale), the one which fails gives us learning that it can't be done in that way, by evening 7-8 pm, we do the packaging of next day delivery, and then I have to manage my social media pages as well, I write blogs in my page too. Then some time with family after dinner some 30 min. Walk. and then I head to bed by 11 pm.
Tell us about your team and how did you meet each other?
I have 2 helpers Deepa and Rekha at the moment, they are sisters and are with me since last 1 year, when we started growing and I was not able to handle it with part time help, I started looking for workers whom I can train, had no luck for some time, one evening i simply went to a place nearby my house and I found this girl Deepa, she was supposed to join some other company next day, but when I explained her what I am looking for, she sounded positive and she came next days and joined me, after 2 months she bought her sister as well, these 2 are my team for now, it's time for expansion now.
Then we have external support from our delivery boys, fruits vendors etc.
Know a great startup story or want to share your own? Write to us at contact.bangaloreinsider@gmail.com and we will get back to you. For more updates follow Bangalore Insider on Facebook.
Author
Sponsored Ads