Sponsored Ads

Arrigoweb Technologies is a Pune based startup founded by Tanvee Pisal.
It was all about Graphic Designing and Branding Solutions, but now we have extended it to Web solutions, Digital Marketing, Web & Mobile Application, UI designing and UX prototyping, says Tanvee.
We got an opportunity to talk with Tanvee, and see what she has to say. I am sure her interview with us will inspire you.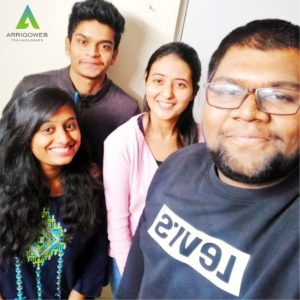 Give a brief info about your startup?
I initiated my start-up foundation in February 2018 and named it as "Arrigoweb Technologies". It was all about Graphic Designing and Branding Solutions, but now we have extended it to Web solutions, Digital Marketing, Web & Mobile Application, UI designing and UX prototyping.
What made you start your startup and what problem does it solve?
I was in my last year of IT engineering and was very much inclined towards designing. First I offered to help my friends, family and known people for free, but then there's a saying  "If you are good at something, never do it for free" and that's when the foundation of start-up was built. As I cater to my clients all kinds of design and business solutions, it helps them to make their brand viable.
Tell us about yourself, your previous jobs/ventures? What were you doing before this startup?
Before the start-up's work piled on, I used to do all my college's (department's) designing work for free.
Where is your startup based out of? Why do you think that is the best place for you?
I am from Pune, Maharashtra and so are all my team mates. This is the reason we are based in Pune, though most of our clients are from other cities .
As a startup founder, what are you paranoid about? What keeps you awake at night?
As a founder, the thought of how can I make my brand more successful, how it can reach more people through marketing or through various tie-ups is what constantly runs in my mind.
Who are your competitions and how are you better than them?
There is a huge competition in the market, especially in this field. As to stand out from the crowd, we try to offer extra services to clients and prefer to be dynamic, changing and evolving as various trends set in the market.
How hard is it to have a work life balance as a startup founder and how do you manage it?
It is pretty tough to balance work and personal life, as when you are working for more than 18 hours a day you hardly get time for your personal life. As I have time only on Sundays, I prefer  to spend it with my family and close friends. Also, I like to travel as it relaxes my mind so that I can work with more energy and creativity.
Have you raised funding? If yes, then we would like to know the details. If no then please tell us if you are looking to raise.
No, I haven't risen any funding yet, as I am new to this startup world.
What's the biggest misconception people have about you? Why do they have that? What's the reality?
There are many misconceptions of people regarding Graphic Designing or Branding. Most of them don't know the power of branding. A good branding will make your brand more attractive and a good social media marketing post will help you reach out to more people and attract more clients.
What gets you excited about this company?
The work we do here is what gets me excited, every day we either come up with new branding solutions, new web technologies or every day we just become better designers.
Tell us how a day in your life looks like? Your schedule for a day right from the time you get up till you hit the bed at night.
I get up early in the morning, around 5.30. The first thing I do is I check all my mails, make a check list for the day's work and email a task list to my team mates. In office hours, we have calls, meetings with clients and lots of other programs lined up. When we complete all the allotted tasks for the day and other related office/admin work, At the end of each day we sum up the day's work and wrap up. After office, I do some research on what's trending in the online  market, which new technologies are booming, what should be changed or what approach should be taken into consideration in some situations, etc.
Tell us about your team and how did you meet each other?
I have literally got the best team ever! I am the Design Lead, the entire designing part comes to me. Also, we have a Tech Lead (Piyush), who I met in web development course. He handles all the backend technical part. Then, we have a Digital marketing executive(Prajakta), she and I were both school mates. She handles all the social Media and digital marketing side on behalf of the clients. We also have a Content Writer(Tanaya). She is responsible for generating all the content that we provide to our clients and lastly, we have our Admin Lead (Prathamesh), who is in charge of all our Admin work and does it efficiently.
Know a great startup story or want to share your own? Write to us at contact.bangaloreinsider@gmail.com and we will get back to you. For more updates follow Bangalore Insider on Facebook.
Sponsored Ads