Shalini Singh is the founder of  andwemet, it is a Bangalore based startup.
andwemet is a global & responsible matchmaking platform which is aiming to bring back trust into online matchmaking for Urban Indians over the age of 30 years, says Shalini.
We got an opportunity to talk with Shalini, and see what she has to say. I am sure her interview with us will inspire you.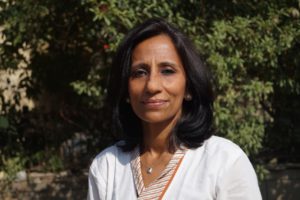 Give a brief info about your startup?
andwemet is a global & responsible matchmaking platform which is aiming to bring back trust into online matchmaking for Urban Indians over the age of 30 years.
What made you start your startup and what problem does it solve?
Seeking a partner can be a cumbersome process as one enters their 30's, the primary reason being that socialising reduces significantly. andwemet is addressing this need by  provides the long desired change to online matchmaking space online which in the recent past had been limited to either  classifieds or swipe left / right options. andwemet enables members to connect beyond physical appearances as it not only encourages members to bring to the fore relationship deal-breakers early in the conversation, but also forces you to contemplate, thereby attempting to avoid subsequent heartache's.
Tell us about yourself, your previous jobs/ventures? What were you doing before this startup?
I have been  part of the global communication industry for close to three decades  Started off way back when PR industry in India  was is in its nascent stage having worked for global brands prior to getting on to my own with Galvanise PR.
Where is your startup based out of? Why do you think that is the best place for you?
andwemet is  being built out of Bangalore, which truly is the entrepreneurial capital  of India. Being based out of Bangalore, using its energy and resources was a logical choice.
As a startup founder, what are you paranoid about? What keeps you awake at night?
Customer delight is what is always on my mind. Fulfilling them to our best is what I want to do which may be challenging at times in this hyper connected world.
Who are your competitions and how are you better than them?
We in all honesty have none as andwemet have a unique value proposition, having said this there are substitutes that provide similar services. We stand out because the platform is the only one–
Targeting a specific age group which is 30 years and above
Gets the user to think and be transparent about their expectations from a relationship
How hard is it to have a work life balance as a startup founder and how do you manage it?
Nothing comes easy, everything requires patience bundled with discipline and building a venture has similar requirements. If this is understood it is easy to manage the day. Of course it can be extremely draining at times, but then there are days which make up for it. The only thing I do is make sure where and how I spend my time as that to me is the most precious.
Have you raised funding? If yes, then we would like to know the details. If no then please tell us if you are looking to raise.
andwemet is currently bootstrapped. We have received interest and are evaluating each on its merits. Identifying a right partner is critical. That being said the aim is not to build and sell, but to develop to scale.
What's the biggest misconception people have about you? Why do they have that? What's the reality?
As far as I am aware, people know me as who I am, and if there is a misconception then unfortunately I am not preview of it.
What gets you excited about this company?
Everything and everything. Bringing the concept to life is a life changing experience and keeps me on my toes.
Tell us how a day in your life looks like? Your schedule for a day right from the time you get up till you hit the bed at night.
Whoa, so here we go. I wake up early, pretty early to invest my first 90 minutes of the day in some form of fitness routine. This time is my time without any connect device. After that – I am a slave of my calendar and the to-do list. Having said this, I make it a point to speak with my parents and am also available for friends and family if they ever need me.
Tell us about your team and how did you meet each other?
It's a pretty small team – who are friends and family, known to me over years.
Know a great startup story or want to share your own? Write to us at contact.bangaloreinsider@gmail.com and we will get back to you. For more updates follow Bangalore Insider on Facebook.