Sponsored Ads

Meet Alpana, she enjoys writing and feels that being a freelance writer is the best way to express thoughts.  We got an opportunity to talk with her about her journey as a blogger. Read her full interview with us.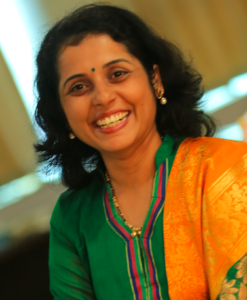 Tell us about yourself, what do you like most about your field of work?
I am Alpana Deo, Freelance writer, and Blogger at MothersGurukul and Author of "A Girl In The New Town". Currently, I am living in Houston, TX with my husband and two lovely kids. I am a Management graduate who has now turned into a writer.
I like everything in this field. But one thing that I like the most is the freedom to express my thoughts and the satisfaction I get when I read the comments. How one will feel if their writing is making a difference in somebody's life? Elated, satisfied. Isn't? That's exactly how I feel. Apart from this, the abundance of knowledge that is there in blogging/freelancing. There is something to learn every time. We have to be open to grasp all that knowledge. When I am feeling low, I can pen it down. When I am happy, I can write it down. I guess that's the perk of being a writer. We are never short of words. J
Your previous jobs/ventures? What were you doing before choosing this field? 
As I said, I am a Management graduate. I worked in India for a short period. I got married and came to the USA. I came to this country on a dependent visa. Since I wasn't allowed to work for someone, I started to work for myself. I started putting together my thoughts in the form of writing and articles. I also volunteered at a few NGOs, did few online courses. I wasn't getting paid for my work but it was a wonderful learning experience on many fronts. That has contributed a lot in my writing.
How did you land up doing what you do now?
Writing isn't something that happened to me all of sudden. I was never out of touch from writing. But I never look at it as one of the career options. When I took up the mommy role and I was trying to instill Indian values in my daughter on a foreign land, the challenges I was facing. Maintaining our mother tongue at home was something I wanted to be followed with discipline. Luckily, it is still intact. I would say that was the start of my blogging journey. I wrote my first article for the Austin South Asian Newsletter and it got a lot of appreciation from the readers. I wrote a couple of articles for the same newsletter and later started my own website is mothersguruku. It's been 3.5 years since I have been writing through MothersGurukul and sharing my writing through other platforms as well.
If not the current profession, what would you have been?
I have always aspired to work in the Human Resource field. To be specific then Recruitment & Training. Sometimes when your passion becomes your career, it's a blessing and today I can proudly say that writing has given me a satisfaction of doing something meaningful.
What motivates you to keep going? 
There is not one thing that motivates me. It's a combination of many small things. For example, making the best use of my time, learning something new each day, doing something meaningful, exploring different areas of writing, trying out new genres. All this motivates me to keep going.
Tell us how a day in your life looks like? Your schedule for a day right from the time you get up till you hit the bed at night.
My day is divided into three sections. Morning time is for my kids, afternoon for myself. and evening family. I have an Elementary schooler and a toddler. In the morning, I do not open my laptop. That's the time that is meant for my kids. Once my daughter is off to school and I put my toddler to an afternoon nap, I enter into my blogging zone. I finish-up pending posts, write new ones, finish up any brand content creations, answer my emails etc. This is all until my daughter come back from school. Once she is home, I am off from my laptop. We chit-chat for a while before she starts with her studies. Evening time is we go out for a walk, parks if my daughter doesn't have any activity classes. During weekdays, I take care of all this but on weekends, we go as a family to these places. We have a rule of no TV during dinner time. That's our family time. Weekends are slightly different but this is how my typical weekday looks like.
Any regrets till now? If yes, will you like to share it with our readers?
The only regret I have is not having a working Visa. But I like being positive and I always try my best to turn the odds in my favor, I look to the positive side of this. If I wasn't a writer, would I get a chance to be featured on several platforms for writing? Through my posts, I always try to convey this message to my readers that when things are not in our hands, we should try to see what is in our hands and start exploring it more. Who knows there might be another door that you haven't opened.:)
If you were given a choice of meeting any person you want, who will be that person?
Sudha Murthy. I adore her. I have heard many of her talks and every time she inspired me with her thoughts. I feel she is a perfect example of simple living, high thinking.
What is the biggest misconception that you think people have about you?
Thank you for asking this question. I feel bad when people see blogging or writing as a pastime. They think since I am not working that why I took up writing just to pass my free time. And yes, since I am not working in a cubicle, I have a lot of free time. That is another misconception about me. Now when I am getting paid writing assignments and I am doing content creation, they started to take my work seriously. Otherwise, it used to be "ghar baithe baithe ho jata hai". I hate when people judge anybody's efficiency on the basis of money. Why money has to be the deciding factor to decide if the person is capable. Also, when someone is not having enough knowledge about somebody's field then wouldn't that be better to ask about it rather than undermining that person's hard work?
Any message that you want to send to your readers?
I have been very thankful to my readers. When I see their comments, it gives me tremendous satisfaction. When I get recognition as a MothersGurukul mom, it's a certificate for me. I would like to have their continuous love and support.
Know a great startup story or want to share your own? Write to us at contact.bangaloreinsider@gmail.com and we will get back to you. For more updates follow Bangalore Insider on Facebook.
Author
Sponsored Ads