Sponsored Ads

"Trends come and go… it is important to have a piece of jewellery that is timeless and adds style to your personality."
Meet Divya Gupta, the founder of Aliame. Aliame is a Bangalore based startup which is selling stylish jewellery online. "One morning (16th August) my husband Ayan suggested I document my start-up journey." says Divya. She quited her corporate job in 2015 to work for her own passion and her one business, and that gave birth to Aliame.
See how Divya is working as a single woman army with the support of her husband to make her dream come true. We got an opportunity to talk with Divya, and I am sure, you will be inspired by her views…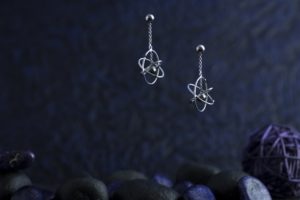 Give a brief info about your startup?
We know all you ladies like jewellery but, like us, most don't like jewellery stores and their same run of the mill designs. You seek designs that are different, truly creative and that tell a story making them one-of-a-kind! We design only signature styles which make you stand out from the milieu.
All our designs have a unique story behind them and are part of collections which draw inspirations from mystical Japanese art to the magnificence of space, from the depth of nature's glory to the beauty of dance.
To maintain strict levels of exclusivity we will only make a limited number of pieces for each design so what you own stays 'one in a million'.
 What made you start your startup and what problem does it solve?
The inspiration for Aliame came from our desire to create exquisite jewellery which modern women would be proud to show off – whether at corporate presentations, at fashionable parties or just hanging out with friends. There were enough and more ethnic and traditional designs out there, but almost nothing when it came to international and contemporary designs to go with women's increasingly modern outfits. Thus, Aliame was born with designs which resonate with your style sensibilities!
 Tell us about yourself, your previous jobs/ventures? What were you doing before this startup?
I spent more than 2 years studying design, computer-aided design (CAD) and most important manufacturing, from Jewellery Product Development Centre, Delhi. I am also a certified Diamond Grader and Gemmologist from Gemological Institute of India, Mumbai. In addition to my proficiency in jewellery, I hold an MBA in Marketing from NMIMS University.

I have a decade of experience in designing, overseeing manufacturing and marketing jewellery for a range of high-end international clientele like Links of London and Erickson Beamon from London, Leslie Greene and other high-end designers in US. I gathered this experience working with export houses in Mumbai which emphasised the importance of quality in a jewellery.
Where is your startup based out of? Why do you think that is the best place for you?
We are lucky to be based out of Bangalore which is one of the best cities one could start up in :).
 As a startup founder, what are you paranoid about? What keeps you awake at night?
Paranoia doesn't become me 😉 I think a good night's sleep is important to keep one's sanity. Therefore sleeping at night keeps my paranoia at bay. But something which causes some nerves is when I create a new design which I love but I wonder if that is going to be well received by my customers.
 Who are your competitions and how are you better than them?
I am not naive or over confident enough to say that we don't have any competition. Any premium silver jewellery brand in the market today is vying for the same audience.
I am not really pompous to say that we are better than them. We just have our own niche…I can say it with enough confidence today that the designs I have, no other brand has, because I personally designed each one.
Our design sensibilities are unique to us and our audience.
 How hard is it to have a work life balance as a startup founder and how do you manage it?
From my perspective sometimes lines get a little blurred because when one is starting out there is so much to do. This makes it difficult to set boundaries. What helps here is the fact that my husband who has a full time job and it's his schedule which keeps me in check.
Have you raised funding? If yes, then we would like to know the details. If no then please tell us if you are looking to raise.
We are completely bootstrapping it right now and do trust our vision and business to know that we won't need funding. Our revenues will drive us forward along with our time, effort and money investment.
What's the biggest misconception people have about you? Why do they have that? What's the reality?
Honestly we haven't been in the business long enough for people to form any misconceptions 🙂 Although I will  take this chance to tell our audience that our prices are reflective of all our hard work. From creativity in design to brilliance in manufacturing.
What gets you excited about this company?
Oh everything about what we do is so so exciting. From creating a new range of designs to sourcing material. Seeing one's designs on paper come to life is such a thrilling and satisfying experience.
Tell us how a day in your life looks like? Your schedule for a day right from the time you get up till you hit the bed at night.
No two days are the same. In the morning, before my husband goes to work, we quickly discuss the plan for the day and the top priorities. After that, based on that, I go about my work, trying to stay focused. So the things which I do on a typical day would be:
Follow up with my artisans on the status of my orders. Provide feedback on any work-in-progress pics they send me on whatsapp.

Planning for any event which might be coming up – right from stall layout, props, background decorations to lighting. Also finding the best suppliers for each of the items I need for the event.

Check my website stats for the previous day/week and seeing if there are any warning signs or any interesting activity (like more people going to the checkout page)

Create interesting and engaging posts on my social media handles – it can be pictures of my designs, or a short video about how the designs are made, or pics of my friends and customers wearing my designs. Sometimes I also re-share interesting posts from others.
To take breaks from work, I go for a jog or a swim – as I work from home, I can afford to do that 🙂
Once my husband comes back from work, we discuss how the day went and he shares any inputs he has on anything (he is a digital marketer so sometimes his inputs prove to be quite useful!).
Then we unwind over dinner, netflix or reading novels sitting side by side, before retiring for the night.
Tell us about your team and how did you meet each other?
My team comprises of me as a one-woman army with tremendous support from my husband.
Know a great startup story or want to share your own? Write to us at contact.bangaloreinsider@gmail.com and we will get back to you.
For more updates follow Bangalore Insider on Facebook
Author
Sponsored Ads