Sponsored Ads

Meet Afreen Khan she is a fitness influencer and an entrepreneur from last 7 years.
Profession can be anything that you do for a living but passion is something that keeps you on your toes no matter where and how your life is going, says Afreen. 
We got an opportunity to talk with Afreen, and see what she has to say. I am sure her interview with us will inspire you.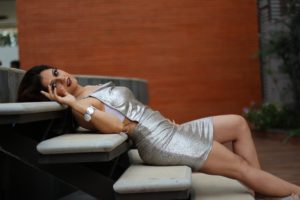 Tell us about yourself, what do you like most about your field of work?
Born in Punjab and married in Bangalore. I am 32 yrs old. Married from the last 9 years, mother of a 5 year old, an MBA and an entrepreneur from last seven years, I have lead life on my own terms every step of the way. I am an Entrepreneur by profession and fitness influencer by passion, I have recently been featured by decathlon Sports India. I have won the title of MRS INDIA EARTH FACE OF SOUTH 2018 and was specially acknowledged for my physical strength in the pageant when I surprised the judges in the fitness round by doing clap and single arm pushups on the stage.
Your previous jobs/ventures? What were you doing before choosing this field?
In my professional life, I have had the pleasure of working with corporate giants like MICROSOFT as their empanelled technical trainings partner. However my passion towards fitness has driven my life in a very different direction. Being an entrepreneur is my profession but being a fitness enthusiast and model is something that depicts my personality on the whole. From being an overweight employee working a 9 to 5 job to running my own company and working on my fitness goals as an athlete , I have come a long way.
How did you land up doing what you do now?
Coming from a Punjabi family, food was always a very big part of my life and it still is. The difference being, I have learnt not to starve but eat as per my body requirements. After becoming a mother I didn't just gain immense weight but lost my self confidence as a woman, when my own friends started making fun of me calling me a big fat Punjabi having a midlife crisis. But when I started losing weight the same people criticised me for doing it to please others. That's when I realised I need to do things for myself my way. So what started just as a shallow attempt to look thinner became my strongest perspective towards life in general, it made me stronger not just physically but mentally too.
If not the current profession, what would you have been?
Profession can be anything that you do for a living but passion is something that keeps you on your toes no matter where and how your life is going. I have that kind of relationship with fitness. And sooner or later I would have taken my interest in fitness to the next level.
What motivates you to keep going?
Just like everyone else even I like superheroes but I dont search for them outside. I believe in being my own superhero so I work on myself while working for my family as a wife, as a mother and as a  working woman with her own identity. When my child was an year old, I had started feeling immense weakness in my body so much so  that I could barely stand carrying her. It got worse as I had medical concerns like low BP, slip disc etc from an early age. Apart from the physical limitations, I found myself losing my identity as a woman and that scared me because I have a daughter and I had to set the right example for her to follow .Now my daughter is my biggest supporter and she works out with me when I train at home. She enjoys watching me fit and is learning about the importance of health at such a young age. My biggest motivation is the fact that working out isn't a task or a punishment its a lifestyle now, just like how you don't need motivation for brushing your teeth, working out shouldn't need it either.
Tell us how a day in your life looks like? Your schedule for a day right from the time you get up till you hit the bed at night.
I work out 5 to 6 days a week and start my day early by doing strength training for around 90 mins and then continue my official work. My work can go on till late hours of the evening along with all the duties of a mother from feeding the child to making her study, I manage my duties well enough to create a fine balance in life. But That one hour I spend in the gym is my time and I don't let anything take that away from me. I do a combination of cardio and strength training. I love doing compound movements like deadlifts but right now my focus is calisthenics. I am learning body weight training and that is the reason I am much stronger from inside than I was when I did only weight lifting .I feel that strength when doing movements like push ups and headstands which are not easy to perform as they need core strength.Along with my fitness regime, I eat timely balanced meals with necessary portions of protein, carbs and fat and go to sleep early enough to get 6 to 8 hours of sleep per day.
Any regrets till now? If yes, will you like to share it with our readers?
I don't have any regrets , whatever issues I faced in my journey or whatever lessons I learnt from my mistakes, all that has made me the person I am today.I am stronger cause of the hardships and it surely aint easy to maintain a good body and work on your strength too when you have a body and life of a mother. There are days you want to let it go and enjoy the comfort of your couch but then those are the days that push you to get over that feeling and control your body to get better and work harder.
If you were given a choice of meeting any person you want, who will be that person?
I would like to meet all those people who body shamed me after I became a mother and thank them for making me reach where I am today and also feel sorry for them for not realising that shaming someone only goes to show their own insecurities. Today I don't fear people like them coz I have made my own path with no short cuts ,just hard work and discipline.
What is the biggest misconception that you think people have about you?
Not many people know that I have lost more than 15 kgs weight and had my fair share of troubles in health and also body shaming. People  think I have been on the leaner side always which is far from the truth. I have the tendency to put on weight very soon but thanks to my strength training, my metabolism has picked up and Now I can enjoy some sinful food without affecting my body much.
Any message that you want to send to your readers?
I have lost 15 kgs weight post partum and inspired many others like me towards health and wellbeing on the whole , not just for weight loss. I am learning calisthenics now and  I proved it well that you don't need to be a sportsperson to keep yourself fit, you can be a business owner , a working professional and yet be as fit as an athlete. I represented Bangalore on the national level pageant
MRS INDIA EARTH and won the title of FACE OF SOUTH 2018. So I wont say if I can, you can, instead I will say you can if you believe you can.So be your own superhero and do your own thing.Respect your body,love yourself and enjoy the journey of fitness cause it never ends. And most of all don't do it for anyone, do it for yourself coz you until you don't love yourself you are not capable of loving anyone else.
Know a great startup story or want to share your own? Write to us at contact.bangaloreinsider@gmail.com and we will get back to you. For more updates follow Bangalore Insider on Facebook.
Sponsored Ads