Sponsored Ads

AdverScribe is a Bangalore based startup which specially focuses on providing marketing needs to their clients. This is a venture was started by  Niharika and Aishvarya Jaiswal. Aishvarya is a self-motivated and enthusiastic person with very clear vision to provide one single platform for marketing over all the media like Newspapers, Radio, Magazines, TV, Hoardings, ATM, Cinema, BUS, Auto and even the Online Ads. They are also expanding their services from traditional platforms to digital and outdoor as they excel in providing 360* MEDIA PRESENCE to Brands.
See how they are working as a team to meet the marketing need of their clients whether it is a startup or a corporate they do not leave any stone unturned to give the brand a presence. We got an opportunity to talk with Aishvarya, one of the co-founders of AdverScibe. And I am sure, you will be inspired by his views…
Give a brief info about your startup?
Its called AdverScribe Ad Solutions Private Limited. We started as a marketing Agency around 1-1.5 years back and used to help our clients with their Marketing needs. Right now we are into Marketing, Advertising and Development.
What made you start your startup and what problem does it solve?
The startup was established on the idea of providing a good marketing platform to the clients and help them leverage the most out of their business, but slowly we saw our clients going to one company for Development, another for Advertising and to us for Marketing. That's when we gradually started the drift towards becoming a one-stop platform for all the needs of a business.

Tell us about yourself, your previous jobs/ventures? What were you doing before this startup?
I have worked as an Android Developer for around 5 Years in multiple companies. Basically, I am the Tech Head of the company and my other partner, Niharika is the Head of Sales and Marketing.

Where is your startup based out of? Why do you think that is the best place for you?
It is based out of Bangalore and definitely, it is the place to be at right now because of the rising startup culture and the status as big as any metropolitan of the country.

As a startup founder, what are you paranoid about? What keeps you awake at night?
The desire to influence as many as possible and the crave to be in the good feedback of my clients is the current goal.

Who are your competitions and how are you better than them?
I don't think any other Marketing or Development agency is our competitor, instead, we all are a bunch of people who urge to get the best out of a business. Every competition is working to achieve a common goal, that is helping businesses grow more.

How hard is it to have a work-life balance as a startup founder and how do you manage it?
As of now, its hectic but at the same time exciting as well. Work-life balance according to me is an over hyped thing. If you love what you do and also love the people around you, it will never be hard to take out the appropriate time for everything and everyone.

Have you raised funding? If yes, then we would like to know the details. If no then please tell us if you are looking to raise.
We are a bootstrapped company and as of now, we are not looking for any funding.
What's the biggest misconception people have about you? Why do they have that? What's the reality?
The biggest misconception is that a service based company will not be able to survive in the current market because of so much competition. But as I earlier said, it's not competition. It is more like if you are good, you will get the chance to showcase your work.
What gets you excited about this company?
The responsibilities I am having, from managing the team to looking through the sales funnel, everything excites me. 
Tell us how a day in your life looks like? Your schedule for a day right from the time you get up till you hit the bed at night.
The daily schedule is somewhat like getting up in the morning at around 9 (I am not an early morning person) and reaching office at around 10. The first thing I do is following up the clients about the projects and then I or Niharika or both explain the daily tasks to the team. And then start the meetings. I prefer having at least 2-3 meetings a day. That way I meet new people, understand new businesses, get to know the new location and many more exciting things. After reaching back to the office, I stay and finish up anything in hand until 7.30-8 PM and leave for home. At home, I prepare the proposals which need to be sent, or any other ongoing task, because we startups are never out of work. After finishing all those, I sit with close friends or read a bit or browse Quora or anything else before dinner at around 11-11.30 and then again I work one few other Android Projects which AdverScribe is about to launch on its own. Then at around 2 is the bedtime.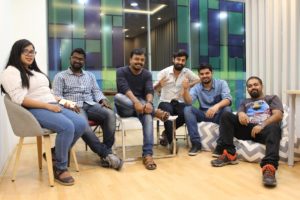 Tell us about your team and how did you meet each other?
Well, my other Director of the company, Ms. Niharika is a school friend. Rest we have a team of 10-12 people whom we met either through mutual connections or on hiring portals.
Know a great startup story or want to share your own? Write to us at contact.bangaloreinsider@gmail.com and we will get back to you. For more updates follow Bangalore Insider on Facebook
Author
Sponsored Ads