4 Ages is a Bangalore based startup founded by Akshay H Kumar. 4 Ages is an E-Commerce fashioned apparel brand which was started in February 2016.
"We believe that our customers are the most important asset and hence standby customer eccentricity. Our efforts work in the direction of "Happy customers" with many return policies", says Akshay.
We got an opportunity to talk with Akshay, the founders of 4ages. And I am sure; his story as a startup founder will inspire you. Let's look at his journey as an entrepreneur.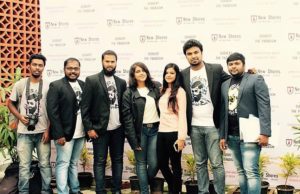 Give a brief info about your startup?
4 AGES, an Indian E-Commerce fashion and apparel brand, operating independently online since February 2016. It's a brand started by a bunch of friends who looked forward to something more than just a 9 to 5 job, ones who wanted to portray their passion in the unique way possible. There are no bosses as we believe in working as a team to make things happen and this encourages us to fearlessly frame what we do!
We mirror the latest fashion trends and designs and intend to sell a unique range of apparel for men, women and kids. Our designs are inspired by creativity and driven by the passion behind it. We showcase the trending seasonal clothing at pocket-friendly prices, with offers popping every now and then. Our fashion line defines the expression of casual wear across all the seasons, throughout the year with the limitless inspiration of fashion and respecting all the diversities that come as a package along with it. Our products are "Quality Guaranteed" and are available in neutral colours, quality prints and curious designs. We stand by the phrase "Age is just a number", as our clothing is comfortable enough for almost all age groups to slip into. We believe that our customers are the most important asset and hence standby customer eccentricity. Our efforts work in the direction of "Happy customers" with many return policies and customer order management. We sell our products straight through our online portal and also collaborate with marketplaces like Amazon, Flipkart, Snapdeal, as we aim at expansion in retail market too, not just of our brand but also comfortable clothing and accessories.
What made you start your startup and what problem does it solve?
Life teaches us a lot of lessons along the course of life, but we learn most of it when we are too naive & young in which case we don't have any regard for these lessons until later in life. Always learned the greatest life lessons are learned in retrospect, long after we desperately needed it. The brighter side to the lesson is that it can be shared and others can befit from it. the urge to do everything as an adult while we are still youngsters is feeling that always stays and teaches us a lesson. If all stories are the same, it would definitely be boring. maybe that's why life thought it would be nice to make our heads think whether – "Formal education a really a requirement? Do you need to go to school if you want to build a successful business?" Most of us are raised in a perpetual cycle of going to school, getting merits, working hard and getting a job. Then it's happily ever after? That's the formula for successful life, but we are all really slogging and just alive and not alive and loving and living by doing what we love. Our generation is redefining a lot of things and it is definitely rewriting the formula of old-school success, qualification and formal education enriches us in many ways but not mandatory in running a successful business. Why am i saying all this? Because I was a part of a group in college who had a combination of everything in a student's life, a bunch of college students who wanted to bring in a change in their lives and people around them. Every group dreams of it, don't they? Tired of the same routine of college life from morning classes to final exam scores. We were tired of this routine defining us but as all stories go we didn't do much of the annoyed anger, just wrote our exams. Everyone predicted Akshay would be the topper, although he always said "I didn't study!!!" but ended up topping and always surprised on how he did it. All students loved to relax after a stress-filled examination time but we were the ones who used to party after exams with our life partner in crime OM(old monk).
Indian household believes that 'No College = No Work = No Money'. Years of cribbing in college and in life was about to stop as we decided to work and earn in order to party even better and keep our household happy in the process. Resumes were sent out, followed by interviews and acceptance letters making our parents proud. Our initial happiness knew no bound, until the graveyard timings of our offices started to drain us out. We seemed to drift apart but made time to meet the 'group' on weekends for a drink to only crib about our jobs. We were in the corporate political whirlpool which was soon going to engulf us but the passion to achieve something better made us resign from our jobs. Even the first pay cheque twenty thousand didn't appeal to us anymore as we felt that we work so hard earn money but no time for ourselves. After a lot of contemplation and procrastination while meeting up for a booze, as usual Akshay came up with the idea of starting our own firm and being our own boss. At first, all of us laughed it off, but the idea of not able to do what we want and going back to applying for dead-end jobs made up the pitch in ideas. That gave birth to the seed of a fashion brand that could grow to change the concept of fashion in India. That was our first of many toasts to the 'Dream Project' that happened in a regular local dhaba where we were all spoilt for good. As all ideas go on, a lot of strategies and plans were made.
Tell us about yourself, your previous jobs/ventures? What were you doing before this startup?
I'm Akshay H Kumar, CEO & co-founder of 4 AGES group of companies born on 18th of July 1993 in Bangalore. I went to New Shores International college to pursue my bachelor's in computer applications. My strength is my positive attitude, punctuality, interpersonal skills and strong in skills. Im a basketball player played a lot of college and university level, I travel a lot, I'm a biker and a gamer, I love music and I hate keeping 100% attendance in college and bunked a lot for which i dint get hall-tickets in college times. So far as my family background is concerned. My family consist four members including me. My dad's a government officer and mom's an architect my younger brother works in a private sector. Im a Movie watcher?… I watch a lot of movies. As far as restricted (A) rated movies I wasn't allowed till a certain age but still my friends were always there to help me watch and learn things which I shouldn't have learnt in that age thanks a lot to my friends…now I still watch movies but I'm extremely selective but my tastes are always evolving. I love films based on true stories.I had the funniest, scariest and used to be a bully till i entered college for which there used to be a lot of parents teacher meeting. My parents were very lenient on me and let me do what I wanted to do and that helped me learn a lot from my mistakes and experiments. They believed in my dreams and they are one of the reasons for my success.At the age of 21 I worked at firstsource a private firm( an MNC) as a customer service associate and that was my first and last job.And now newly starting a fast food line of my own called "The B2B" in coming months. it would be a fast food line which serves Indo-American fast foods with the Indian pinch.
Where is your startup based out of? Why do you think that is the best place for you?
4 AGES, an Indian fashion and apparel brand, operating in Bangalore independently online since February 2016. We mirror the latest fashion trends and designs and intend to sell a unique range of apparel for men and women. Our designs are inspired by creativity and driven by passion behind it. We showcase the trending seasonal clothing at pocket-friendly, with offers popping every now and then. Our fashion line defines the expression of casual wear across all the seasons, throughout the year with limitless inspiration of fashion and respecting all the diversities that come as a package along with it. Bangalore being the epicenter of most of the business ideas, energetic and youth driven place, we thought it would be the best place to execute 4 AGES here.
As a startup founder, what are you paranoid about? What keeps you awake at night?
Fear is something that keeps me driving to success. A lot of things in start-up is a challenge in every phase like coming up with a start-up plan keeping in mind the probability of it working, getting the company registered is one of the first achievements, legal matters, funds, business model, etc. and more so every phase of a company is with different and new challenges and comes bundled with unique lessons. And every step taken as an entrepreneur is not a successful one as we encountered a lot of failures and we stood by the saying "Learn from your mistakes and never repeat them again" as none of us are from a business background there laid the biggest challenge of making this whole concept work without having anything to look back to.
Who are your competitions and how are you better than them?
I believe that every new entrepreneur who has come up with ideas to fearlessly start a business is my competition. No matter if he/she are from a different line of business, because my competition is with their fearless, their ideas and their guts to stand strong in a market. Everyone in this industry are competitors there is no specific clothing line that I have to surpass because having a competitor limits me to new opportunities and growth
How hard is it to have a work life balance as a startup founder and how do you manage it?
As a startup we don't have a specific start and end time to work as we work, day and night most of the time. Time had its turn where we had to be awake all night but we made sure we enjoyed the work with a bit of spice. Sundays would be our utmost waited day of the week for us to hold a mug and enjoy like there is no tomorrow but if work stops us we would do keeping in mind about our futures and our aspiration. But not to mention we would no matter what make time to get a sip from our mug once a week. But there are so many ideas in our mind that we want to implement but at the same time we need to pay attention to the finances and expenditures. But we enjoy at work because this start-up is driven by passion. It's quite a lot of mind workout every single day so chilling with friends sometimes, is the way to go remedy to find some space outside of work.
Have you raised funding? If yes, then we would like to know the details. If no then please tell us if you are looking to raise.
No we never raised funding as we dint have any support at that time or knowledge about it so we started with our own saved money. And yes we would like to raise funds to expand and develop into one of the best fashion brands to represent India to the global market and make 4 AGES a well known India and Global Brand.
What's the biggest misconception people have about you? Why do they have that? What's the reality?
That it's a local brand or not sure about us as we are new or not heard about us. They would rather trust a brand which would sell the same for 6 times the price for the same quality which we give better. We have a group of loyal customers who stick my our brand like rubber and glue which keeps us inspired to deliver the best products.
What gets you excited about this company?
One of the greatest things that excite me about 4 AGES is once an idea in a local dhaba is now deemed to be recognized by Startup India from the government of India and it only keeps me getting the urge to succeed more and make it big.
Tell us how a day in your life looks like? Your schedule for a day right from the time you get up till you hit the bed at night.
A day in my life would be challenging in the weekdays and happy days in the weekends. I go through a lot of challenges and hurdles and enjoy my week facing these challenges from morning to night. I wake in the morning brush for 30min for which I get scolding since I was born, I have breakfast in 5 min have bath and head to our office with a cup of tea and a morning snack. Spend the first forty-five minutes in replying to my emails. Sometimes I spend hours doing this. Start going through accounts and responding to client calls and attend client meetings. By the end of second-half office will be buzzing with clients. Back in the office and on phone with vendors to enquire about some outstanding orders. Place orders on some fabrics and start looking to source one.Start packing of the orders received through various platforms online, Check emails again and have a lot of breaks to freshen up my mind and lunch time or sometimes even skip it again work till 5 have a cup of tea with its combination (left to your imaginations) again freshen up work till late evening then have round table conference with our beanbags and friends talk have fun till 10 eat and walk in the night and put the earphones and sleep which I would realise in the morning that it wasn't off.
Tell us about your team and how did you meet each other?
Shivangi U Mohite
Creative and content manager
Place we met: Basketball Match in her college
Character: hard working with dark circles under the eye, talented, fun loving and a nerd
Her schedules are quite busy. A true workaholic, I really admire her potential, I wonder where she gets all the energy from. Her ideas and creatives inspires us.  EVERYTHING from the rush of meeting deadlines, the pressure of sourcing discontinued items, even browsing the net for the latest excites me UNIMAGINABLY.
Kushal Palayam
Sales Manager
Place We Met: College
Character: He is a person with such immense sales potential that it left me with no choice but to have him to be  a part of 4 AGES. With a family business background he has everything that a person needs to draw customers. He is damn systematic at his job but when it comes to free time there is no one who is as lazy as him.
Manoj GJ
Freelance digital Marketing Executive
Place We Met: College
Character: He is a person with such immense digital marketing knowledge and insights. he works for us the new season in a year and have been a great backbone of branding and marketing.Hes scared of Heights and the one who made our college life an amazing one by showing us something that we would never have tried(left to your imaginations).
John Immanuel
Manager Of B2B
Place We Met: College
Character: He is a person with immense managing and cooking skills which made him a great manager at our new venture The B2B. He is a good guitar player and played for a band. And his catchword to a girl would be "Im black as crow But your white as snow" and the girl would fall for him.
Aryan
Customer Service Associate
Place we met: college
Character: funny, talented, comedian of the group, hardworking lazy person, and a booze partner.
He's a Jim Carey of the group. A fun worker, I really enjoy his presence at work, I wonder where he's got that humor. Works for future dreams from the rush of meeting deadlines, keeping good customer relationship, solving customers queries and even giving me ideas on new things excites.
Know a great startup story or want to share your own? Write to us at contact.bangaloreinsider@gmail.com and we will get back to you. For more updates follow Bangalore Insider on Facebook.