Woodlings is a Bangalore based startup founded by Radhika. At woodlings you can find a wide range of  indoor plants and hand made terrariums.
We made our first terrarium for a dear friend's party almost a year ago and overnight we were in business! Our country is facing a major pollution crisis now and there can never be enough plants in any space. We wanted to offer a fun way to incorporate more greenery into people's homes and thus, all of our products incorporate air-purifying indoor plants, says Radhika.
We at Bangalore Insider had the opportunity to catch up with Radhika, the founder of  Woodlings and to know more about the startup, read her inspiring story.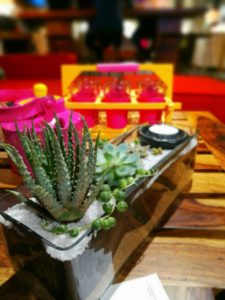 Give a brief info about your startup?
Woodlings is a brand that creates beautiful hand-made terrariums and planters for every space. Whether you're looking to deck up your workspace with some air-purifying plants or curate a mini indoor garden to be the highlight of your coffee table- we cater to every need.
What made you start your startup and what problem does it solve?
We made our first terrarium for a dear friend's party almost a year ago and overnight we were in business! Our country is facing a major pollution crisis now and there can never be enough plants in any space. We wanted to offer a fun way to incorporate more greenery into people's homes and thus, all of our products incorporate air-purifying indoor plants. There's no better way to keep the air around you clean while also adding life and beauty to your surroundings.
Tell us about yourself, your previous jobs/ventures? What were you doing before this startup?
Incidentally, Woodlings is still a new venture and is something we're doing on our own time alongside a full-time job in marketing. My career graph has been varied, having started out as an auditor in Deloitte Singapore right after getting my Accountancy degree from UIUC and then moving back to India a couple of years ago to pursue an entirely new path in marketing for a start-up here in Bangalore.
Where is your startup based out of? Why do you think that is the best place for you?
We're a Bangalore based startup and truly it's the best place to start. Bangaloreans are an experimental crowd and we love novel and unique products. It's also the garden city which gives us direct access to a whole lot of unique plants to keep our product range interesting and appealing.
As a startup founder, what are you paranoid about? What keeps you awake at night?
Growth and distribution is definitely a challenge for us. Since we do a lot of fragile items it becomes hard for us to retail our bigger pieces outside of Bangalore. However, we've now started doing a lot of items in wood and terracotta which are an easy buy and easy to transport. Hopefully this will help our distribution efforts and solve a lot of the problems we faced earlier.
Who are your competitions and how are you better than them?
There are definitely a few other companies in the market that do a similar range of products but having said that, I feel that not many are able to achieve the high quality standards that we adhere to. Each of our pieces are hand curated and we pay special attention to detailing to make them all stand out. We don't believe in mass production and all of our pieces are unique. No two terrariums would be exactly the same and that novelty is something that sets us apart from the rest.
How hard is it to have a work life balance as a startup founder and how do you manage it?
Running your own startup is hard work in itself but when you add to that the challenges of a full-time job, it gets quite maddening. The key is to enjoy what you're doing and not let the stress of it all weigh you down (definitely easier said than done though). I find that it's important to have an active life outside of work that allows you to detach from it all whenever required. Me-time is extremely important whether you're spending it with friends, at the gym or with a book. Do something just for yourself everyday to keep yourself upbeat and happy.
Have you raised funding? If yes, then we would like to know the details. If no then please tell us if you are looking to raise.
We are currently completely bootstrapped but we do hope to raise funding next year. We want to scale Woodlings to the next level and extend our presence beyond Bangalore. This requires a much larger team and infrastructure for which we would require additional funds.
What's the biggest misconception people have about you? Why do they have that? What's the reality?
One of the biggest misconceptions that people have is that we mass-produce our products. This cannot be further from the truth. We carefully design each of our pieces and add our own touch to differentiate our products from the rest of the stuff you get in the market. We add a lot of design elements like sand art to our pieces. These can definitely not be mass-produced and we never want to become such a company either. We believe in quality over quantity and that's exactly why our customer base choose us over the rest.
What gets you excited about this company?
We've been extremely lucky to meet some amazing people during our journey in the form of customers, mentors, vendors, you name it. It's the support of all these people that motivates us and keeps us charged up to move ahead and constantly push our limits.
Tell us about your team and how did you meet each other?
Our core team is still relatively small and consists of my business partner and I, our head designer and her team who make each of the products. My business partner Roopashree and I met when I moved to Bangalore a few years ago and we've become really good friends which makes work life even more fun and enjoyable. There's no monotony in our work place and everyday is exciting and different. It's absolutely great working with like-minded people who share the same vision and that's something I'm truly grateful for.
Know a great startup story or want to share your own? Write to us at contact.bangaloreinsider@gmail.com and we will get back to you. For more updates follow Bangalore Insider on Facebook.
Please share your comments
Sponsored Ads
— — — — — — — — — — — — — — — — — — — — — — — — — — — — — —
If you are reading this article, please share a few minutes
Honestly speaking, it will be great to have your support
Hi everyone, I am Gaurav, the founder of the Insider Media Corp that runs Bangalore Insider. Without going into much details, I will just take a few mins of your time to let you know that your support can go a long way to help Bangalore Insider remain as the torch bearer of positive news that it is today. It was not so long ago when I started Bangalore Insider as my own way to contribute against negativity and to share my experience that negativity begets negativity and positivity begets positivity. Seriously speaking, I was tired of all the negative news that I used to read in newspapers every single morning. News about robberies, killings and all sort of negative news is not what you should start your day with. That is when I started Bangalore Insider and over the last few years, we have grown to be this popular publication that Bangalore Insider is today.
And all these have been possible because of the love and support of you, our readers. We are a small team of people just like you, who have dared to come up against the established norm and we are fighting every single day to bring you news and stories that can have a positive effect in your life. And we depend on our readers to help us continue in our endeavors. I am personally thankful to all the people who have helped us with the generous donations since our existence.
If you like what we are doing, you can support us in your own little way.
Please note that 18% of your contribution will be paid to government as GST, per Indian accounting rules.
Also, if you want to get in touch with me directly or have a chat, you can reach me on Instagram. Just shoot me a dm and I will get back to you.