Olive Media & Marketing is a Mumbai based startup founded by Bidisha Bose. It is a digital and social media marketing.
My team is five members including me, few of them I met on social media and two are referred by my teammates, they are very co-operative, though they work under me they are not my employee they are a part of my startup, and I prefer calling them teammates, Bidisha.
We got an opportunity to talk with Bitisha, and see what she has to say. I am sure her interview with us will inspire you.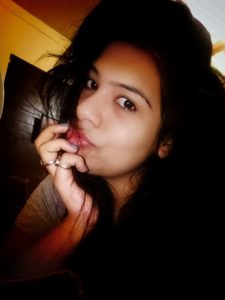 Give brief info about your startup?
My start is about digital and social media marketing, which includes developing of apps, websites, creating banners for social media , landing pages , creating videos (animated/non animated) , we are a team of 5 people including me, 1 developer, 1 campaign manager, 1 marketing person, 2 creative editors and designer. I founded it in October 2017 after I quit my business development job, but full flgedly started working on it from June 2018.
What made you start your startup and what problem does it solve?
I started my startup as I faced harassment in my workplace (wrong intentions from the owners of the company) being a female I couldn't get a safe working environment so I had to quit my jobs , hence decided to start my own which can provide a safe working environment not only to me but also other females who work with me , and it truly solved my issue after I started my own I understood its not a female's mistake or her cloths or her way of work its the organisation that make such things a trend in order to get clients : in short I would say a type of bribing to reduce the competitions and they think that all females will agree to it (females does as they rarely get options or might the treatment from getting fired or some other reasons), after I started more I faced lots of competitions but I never faced such offers from my clients, it was also fair on the quotations, quality and punctuality.
Tell us about yourself, your previous jobs/ventures? What were you doing before this startup?
I started my career as a model then I moved to business development, and I worked with media houses as a business development manager, (about me ) I am 16th March 1992 born and completed my senior secondary school from Kendriya Vidyalaya and then did my hotel management from IHM and Bachelor in mass media from Sikkim Manipal university correspondence ,
Where is your startup based out of? Why do you think that is the best place for you?
We are based in Mumbai, this is the best place because we find all kind clients here as it is the hub for all corporate offices.
Who are your competitions and how are you better than them?
Olive inc media, om logic, orion digital marketing agency, I am better because I value the money of the client, hence believe in delivering quality products,
How hard is it to have a work-life balance as a startup founder and how do you manage it?
Is very difficult to balance work life as a startup because the need to face lots of politics and financial crunch, but I believe hard work and gods help make things easy and it works for me
Have you raised funding? If yes, then we would like to know the details. If no, then please tell us if you are looking to raise.
We havnt raised funds neither looking for
What's the biggest misconception people have about you? Why do they have that? What's the reality?
The biggest misconception people have about me is I have a bad attitude, and I am rude, they think so because I speak very limited and keep a distance from toxic people, so for half of the people around me I am very rude especially because I say "no."
What gets you excited about this company?
My teammates
Tell us how a day in your life looks like? Your schedule for a day right from the time you get up till you hit the bed at night.
I always have a stressed and messed up day as I need to manage work and home together, I have a 4-month-old baby so, my morning starts with her smile , then I schedule my day , schedule goes like – 9 30 gym , followed by a discussion with my team for the days work and then I start my work at 3 pm call my clients and also new to be clients followed by meeting and then by night again work and ends with some make secrets (to feel fresh)
Tell us about your team and how did you meet each other?
My team is five members including me, few of them I met on social media and two are referred by my teammates, they are very co-operative, though they work under me they are not my employee they are a part of my startup, and I prefer calling them teammates.
Know a great startup story or want to share your own? Write to us at contact.bangaloreinsider@gmail.com and we will get back to you. For more updates follow Bangalore Insider on Facebook.
Please share your comments
Sponsored Ads
— — — — — — — — — — — — — — — — — — — — — — — — — — — — — —
If you are reading this article, please share a few minutes
Honestly speaking, it will be great to have your support
Hi everyone, I am Gaurav, the founder of the Insider Media Corp that runs Bangalore Insider. Without going into much details, I will just take a few mins of your time to let you know that your support can go a long way to help Bangalore Insider remain as the torch bearer of positive news that it is today. It was not so long ago when I started Bangalore Insider as my own way to contribute against negativity and to share my experience that negativity begets negativity and positivity begets positivity. Seriously speaking, I was tired of all the negative news that I used to read in newspapers every single morning. News about robberies, killings and all sort of negative news is not what you should start your day with. That is when I started Bangalore Insider and over the last few years, we have grown to be this popular publication that Bangalore Insider is today.
And all these have been possible because of the love and support of you, our readers. We are a small team of people just like you, who have dared to come up against the established norm and we are fighting every single day to bring you news and stories that can have a positive effect in your life. And we depend on our readers to help us continue in our endeavors. I am personally thankful to all the people who have helped us with the generous donations since our existence.
If you like what we are doing, you can support us in your own little way.
Please note that 18% of your contribution will be paid to government as GST, per Indian accounting rules.
Also, if you want to get in touch with me directly or have a chat, you can reach me on Instagram. Just shoot me a dm and I will get back to you.