Meet Aayushi Khandelwal, she is a Graduate and Certified Pastry Chef from Lavonne Academy of Baking Science and Pastry Arts, India affiliated to City & Guilds London. When asked to whom she wants to meet she says: "Deepika (Deepika Padukone). I just Love her……..I really want to bake a cake for her someday".
We got an opportunity to talk with her and see what she has to say. I am sure her interview with us will inspire you.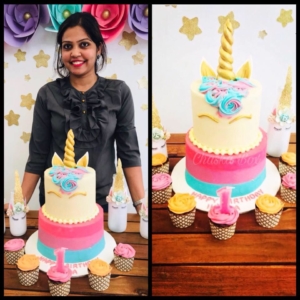 Tell us about yourself, your previous jobs/ventures? What were you doing before choosing this field?
Hi All. First of all thanks for giving me this opportunity to share my thought with the reader on this website. Well, I am Aayushi Lakkar, born and brought up in Kolkata. A Graduate and Certified Pastry Chef (from Lavonne Academy of Baking Science and Pastry Arts, India affiliated to City & Guilds London) by qualification and profession and Choreographer by hobby. I got married in Kolkata and shifted to Bangalore because of my husband occupancy. I am blessed with a baby boy who will turn 2 in May. I love to make and taste different cuisine. I am not really fond of sweets (incl chocolate, inspite of being my profession) which people find really strange in me. Chaska Box is my 1st Venture which I pursued in my career path.
How did you land up doing what you do now?
When I was thinking about my career path, at that point in time my own interest helped me in putting up loads of efforts and brought me to a place where I am today.
What motivates you?
Truly speaking I never, in my wildest dream thought that I would start something like this or will join this baking industry but because of the motivation of my husband, few close friends and family, I am where I am. They made me realize to turn my passion into profession (very few get this opportunity) and just told me one thing, "you should do what you love and you should love what you do". I am trying hard to fulfil my dream and my husband's expectation towards Chaska Box which motivates me every day.
How do you plan to stay ahead of your competitors?
I only compete with myself and always try to be better every day. I think if you are offering quality, people will automatically come to you and no publicity can beat the publicity of "word of mouth" which will only happen with high quality and utmost customer satisfaction.
If not the current profession, what would you have been?
Probably a Choreographer
Were your parents supportive of what you are doing? What impact have they had on your life?
My parents had been supportive and pushing me to be at the place I want to. This has really helped me as, if you have family support you can be more focused.
What are your plans for the next 2 years?
I have done diploma course from one of the most renounced institute of Bangalore, Lavonne Academy of Baking Science and Pastry Arts, India affiliated to City & Guilds London. This is one of the major step I have taken to scale up my business to get an expertise which has polished my skills and has helped me in uplifting in my career path. Next 2 years I see to open my own Cake Studio catering to all customer need and spreading the name of Chaska Box all around the place.
What does a typical day off from work consist of for you?
Generally, I don't have one but if I get I prefer self-training with new things in Baking and spending time with my family.
Any regrets till now? If yes, will you like to share it with our readers?
Yes, the only regret is I should have started my venture little early then when I actually started it. But as rightly said its Better Late than Never.
 If you were given a choice of meeting any person you want, who will be that person?
Deepika (Deepika Padukone). I just Love her……..I really want to bake a cake for her someday.
 Any message that you want to send to your readers?
Only message is "do what you love and love what you do". And obviously for satisfying your craving, order us and we will help you with mouthwatering customized confectionary items.
Know a great startup story or want to share your own? Write to us at contact.bangaloreinsider@gmail.com and we will get back to you. For more updates follow Bangalore Insider on Facebook.
Please share your comments
Sponsored Ads
— — — — — — — — — — — — — — — — — — — — — — — — — — — — — —
If you are reading this article, please share a few minutes
Honestly speaking, it will be great to have your support
Hi everyone, I am Gaurav, the founder of the Insider Media Corp that runs Bangalore Insider. Without going into much details, I will just take a few mins of your time to let you know that your support can go a long way to help Bangalore Insider remain as the torch bearer of positive news that it is today. It was not so long ago when I started Bangalore Insider as my own way to contribute against negativity and to share my experience that negativity begets negativity and positivity begets positivity. Seriously speaking, I was tired of all the negative news that I used to read in newspapers every single morning. News about robberies, killings and all sort of negative news is not what you should start your day with. That is when I started Bangalore Insider and over the last few years, we have grown to be this popular publication that Bangalore Insider is today.
And all these have been possible because of the love and support of you, our readers. We are a small team of people just like you, who have dared to come up against the established norm and we are fighting every single day to bring you news and stories that can have a positive effect in your life. And we depend on our readers to help us continue in our endeavors. I am personally thankful to all the people who have helped us with the generous donations since our existence.
If you like what we are doing, you can support us in your own little way.
Please note that 18% of your contribution will be paid to government as GST, per Indian accounting rules.
Also, if you want to get in touch with me directly or have a chat, you can reach me on Instagram. Just shoot me a dm and I will get back to you.